Beach rescue - injured seal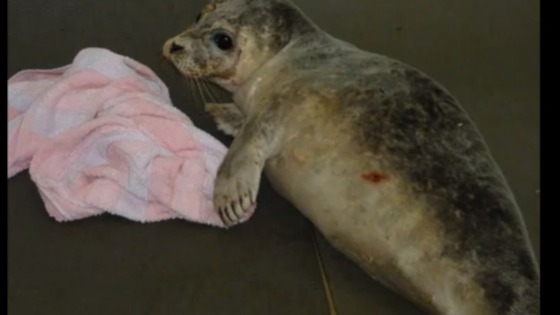 A seal has been rescued from a beach in Eastbourne by the East Sussex Wildlife Rescue & Ambulance Service (WRAS). The WRAS were called out by the British Divers Marine Life Rescue (BDMLR) late on Sunday night. Trevor Weeks MBE from the service caught the seal and examined it.
The animal was covered in blood and had puncture wounds. The seal will be monitored and treated for its injuries over the next 48 hours. The team were not sure what caused the seal's injuries but suggested it could have been rough weather or a fight with another seal.
Mr Weeks said: "The seal was a reasonable weight for its rough age, and well hydrated too, but the injuries were of concern. We decided that the seal should have some treatment and observation at the seal facilities at RSPCA Mallydams at Fairlight, Hastings"