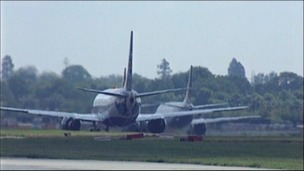 The money would be used to deliver an 'improved passenger experience at every step of the airport journey'.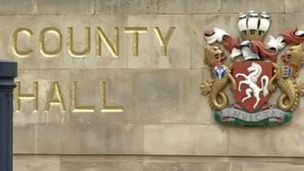 Adult Social Care funding in Kent is to be cut by nearly £19 million - a 5.3% reduction on current spending.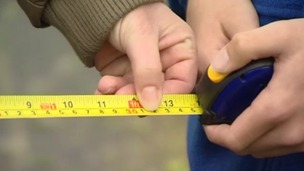 An 11 year old boy from Kent has missed out on his first choice of school after he was told he lives too far away - by 12 inches.
Live updates
£6m more for Kent potholes
Kent County Council says it will spend another £6.2 million pounds on improving the county's roads.
The pledge follows a cash boost from the government which is divided into £4m in the year 2013/2014 and £2.2m for 2014/2015. The funding was announced by the Transport Secretary Patrick McLoughlin.
The local authority says the investment will reinforce its approach to road maintenance which was backed by the AA last week. The council's Cabinet agreed to spend an extra £6m on resurfacing and renewing roads six months ago, in addition to this year's £17m roads resurfacing budget.
Kent County Council said the county completed 14,885 jobs to repair potholes in 2012, with crews out on the county's roads fixing the holes within an average of 14 days. The local authority says that is a 44% improvement on the previous year.
"This is welcome funding that dovetails exactly with the new approach to maintaining our roads. Over the past two years or so, we invested significantly in repairing the network and this has then been protected by sealing and surfacing dressing the roads. This makes the roads last longer and is a better use of council taxpayers' money than constantly being on the back foot having to repair roads, which only increases congestion and costs more money in the long term."
– Bryan Sweetland, Kent County Council Cabinet Member for Roads
"The condition of the roads is a top of motoring concern of our members. We have campaigned for many years to make sure councils have in place a system of roads inspection and repair that covers the frequency and method of inspection by road type; the type and size of defects that will be repaired; and the timeframe within which repairs will be completed once the council becomes aware of any defect. We therefore warmly welcome the transparent approach taken by Kent County Council to maintaining and improving its roads.
"It is vital that Kent residents get value for money value from the multi-million pound investment in road repairs and renewal making council tax payers' money go further whilst also improving road resilience and the driving experience. Kent's roads maintenance programme is aimed at doing just this."
– Paul Watters, Head of Roads Policy at the Automobile Association
Moves to cap the cost of care
by David Johns (@davidjohns_itv)
The leader of Kent County Council is demanding that care home fees are capped at £35,000. He says it's unfair that people to have to sell their homes to pay for care. David Johns talks to campaigner Pauline Turner and Councillor Paul Carter.
Advertisement
Online bid to 'hijack' teachers
Come to Kent: it's better here. That's the message of a controversial new online campaign designed to lure teachers away from neighbouring counties. It focuses on the lifestyle on offer in the Garden of England - but also offers the chance for teachers from elsewhere to win trips.
Kent County Council launched the recruitment drive in response to a shortage of specialist teachers but it's angered neighbouring regions, as Sarah Saunders reports.
She speaks to executive head teacher Alan Brookes, Robert Wilkinson, division secretary of the NUT Wokingham, and Cllr Mike Whiting, from Kent County Council.
Online bid to 'hijack' teachers
An online campaign has been launched by Kent County Council to recruit teachers from other local education authorities.
It says it's because there is a lack of experienced teachers locally. But other regions aren't happy claiming they could lose talented staff.
Massive spending cuts in Kent
Children in care, the vulnerable and the elderly - the groups hardest hit today, as the region's biggest local authority revealed more cutbacks.
Kent County Council says it has to save sixty millon pounds - that's on top of tighter budgets and previous job losses.
The proposals include cutting 18.8 million pounds from the adult social care budget, axing 8.6 million from the children's budget, and losing 500 council workers. That's on top of the 1,000 or so jobs lost last year.
Fred Dinenage interviewed John Simmonds from Kent County Council about the cuts.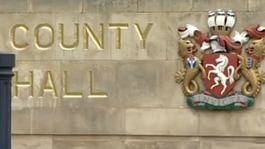 Adult Social Care funding in Kent is to be cut by nearly £19 million - a 5.3% reduction on current spending.
Read the full story
Advertisement
Massive spending cuts in Kent
There will nearly £19m of cuts to Adult Social Care funding in Kent. That's a 5.3% reduction on current spending. There will be £3m of cuts to Children's Services. And 500 more jobs will go at KCC, some through restructure and natural wastage. It is part of a 3-4 year plan to lose 1500 jobs.
School catchment area row
A boy from Kent has missed out on a place at his preferred school, by a distance of just 12 inches! Tom Calladine from Tenham Teynham wanted to go to Fulston Manor School in Sittingbourne.
But he was beaten by a child living a fraction closer. Tom's mum claims officials have got it wrong. Malcolm Shaw takes up the story.
Efforts to keep elderly at home
Fred Dinenage spoke to the head of Adult social services in Kent, Graham Gibbens, and began by asking him how much will be saved from the current care service budget of £350m?
Efforts to keep elderly at home
Could more of us end up caring for our elderly and disabled relatives at home? Kent County Council wants to make drastic cuts to adult social services. That means fewer places in residential homes with more emphasis on care at home.
The council says it has to make savings of two hundred million pounds by 2015 - a large part of which will come from care budgets - a move which will affect thousands of families in the South East. Tom Savvides investigates.
Load more updates
Back to top