British Airways was left slightly red-faced when a picture of Leeds Castle was was printed on an email sent to customers urging them to visit Leeds, in West Yorkshire.
The airline advertised the "glittering nightlife" in Leeds with a picture of Leeds Castle in Kent and e-mailed it as an 'Autumn deal' to customers.
People were quick to pick up on the blunder on Twitter.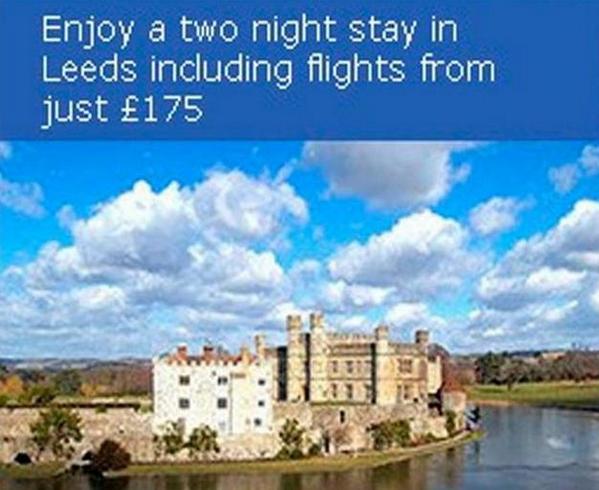 A spokesman for British Airways said: 'We're sorry for the silly mistake. Fortunately our pilots have no trouble at all recognising Leeds.'
"Police were called to a school in Kings Hill at 1.50pm today following a report that an unexploded old device had been found. As a precaution the school was evacuated. EOD have been called.

Children are now being taken home as it is the end of the school day. No injuries or cause for concern."
– Kent police spokesman
Advertisement
Advertisement
A 26-year-old man has been arrested on suspicion of murder after a body was found in a car fire in Dartford.
Kent Police is treating the death of a woman, named locally as Donna Eastwood, as an isolated, targeted attack.
They believe the offender and the victim knew each other and say there is no information to suggest the public are in danger.
Emergency services were called to Rowhill Road in the Dartford area early on Saturday morning after the woman's body was found in a burning car.
The arrest comes after officers and a police helicopter have been conducting searches of the local area.
Kent Police is appealing for witnesses to come forward following a road traffic collision on the Wainscott Bypass in Medway.
At 8pm on Friday 17 October a red Renault HGV was driving along lane one of the A289 London-bound carriageway when it manoeuvred to avoid a broken-down grey Saab.
As it did so, the lorry collided with a blue and white Suzuki GSXR motorcycle causing its rider to come off his bike.
The carriageway was closed for a number of hours whilst officers from Kent Police's Serious Collision Investigation Unit carried out their enquiries.
The motorcyclist sustained serious injuries and was airlifted to hospital where his condition is described as stable.
One man has been arrested and bailed pending further investigations.
Kent Police is keen to speak to anyone who may have witnessed the collision or been in the area in the moments beforehand.
Witnesses are urged to contact the dedicated SCIU appeal line on 01622 798538 or Kent Crimestoppers anonymously on 0800 555 111.
Flowers have been laid in tribute to a woman whose body was found in a burning vehicle in Kent.
Police began a murder inquiry after emergency services were called to Rowhill Road in the Dartford area early on Saturday morning.
The victim has been named locally as Donna Eastwood, a mother of four, whose former partner is understood to have been Kevin McKinley, who was shot dead last year.
Michaela Sargeant, 25, was convicted of the manslaughter of the 32-year-old outside her home in Overy Street, Dartford. She was sentenced to eight years in prison.
The burnt out car has now been removed from the scene, leaving scorch marks on the ground.
The police helicopter has been helping officers search the Wilmington area.
A man's body has been found at Park Street in Ashford, near the Panorama building.
Police officers and ambulance crews were called early this morning to reports of a man in the road, but when they arrived they found that he had died.
A police spokesman would not say how the man came to be in the road but confirmed they are not treating his death as suspicious.
Load more updates