Live updates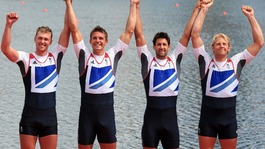 Find out how the region is going to celebrate the achievements of our athletes after a record breaking Olympic Games
Read the full story
Olympic legacy for Oxford
The Oxford East MP Andrew Smith has welcomed the news that the county is to receive thousands of pounds worth of Olympic funding to improve sports facilities in the region.
It is fantastic news that we have been awarded this money. The pool is a much need facility within the city and to be awarded an Inspired Facilities grant is a great accolade
– Andrew Smith MP, Oxford East, Labour
We are delighted to secure one of the first Inspired Facilities grants, which will help provide a moveable floor to the new pool. This will help provide Oxford with a fantastic facility for use by the community and swimming clubs. We have waited a long time for this facility and after the Town Green application was thrown out last week we are now looking forward to starting work on the site
– Councillor Van Coulter, Board Member for Leisure Service, Oxford City Council, Labour
Advertisement
Olympic legacy for Oxford
£75,000 of Olympic legacy funding will be spent to improve sports facilities in Oxfordshire. The money is part of the Inspired Facilities Fund which is designed to ensure that the Olympics and Paralympics have a lasting impact outside of London.
One of the first areas to benefit from the scheme is Blackbird Lees. A new competition standard pool will be built with a moveable floor to help those learning to swim. More than 350 community groups across the UK will receive grants.
Back to top