A piece of artwork created by prisoners at HMP Lewes has been put up in Rochester Cathedral.
The structure, which is a depiction of a scene from a prison, was installed ahead of a special Prisons Week Service held this afternoon.
Rt Rev James Langstaff, the Bishop of Rochester, explains what the service and the artwork are meant to reflect: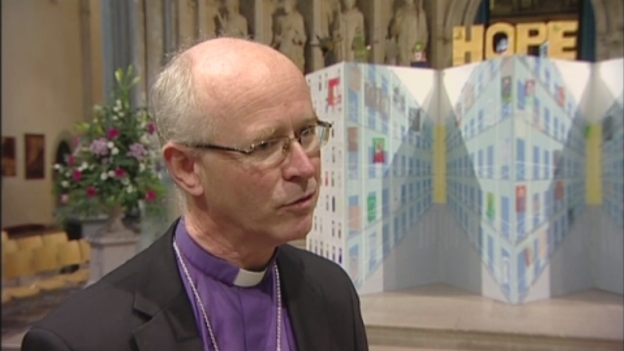 A huge Alex Salmond has made an appearance at County Hall ahead of tonight's prestigious bonfire celebration in Lewes.
It is thought to be one of the biggest bonfire night celebration in the world, where bonfire societies parade through narrow streets of the town.
This year Alex Salmond, Scotland's fourth First Minister, will be the centrepiece of the festivities.
Advertisement
Norman Baker has quit as a Home Office minister, complaining that working under Home Secretary Theresa May was like "walking through mud".
The Liberal Democrat MP accused the Tory Cabinet minister of viewing her coalition colleagues as "a cuckoo in the nest rather than part of government".
His decision comes days after he became embroiled in a fresh disagreement over drugs policy and accused the Tories of suppressing a report which backed his case for a review of the current law.
Police are at the scene of a road traffic collision on the A27 eastbound at Selmeston, between Lewes and Polegate, involving a coach and a mobile crane. It happened at 4.10pm this afternoon.
The coach has passengers aboard. It is not yet known if there are any injuries.
Diversions have been set up and motorists are advised to avoid the area and seek alternative routes if possible.
Advertisement
Police want to talk to Lewes man Paul Healey, 33, in connection with a burglary in the town on August 12.
Anyone who sees him or knows of his whereabouts is asked to email 101@sussex.pnn.police.uk or call 101 quoting serial 1020 of 12/08.
Politicians in Sussex are urging Network Rail to reopen the Lewes to Uckfield railway. They say as well as benefitting people in the two towns, it would also relieve pressure on the existing mainline between London, Brighton and the Sussex coast. The project, called BML2, could also serve Brighton & Hove Albion's new football stadium at Falmer.
ITV Meridian spoke to Lewes Conservative candidate, Maria Caulfield.
Police are hunting a man after an incident where a woman had boiling water poured over her face.
In the early hours of Wednesday July, 2, officers were called to an address in Ousedale Close, Lewes, after the 31-year old woman had received second degree scalding and surface injuries to her face, neck and head when a kettle full of boiling water was poured over her.
She was treated for her injuries at the Royal Sussex County Hospital and was discharged later that day. Police want to speak Luis Alfaro-Tames, who is aged 47.
He is a Peruvian national, and is described as 5'8", of slight build, with short dark hair. He has a scar under his left nostril.
Anyone who knows where he is asked to let us know via 101 or email 101@sussex.pnn.police.ukquoting serial 150 of 2/7. You can also call the independent charity Crimestoppers on 0800 555 111."
He killed himself in his prison cell just one month after being jailed for murdering his partner. Today an inquest heard the death of former detective, Peter Foster, was 'inevitable'.
Det Const Heather Cooper was killed at her home at Haslemere in Surrey in October 2011. Her body was then dumped in Blackdown Woods near Lurgashall in West Sussex. The 33 year old was on maternity leave when she was murdered.
The inquest heard Peter Foster had been on constant suicide watch in Lewes Prison but weeks before he died that was changed. Andy Dickenson reports.
Load more updates