Live updates
Lorry fire closes motorway
Video footage of a lorry on fire on the M20 in Kent
Lorry fire closes motorway
A lorry fire closed one of Kent's busiest motorways. A trailer caught fire on the westbound M20 near junction 8 for Leeds Castle. Both carriageways had to be closed because smoke was being blown across the road.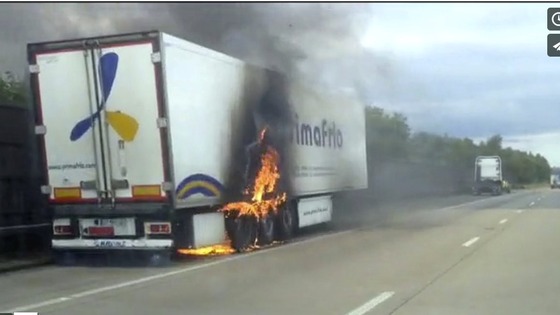 Advertisement
Lorry ram raider jailed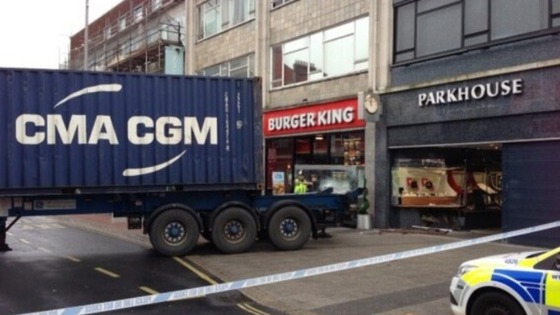 A lorry driver who ram-raided a Southampton jewellers and took expensive watches has been jailed for nearly five years. 54 year old Gary Barnes, of no fixed abode was charged with robbery. Police were called to Parkhouse and Wyatt jewellers in Above Bar Street in February.
An articulated lorry had been reversed down the road and into the jeweller's window, where the driver helped himself to watches, officers said. Barnes then fled from the scene in the white Mercedes cab of the lorry, leaving the trailer behind in the jeweller's window and blocking the busy road.
A few minutes later, police spotted the cab in Shirley Avenue. When officers attempted to pull it over, he reversed into the police car.
Driver run over by own lorry
A Kent-based company was today ordered to pay more than £320,000 in fines and costs after a driver was run over and killed by his own lorry. Father-of-three Gary Walters, 51, was working for Gloucester-based contract haulier Larkins Logistics Ltd when the fatal incident happened on 11 October 2010.
He was collecting a trailer of structural concrete from the Derbyshire premises of Dartford-based Bison Manufacturing Ltd in Swadlincote. He failed to apply the brake in his cab and, because Bison's drivers had not applied the brake to the trailer, the vehicle moved as he was coupling the parts.
Mr Walters, of The Street, Crowmarsh, Oxfordshire, is believed to have gone round the front of the vehicle, possibly in an attempt to get into the cab and apply the brakes, but he was struck by the cab and run over. He died of multiple injuries.
I hope that people learn from this tragedy and that today's prosecution will go some way to changing the way people in the same industry work. I do not want this to happen to another family.

"Telling our children their dad had died was the worst experience of my life. I felt so helpless that they were hurting and that there was nothing I could do to make it better. As a parent you want to protect your children at whatever cost.
– Vanessa Walters, Gary's wife
This was not an isolated incident ...it happened out of poor practice and was entirely preventable. "Bison Manufacturing Ltd failed to implement a safe system of work for the storage of trailers with the brakes applied. They and Larkins Logistics Ltd also failed to implement and monitor working procedures for coupling and uncoupling trailers in the yard, and they failed to do it despite previous incidents. "Had they done so they would have realised trailer brakes were routinely not being applied, taken appropriate action and a man would not have lost his life so needlessly."
– HSE inspector Judith McNulty-Green
Woman hit by lorry
A 62-year-old woman from Peasmarsh has suffered serious leg injuries in a collision with a lorry at a car park in the town yesterday.
The woman was airlifted to the Royal Sussex County Hospital in Brighton following the incident on a slip road into the Jempsons car park shortly before 12.30pm.
Anyone who witnessed the collision is asked to call Sussex Police on 101 quoting serial 705 of 22/01.
Lorry hits railway bridge
A lorry has hit a railway bridge in the New Forest. Police say the accident happened around nine o'clock this morning on the A337 near Lymington. No one's been injured and train services weren't disrupted.
Advertisement
Lorry crashes into tree on the Isle of Wight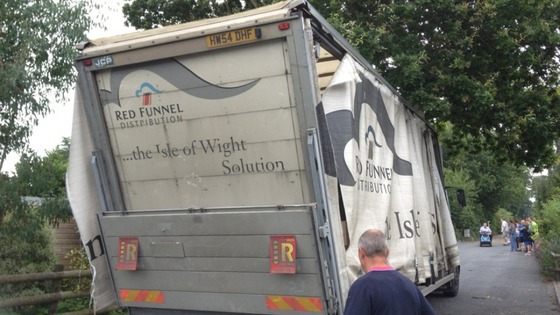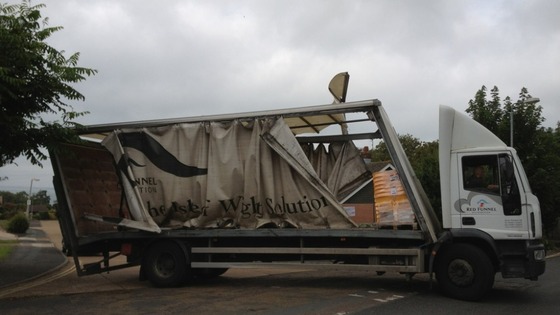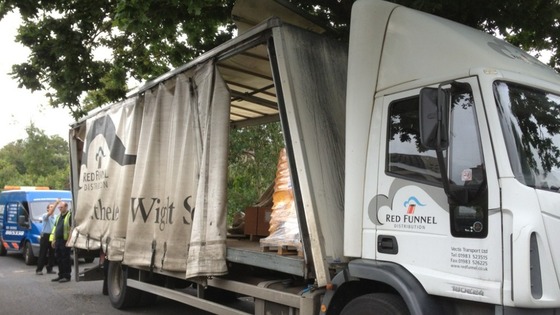 Lorry 'bursts into flames'
Emergency services were called to a report of a lorry on fire in London Road, Brighton, near the junction with Carden Avenue, at 11am.
There are no reports of any other vehicles being involved or of any injuries. The fire was extinguished some 20 minutes later. The road was temporarily closed but by 1pm one lane was open in each direction.
Lorry 'bursts into flames'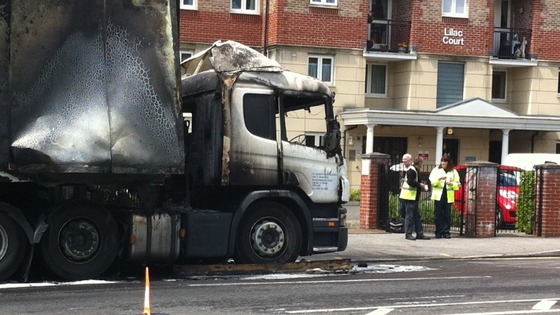 A lorry has "burst into flames" in Brighton.
Witnesses described the driver leaping out of the lorry moments before it started smoking at about 11.20am today.
The incident took place in London Road, opposite Withdean Park. It's not yet known if anyone was injured.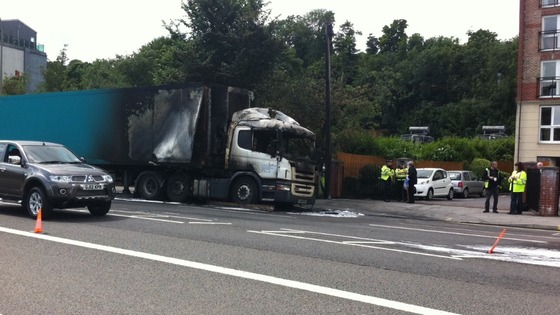 Lorry overturns blocking the A34
The A34 Northbound remains closed with queueing traffic due to emergency repairs and earlier overturned lorry between M4 J13 (Chieveley / Newbury) and High Street (East Ilsley).
A car transporter overturned after a collision with another lorry. The incident damaged the central reservation and the road's surface. The car transporter has now been recovered. Repairs to the road are underway.
Load more updates
Back to top