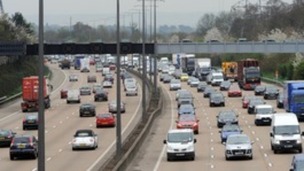 A cyclist caused travel chaos after a phone app directed him to Britain's busiest motorway in the rush hour.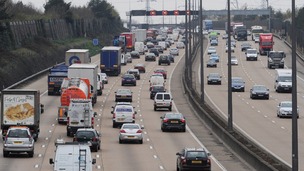 The Highways Agency has begun a consultation on controversial plans to use the hard shoulder as a lane for cars and lorries on the M25.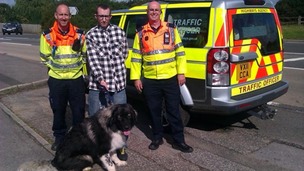 A dog has been reunited with his owner after escaping from a car during a crash on the M25.
Live updates
Smoother and safer journeys for M25 in Kent
The Highways Agency will start resurfacing roads in Kent on Wednesday to provide smoother and safer journeys for motorists.
The overnight resurfacing is taking place between junction 4 in Orpington and junction 5 in Sevenoaks.
Sections of the carriageway will be resurfaced and the white lines and road studs renewed.
Weather permitting, the work will be completed by Friday 2th May.
The new surface and cats eyes will provide smoother and safer journeys for the many drivers that rely on this busy route. We have planned to carry out the work overnight, when we know traffic flows are lowest, to minimise disruption."
– Tommy Whittingham, Highways Agency Asset Manager

The work will be carried out overnight between 10pm and 5.30am, Monday to Thursday, and between 11pm and 6am on Friday nights.
Long delays on M25 after vehicle overturns
There are long delays on the Kent-bound M25 between Godstone and Clacket Lane after a a vehicle overturned
Three lanes are closed while recovery work takes place anticlockwise.
Advertisement
Delays on M25 due to car fire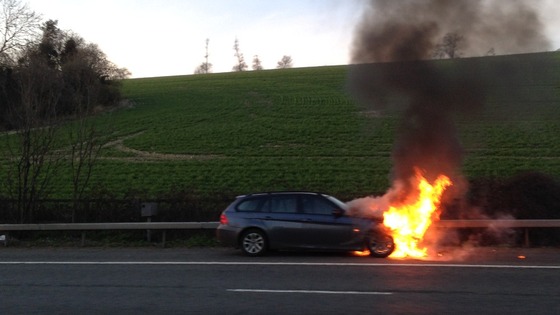 Drivers on the M25 are facing possible delays after a car caught fire on the eastbound carriageway just before the M23.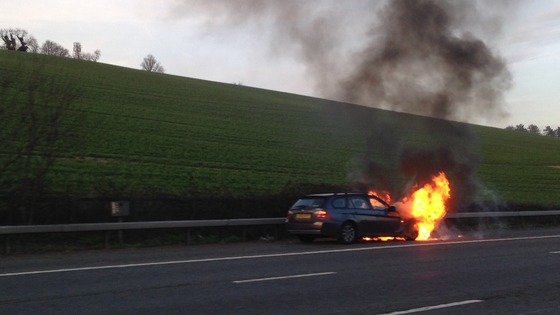 Cyclist causes chaos on M25 during rush hour
Police have released CCTV of a cyclist who caused travel chaos after a phone app directed him to Britain's busiest motorway in the rush hour.
The misguided rider ended up pedalling for some miles on the southern section of the M25 in Surrey.
With drivers, and others, taking to Twitter to give their views of the man, there were long hold-ups for morning traffic on the often-clogged motorway.
One police officer tweeted that the cyclist had been seen between junctions 12 and 13 of the motorway. He was eventually removed from the motorway and given a £50 fine.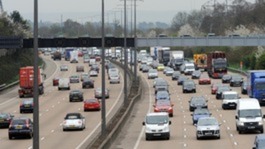 A cyclist caused travel chaos after a phone app directed him to Britain's busiest motorway in the rush hour.
Read the full story
ITV Meridian travel news
A lane on the exit slip road at junction 6 A22/B2235 (Godstone) on the M25 anticlockwise in Surrey is closed due to an accident. Queues are stretching back onto the carriageway.
Advertisement
Travel news from across the Meridian region
Traffic is queueing on the M25 anticlockwise at junction 2 for the A2 (Darenth Interchange) with congestion to junction 3 M20/A20 (Swanley Interchange). It's after a lorry shed its load of wooden fencing, partially blocking the exit slip road.
Hard shoulder to be removed from parts of M25
Now, if you've ever broken down on the motorway you'll know how frightening it can be to feel stranded on the side of the carriageway.
Well, under new plans to convert hard shoulders into extra lanes on two of the region's motorways, drivers will be forced to pull over onto the verge or into the central reservation.
The Highways Agency are to press ahead a year early with removing the hard shoulder on the M25 between junctions 5 and 7. They will allow the lane to be used as an extra traffic carriageway. It's a cheaper alternative to easing congestion - but what's the safety cost?. Mike Pearse reports.
One lane is closed due to vehicle fire on M25 clockwise between J10 A3 (Wisley Interchange) and J11 A317 (Chertsey).
Crane fire causes M25 delays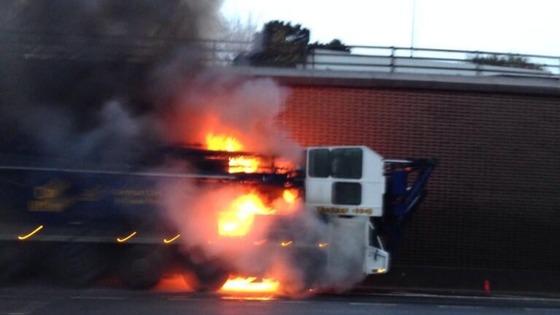 A mobile crane fire is causing problems on the M25 this morning.
Two lanes are closed and traffic is queueing due to the fire clockwise after J1B A282 / A296 Princes Road (Dartford).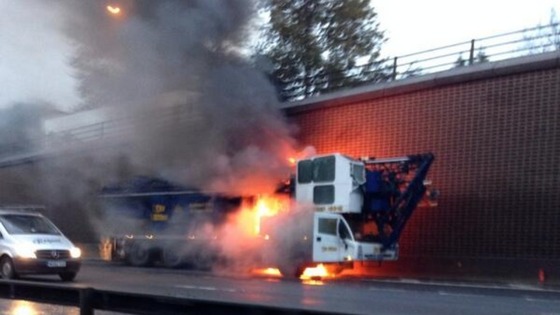 Lanes one and two are closed as the fire brigade attend a mobile crane fire on the hard shoulder.
Load more updates
Back to top