Two lanes of the M25 are closed after an involving a lorry, a car and a van.
The accident happened on the clockwise carriageway between J5 M26 / A21 and J6 A22 / B2235 at Godstone.
Drivers are being warned of eighteen months of disruption as road works get underway on the M25 and A13.
The junction connecting the two near Thurrock is being improved. The one hundred million pound scheme at junction 30 will see a forty mile per hour limit introduced on the A13.
Advertisement
One lane remains closed on the M25 clockwise in Kent, between junctions 5 and 6, as repairs continue on the central barrier after a crash yesterday morning.
There are long delays leading all the way back to the M26.
One lane is also closed anticlockwise to fix the barrier, although there are currently no delays.
Britain's busiest motorway was shut for much of the day after a HGV smashed into a white van - but both drivers walked away unscathed.
Read the full story ›
Police and firefighters are working to clear up a large diesel spillage after a crash involving two lorries and a van on the M25.
It happened between junctions five and six and affected both sides of the carriageway.
The road was closed earlier but two lanes - one on either side - are now open while work continues to make the area safe. It is believed that no one is trapped.
The M25 in Essex is closed in both directions between J23 (A1) - J27 (M11) clockwise, and J27 (M11) - J25 (Cheshunt) anti clockwise. The carriageway may not fully reopen until 3pm.
Advertisement
A stretch of the M25 motorway is closed after one person died in a crash involving several vehicles.
A number of people were also taken to hospital following the accident, which happened at around 1.50am near Waltham Abbey.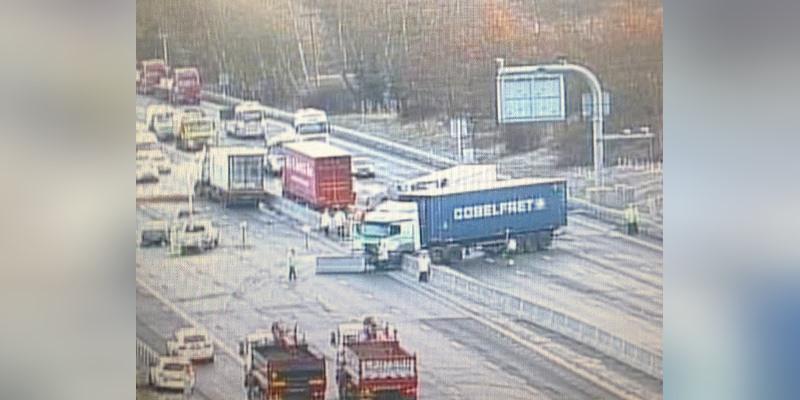 The Highways Agency said the motorway is now closed between junctions 23 and 27 clockwise and anticlockwise between junctions 27 and 25. Some parts are expected to remain shut until 3pm.
It has led to long delays on the M25 and heavy traffic in surrounding areas.
Officers investigating a collision on the M25 that left a man with serious spinal injuries are appealing for witnesses to come forward.
The collision involved a black Range Rover Vogue and a blue Peugeot 206, and happened on the anticlockwise carriageway between Clacket Lane services and Junction 5 at about 2.50am on Monday 24 November.
The driver of the Peugeot – a man in his 20s, fractured his spine in two places and is currently being treated in hospital.
Anyone who witnessed the collision is asked to contact PC Steve Halliwell on 01622 798538 quoting reference 24-0069.
The controversial scheme for so-called 'Smart motorways' has already been in place on the M25 in Surrey for six months. Many motorists were against the idea of removing hard shoulders - saying they are vital for safety. So what effect has scrapping the lane actually had? Malcolm Shaw has been finding out.
It is now six months since a controversial scheme began to close sections of the hard shoulder on the M25 in Surrey. The Highways Agency says it's helping to ease traffic congestion on the motorway.
But many motorists were against the idea, saying the hard shoulder was vital for safety. So what effect has scrapping it actually had? Malcolm Shaw has been finding out.
Load more updates