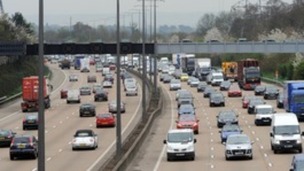 A cyclist caused travel chaos after a phone app directed him to Britain's busiest motorway in the rush hour.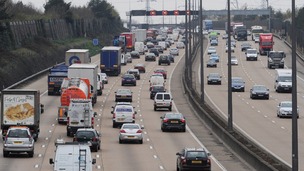 The Highways Agency has begun a consultation on controversial plans to use the hard shoulder as a lane for cars and lorries on the M25.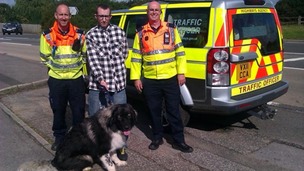 A dog has been reunited with his owner after escaping from a car during a crash on the M25.
Live updates
Crane fire causes M25 delays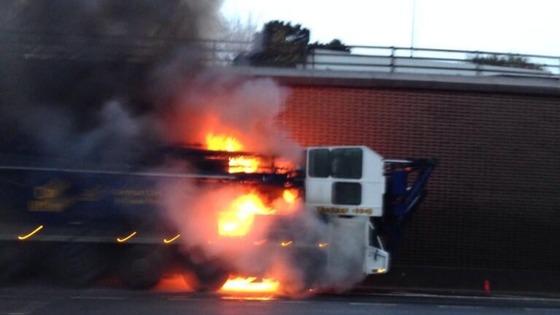 A mobile crane fire is causing problems on the M25 this morning.
Two lanes are closed and traffic is queueing due to the fire clockwise after J1B A282 / A296 Princes Road (Dartford).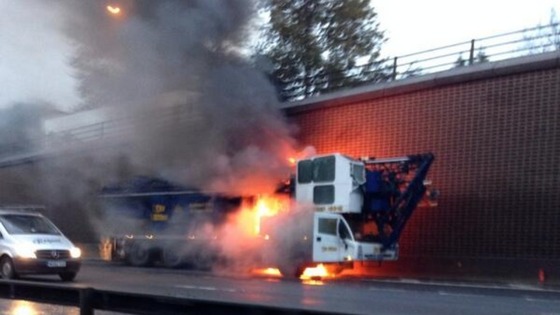 Lanes one and two are closed as the fire brigade attend a mobile crane fire on the hard shoulder.
Travel problems this Wednesday
Traffic is queueing on the M25 clockwise in Kent between junction 5 M26/A21 and Clacket Lane Services - congestion stretches to junction 4 for Orpington - due to an earlier accident. However all lanes have reopened.
Advertisement
Travel problems this Wednesday
Three lanes are closed on the M25 clockwise in Surrey around junction 6 for Godstone (A22/B2235). Traffic is stop-start with congestion to junction 4 A21/A224 due to an accident.
M25 Traffic
One lane is closed and there is queueing traffic due to a broken down vehicle on the M25 clockwise between J5 M26/ A21 and J6 A22/B2235.
Down to only two lanes through the ongoing road works.
Adding to the usual morning queues.
Swan causing delays on M25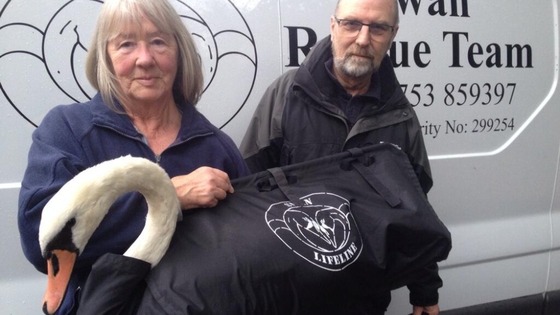 The swan that has caused delays on the M25 is now in the hands of Berkshire charity Swan Lifeline.
The charity confirmed that the swan was taken by police to the local vets and has sustained no injuries after ending up on the motorway - causing 90 minute traffic queues.
Swan causing delays on M25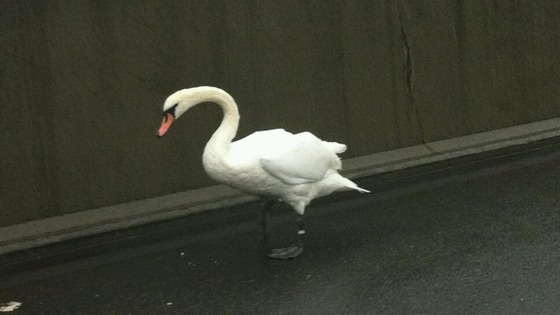 A swan is causing mayhem on the M25 by holding up traffic - with 90 minute delays.
Advertisement
Swan causing delays on M25
Late turn are in and it's raining and cats and dogs, and swans!!Reports of 2 Swans on the #M25.One has been caught by one of our officers!
#M25 11>>10 no trace of the Swan, 13>>12 off duty RPU on there way home have managed to capture the Swan.
Swan causing delays on M25
There are major delays on the M25 clockwise between J9 A243 / B2430 (Leatherhead) and J15 M4. Travel time is around an hour and 30 minutes. Tailbacks for 20 miles.
Plan for M25 orbital railway
Having to travel on the M25 at rush hour can be a lottery - the sheer numbers of cars that use the motorway mean traffic jams are a daily occurrence. That's why a number of councils are backing plans for a rail version of the ring road. Our transport correspondent Mike Pearse reports.
Free-flow toll for Dartford
The barriers at the Dartford crossing are coming down but at what cost? Tom Savvides talks to Nigel Gray from the Highways Agency, drivers and Paul Watters from the AA.
Load more updates
Back to top