There are calls tonight for Maria Miller to step down as MP for Basingstoke. It follows her resignation from the Cabinet yesterday over her expenses.
The UKIP leader Nigel Farage says she should resign and a by-election should be called.
UKIP came fourth in Basingstoke in the last General Election. Meanwhile Mrs Miller says she's donating her cabinet pay-off believed to be £17,000 to a local charity.
Basingstoke MP Maria Miller will donate a payoff of around £17,000 to charity after quitting as Culture Secretary over her expenses.
The Basingstoke MP is entitled to the lump sum worth three months of her £67,000 ministerial salary, which comes on top of her parliamentary pay, by law but could have decided not to take it.
She rejected calls not to take the money, but a source close to the former minister said the cash would go to Speakeasy Advocacy, a Basingstoke charity for adults with learning disabilities.
Advertisement
Tory MP Michael Fabricant has been sacked as vice-chair of the party after criticising the HS2 rail scheme and Maria Miller over her expenses.
The former Conservative whip claimed on Twitter that he refused to resign so was sacked by party chairman Grant Shapps.
After news of Mrs Miller's resignation broke, the MP said: "Well, about time."
Mr Fabricant, MP for Lichfield in Staffordshire, tweeted this announcement:
Been asked to resign as Vice Chairman, refused, so sacked over HS2 and my views on a recent Cabinet Minister. Still available 4 speeches etc
After Mrs Miller resigned over her expenses scandal, he tweeted:
Note to self: If ever a minister again, be like Mark Harper. If in trouble, resign quickly & in a dignified manner. Lesson to us all.
He is set to lead a Tory revolt against the £50 billion HS2 scheme later this month by calling for laws so the London-Birmingham is denied a second reading in Parliament.
The MP has spoken of his shock at being sacked and wrote on Twitter:
"@alichat66: @mike_fabricant Stunned at the news - I always thought having an opinion was allowed." I think it was a knee-jerk decision.
She sort of apologised - and now she's quit her job as Culture Secretary, but the expenses row involving Basingstoke's Conservative MP Maria Miller is refusing to go away.
Ms Miller bowed to parliamentary and public pressure and resigned this morning.
Not long after news filtered through to residents in her local constituency - with many there questioning whether she should also remain the towns MP.
Back In Westminster after an emotional Maria gave a statement to the media - David Cameron came under fire as to why he backed her and didn't sack her. Jonathan Marland reports.
Many people thought that Maria Miller's resignation as Culture Secretary was inevitable, despite support for the MP from the Prime Minister and some other senior Tories.
But what has been the reaction to it all in her constituency of Basingstoke? Our reporter Cary Johnston has been finding out.
Almost two thirds of the public think David Cameron handled the Maria Miller expenses row badly, according to a new ITV News/ComRes poll.
Some 63% of those polled said the Prime Minister had performed "badly", with 32% saying he had handled the the controversy "very badly".
Just 8% of respondents said they thought Mr Cameron had dealt with it well.
ComRes polled 1,000 members of the public today.
Advertisement
Home Secretary Theresa May has been speaking of her disappointment at Maria Miller's resignation.
She told ITV News:
"I was very sorry to hear that Maria Miller had resigned. She has been an excellent colleague. I had worked with her on a number of issues and, as I say, I was sorry to see her leaving the cabinet."
The Department for Culture, Media and Sport has tweeted a picture of the new secretary of state, Sajid Javid, along with the department's Permanent Secretary, Sue Owen.
Mr Javid, who was previously Financial Secretary to the Treasury, will also become Equalities minister.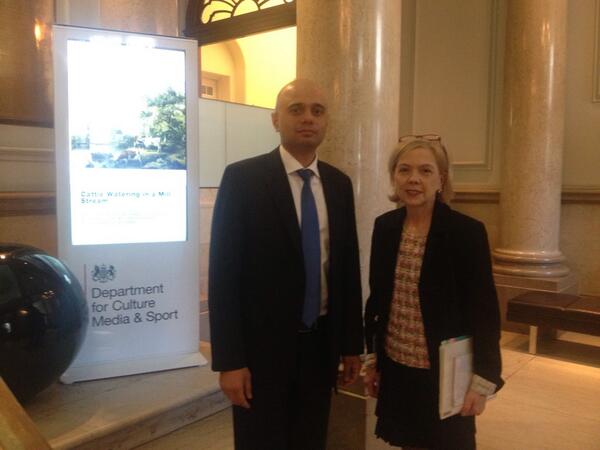 Following the resignation by Basingstoke MP Maria Miller as Culture Secretary, constituents have given their reaction to ITV Meridian.
Load more updates