Crowds have gathered at Carterton in Oxfordshire to mark the awarding of the Freedom of the Town to the Royal Air Force.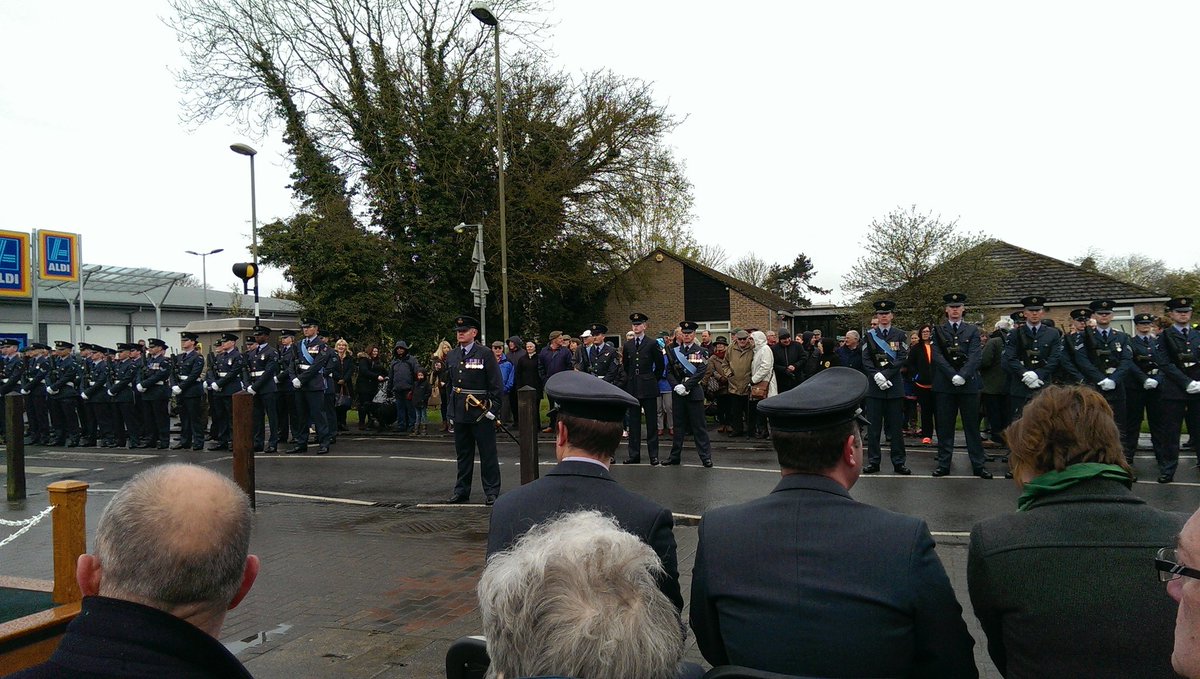 Advertisement
A fresh inquest into the death of a young soldier at the Deepcut army barracks in Surrey has begun today - more than 20 years after her death.
Private Cheryl James, who was 18, was discovered with a gunshot wound. She was was one of four teenage recruits to die at the barracks over a seven year period. She was found dead in November 1995. Privates Sean Benton, James Collinson and Geoff Gray also died from gunshot wounds - between 1995 and 2002.
Their families have long campaigned for a full inquiry after inquests which recorded 'open' verdicts - or verdicts of suicide. It follows claims of bullying - and a climate of fear - at the base.
In 2014, the High Court ordered a fresh inquest into Private James' death. Last month, at a preliminary hearing, new evidence emerged to suggest that Private James may have been sexually exploited by senior ranks.
Divya Kohli's report includes an interview with Des James, the father of Private Cheryl James.
By ITV News correspondent Juliet Bremner
The second inquest into the death of teenage recruit Cheryl James opened today with a promise that it would be a "full, frank and fearless" investigation.
The 18-year-old's parents won a legal battle to hold a new inquest and present additional evidence into the possible reasons why she died at Deepcut Barracks in Surrey in November 1995.
But at the opening of the inquest, Judge Brian Barker sitting as coroner, said that he could not allow a wider inquiry in the culture at the base. He pointed out that it was his role to consider "how, not why " Pte James had died.
He promised there would be "a full, frank and fearless inquiry into the death of Cheryl James" but this would not look at allegations of sexual abuse and bullying that may have occurred before the night of her death.
The family had argued at pre-trial hearings that this could have contributed to Cheryl's state of mind and had hoped to introduce witnesses to testify about earlier experiences of abuse at Deepcut.
Field hospitals are a crucial part of our military - treating patients in some of the most hostile parts of the world. But they can only provide so much protection.
Now, though, there's a new addition to Field Hospitals. A structure so big it would need to be flat-packed into more than a hundred shipping containers. But it's designed for pretty much anywhere. Medics have been putting it to the test on exercise in Hampshire. Emma Wilkinson reports.
Advertisement
A band of Royal Marine reservists have been canoeing from their former home in Henley to their new home in Oxford.
The new unit opens today and will compliment the other locations in Portsmouth, Henley and Cambridge. It will become a specialist training centre. Today's opening also marks the 351st birthday of the Royal Marines.
The reservists have been rowing since Tuesday lunchtime and will pitch up near the site of the new centre at lunchtime today for a special launch ceremony.
A group of wounded war veterans has arrived in Kent as part of a one thousand mile walk of Britain. They have visited Aylesford and Tunbridge Wells where crowds gathered to see them.
The ex-service men and women are raising money for the families of those injured in conflicts. A wreath was laid in the recently opened Garden of Honour. It's part of a campaign by the charity Walking With The Wounded. We spoke to Matt Fisher and Kirsty Ennis.
More than 150 troops in full military uniform have marched through the centre of Winchester.
The soldiers from the Adjutant General's Corps were given the Freedom of Winchester . It's the first time in 7 years that they've celebrated the ancient honour - allowing them to parade through the city with weapons and a marching band.
Hundreds of people came to support the troops, who have a strong link with Winchester.
Watch Sam Holder's report below:
He spoke with Lt. Col Mark John from the Adjutant General's Corps/ Royal Military Police
Soldiers from the Adjutant General's Corps have been given the Freedom of Winchester today. Around 150 of the troops marked the occasion with a 'Freedom Parade' through the city's streets.
The right of "Freedom of Entry" is an ancient privilege. It means the regiment can parade with bayonets fixed, drums beating and colours flying. The tradition dates back centuries, to a time when only trusted military units were allowed to bear arms within a city's boundaries.
Load more updates