MP blasted by Greenpeace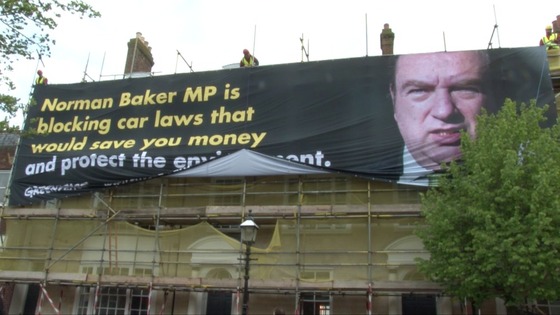 Lewes MP Norman Baker has responded to claims he is blocking new legislation to reduce carbon emissions from new cars, after Greenpeace activists unfurled a huge banner criticising him in the town today.
The Transport Minister said: "It is quite wrong of Greenpeace to make unfair and inaccurate allegations of this nature. I am not trying to water down this legislation.
"On the contrary – as always and as I have throughout my political career, I am trying to get the most sensible result for the environment. Greenpeace, in their campaigns, should challenge those who don't care about the environment, rather than those who do.
"The Department for Transport is working hard to drive down emissions from vehicles, both through these complex negotiations in Europe, and elsewhere. We are rightly focussed on getting the best outcome from the 2020 targets – which is the main point of current negotiations.
"We are not in principle against setting a tough 2025 target, but to do so now risks setting industry an overly generous target. Greenpeace should withdraw these allegations."