Oxford United beat Wycombe Wanderers 3 - 0 in front of thousands of fans in a sell-out crowd at the Kassam Stadium. The U's performance sends them up into League One.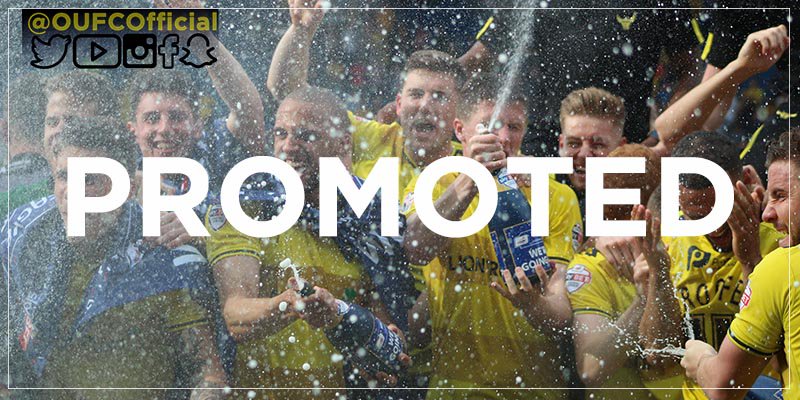 Oxford's Bodleian Libraries have acquired a recently-discovered map of Middle-earth. It was a working document Tolkien made notes on, revealing his vision of the creatures and shapes in his imagined world featuring The Hobbit and The Lord of The Rings.
Advertisement
Oxford United Football Club's players could secure promotion from League Two if they win at Carlisle on Saturday and other results go their way.
The football club has two league matches remaining and if the side wins both, the players will definitely secure promotion. But if results go badly, Bristol Rovers and Plymouth are among the clubs hoping to exploit any slips. Chris Maughan spoke to the U's manager Michael Appleton before the team set off for Carlisle.
The water supplier Thames Water says it has finally found out why Oxford has such a big problem with 'fatbergs'.
When collating the results of a recent survey the firm found that around 80 percent of the city's restaurants were not using fat traps to stop oil and grease spilling into Oxford's sewers. Therefore, the fat collects in the sewer and drains below the city streets and creates the huge, solid deposits, otherwise known as fatbergs.
Earlier this year, a 20 tonne blockage was removed from one drain in the city centre. Kate Bunkall's report explains what happened. The interviewee is Alex Saunders from Thames Water.
A five-star hotel in Oxford that was badly damaged by a fire is to have its final piece of scaffolding removed today.
Flames ripped through the Randolph Hotel in April 2015. The blaze is believed to have been started by a flambéed beef stroganoff in the kitchen. It has taken more than 235 tradesman 11 months to restore the building.
A man's body has been found inside a property in Oxford.
Officers were called to Iffley Road yesterday - closing the route to pedestrians and vehicles. Police are treating the death as 'unexplained'.
Advertisement
Oxford is the UK's least affordable city - according to a new report. The average house price of £364,000 is nearly 11 (10.68) times the gross average salary in the city. That's more expensive compared with average earnings than in any other UK city. The report says this is partly due to Oxford's attractiveness to commuters working in London.
Winchester (10.54), London (10.06), Cambridge (9.9) and Bath (9.77) make up the top five least affordable cities. Winchester was recently named by the Sunday Times as the "best place to live" in the UK.
Oxford scientists, investigating antibiotic resistance, are asking for donations… of poo.
Oxford University's Modernising Medical Microbiology team want to study the effects of courses of antibiotics on gut microbes.
Medical research is increasingly looking at the microbiome – the collection of tiny microbes that live on and in us. Some of them are beneficial, others less so, and a number may usually go unnoticed. My area of research focuses on the gut – and many of us will have had an experience where the balance of the billions of microbes in our stomach was disturbed, with unpleasant results for our health.

Each one of us has a unique set of microbes that changes depending on where we've been, what we've eaten, even on the people and animals living with us. It also depends on anything we might be taking to fight disease – especially antibiotics. Antibiotics are designed to kill microbes and they can't discriminate between the bad ones and the good ones. Individual microbes can be more vulnerable to certain antibiotics, so while antibiotic treatment clears the infection, it also changes the balance of microbes in our gut.
– Dr Nicola Fawcett
A man has been charged after a 4-year-old girl was injured in a hit and run in Oxford.
It happened in Mortimer Road near to the junction with Nowell Road at about 4.15pm on 22nd February.
A four-year-old girl was thrown across the bonnet of a car and onto the road. The car reportedly failed to stop at the scene.
The girl received cuts, bruises and abrasions. She was treated at the John Radcliffe Hospital and has since been discharged.
Zaheeb Bokhara, aged 19, of Howard Street, Oxford, was arrested on Friday and charged on Saturday with :
One count of perverting the course of justice.
Four counts of driving a motor vehicle otherwise than in accordance with a licence.
One count of being the driver of a vehicle that failed to stop after a road accident.
One count of being the driver of a vehicle involved in a road accident who failed to report that accident.
Four counts of using a motor vehicle on a road/public place without third party insurance.
He's been remanded in custody to appear in court on 1st April.
It's a crucial day in the countdown to the US Election today - Super Tuesday - when millions of Americans cast their votes - across several states - for the Republican and Democratic candidates.
And it was an important day for one local man too - as he voted for his brother to be the next President.
Larry Sanders lives in Oxford - but, like all expats, was able to vote today. He's confident younger sibling Bernie can succeed all the way to the top
Load more updates