More than 6,700 children in the South will be homeless this Christmas, according to new government figures, 13% more than last year.
Charity Shelter warns that the high cost of living is making it harder for families to keep a roof over their heads. Many of those affected will spend the festive period in cramped temporary accommodation, such as hostels or bed and breakfasts.
Advertisement
More than 200 guns were handed in to police during a regional gun amnesty this month.
Read the full story ›
A United Airlines flight that was destined for Newark, New Jersey has landed safely back at Heathrow after a "maintenance issue" forced the aircraft to burn off fuel above the English Channel for several hours.
The flight, carrying 227 passengers and a crew of 13, left the airport at around 11am on its way to Newark, New Jersey, but was forced to divert shortly after take-off.
The Boeing 767-400 aircraft was initially expected to land back at Heathrow at 1.15pm but flight radar websites showed the plane circling at 12,000 feet for a number of hours.
United Airlines confirmed Flight UA28 finally landed safely at Heathrow at shortly before 4pm.
A spokesman for the airline said: "Our maintenance team is currently inspecting the aircraft. Our customer service team at Heathrow is providing assistance to customers and is making arrangements for them to complete their journeys.
"We regret any inconvenience experienced by our customers."
A United Airlines flight that has been circling over the English Channel for several hours has again diverted its course after apparently being scheduled to return to Heathrow at 3pm (GMT).
According to data from the flightradar24 website, United Airlines Flight 28 now appears to be circling above Woking and Leatherhead in Surrey after initially heading towards Heathrow airport from its holding pattern in the English Channel.
Advertisement
A gang carrying axes forced their way into The Swan antiques centre in Tetsworth, Oxfordshire. They stole £150,000 worth of jewellery and watches. The robbery was caught on CCTV
A bookmaker has suspended betting on the Queen announcing her abdication in her speech on Christmas Day.
Read the full story ›
United Airlines has issued this statement after one of its planes was forced to return to Heathrow shortly after take off.
It said: "United Airlines flight UA28 from London Heathrow to New York/Newark on Dec. 17, 2014, a Boeing 767-400 aircraft with 227 customers and a crew of 13 on board, is returning to Heathrow because of a maintenance issue.
"The aircraft is expected to land at Heathrow at 1:15 p.m. local time.
"We regret any inconvenience experienced by our customers."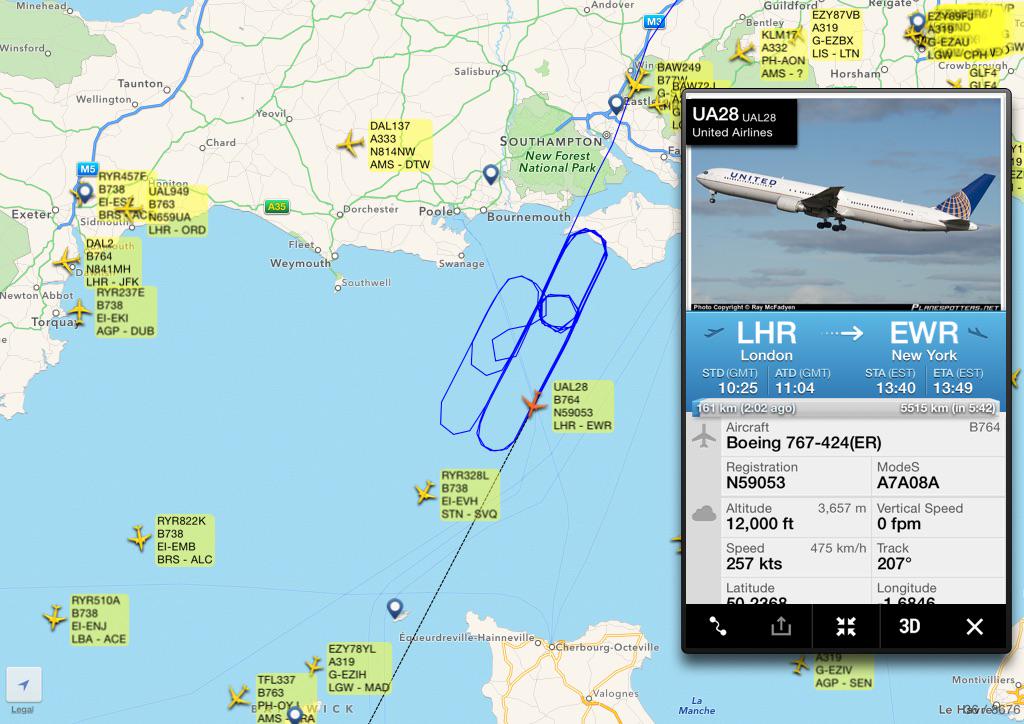 Load more updates