An overturned lorry carrying a load of frozen offal has blocked the M40 Southbound just before junction 6 at Watlington in Oxfordshire.
Thames Valley Roads Policing Unit has said that recovery work is continuing on M40 between junction 6 and 7. Expect severe delays.
There is a revised rail service on Southeastern between London Charing Cross and Dartford, between London Charing Cross and Gravesend and between London Charing Cross and Orpington due to flooding. All lines have now reopened following disruption caused by heavy rain and thunderstorms across the Southeastern network.
Services are still subject to revisions, delays and cancellations.
SE UPDATE: Cannon Street & London Bridge stations are now OPEN for Southeastern services but disruption continues
Given the ongoing disruption which will continue for some time, here's some of the things we're doing to help; https://t.co/XyDpAA86Xo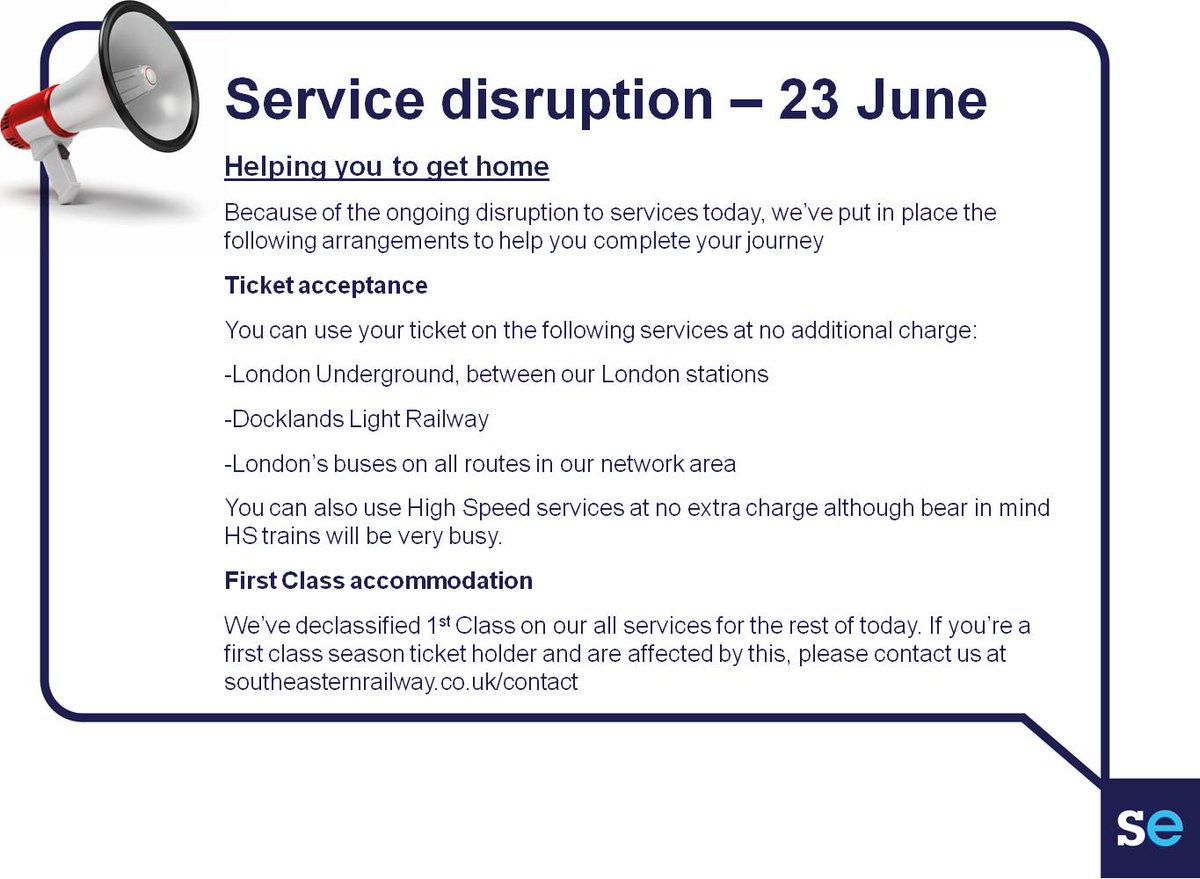 Advertisement
Revised service on South West Trains between London Waterloo and Salisbury due to flooding and signalling problem. London Waterloo to/from Salisbury and Exeter will terminate and start at Basingstoke. Passengers will need to use an alternative train between Basingstoke and London Waterloo.
#DisruptionSWT - @gwrhelp are kindly accepting our tickets on all reasonable routes due to on going disruption.
Severe delays and road blocked due to overturned lorry on M40 Southbound before J6 B4009 (Watlington), congestion on M40 to J9 A34 / A41 (Bicester). All southbound traffic is being held. A lorry carrying frozen offal crossed over the central reservation at 12:30. The northbound carriageway is closed between J6 and J7, and there is a diversion in place via A40.
How are you commuting home? Car?  Bus?  Bicycle?  Canoe?  Sailboat?! ⛵ Please #DriveForTheConditions and stay safe! 
The MP for Fareham, Suella Fernandes, has cast her vote at the Lockswood Community Centre and Library in Fareham.
"I was proud to vote today in the referendum, and take part in the biggest decision our country has faced in my lifetime. From what I've seen, turnout in Fareham appears to be high, which is a great endorsement of our democracy, and of the pledge we made as Conservatives to give the people a say on this vital issue. Whatever the result, we have to respect the wishes of the British people and unite to face the future."
– Suella Fernandes MP,
Advertisement
There is major disruption on the railways for travellers following heavy rain and thunderstorms overnight. More downpours are expected.
Read the full story ›
Helen Plint presents the early afternoon forecast for the west of the Meridian region.
Read the full story ›
Load more updates