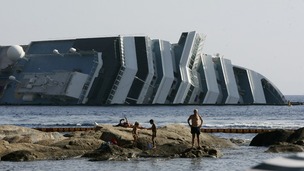 Cruising companies expected the disaster to eat up profits this year, but recent figures show they're doing better than expected.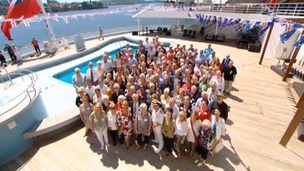 People from our region who emigrated to Australia after the war have been joining in with celebrations to mark P&O's anniversary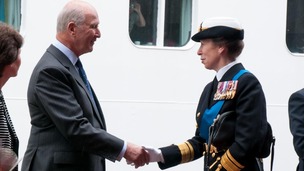 The Princess Royal reviewed the seven ships in P&O Cruises' fleet at Southampton in an anniversary marred by foul weather and traffic chaos.
Live updates
Fog causes travel disruption in the region
Delays possible on P and O Ferries between Dover and Calais due to fog. Delays and cancellations are possible this morning.
ITV Meridian: Monday travel
Delays of up to 45 minutes on P and O Ferries between Dover and Calais due to earlier industrial action in Calais.
Advertisement
Coach overturns on motorway
VIDEO: Our lunchtime report on the M3 coach crash, with passengers' interviews.
Coach overturns on motorway
The South East Coast Ambulance Service have released a statement about their involvement in the recovery & rescue operation after a coach crash on the M3. The coach was carrying passengers to Southampton ahead of a cruise, when it left the southbound carriageway of the M3 by junction 4 at Fleet.
It happened at around 6.10pm on Sunday 6th January. In response the South East Ambulance Service NHS Foundation Trust sent six ambulances, two HART (Hazardous Area Response Team) vehicles, five single responder cars, one critical care paramedic unit, one HEMS unit and five officers to the scene.
They were also assisted by South Central Ambulance Service NHS Trust
Ambulance clinicians and paramedics assessed forty people. Seven people were then treated and taken to hospital with non-life threatening injuries. While other with a number of others assessed, treated and released at the scene.
"This was potentially a very serious incident. All emergency services work well together to ensure that patients were quickly assessed and treated.

"I would personally like to pass on my thanks to the staff of South Central Ambulance Service which provided support and the efforts of our staff who did a fantastic job."
– Andy Newton, Director of Clinical Operations
Coach overturns on motorway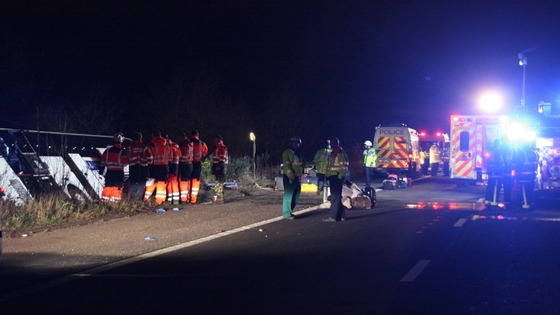 Hampshire Hospitals NHS Foundation Trust have released a statement about last night's coach crash on the M3:
'We can confirm that following the incident on the M3 yesterday evening three casualties were taken to Basingstoke and North Hampshire Hospital's Emergency Department where they were assessed and treated. All patients have now been discharged.'
Coach overturns on motorway
Sergeant Lyndon Barrett from Hampshire Police speaking to ITV Meridian
Advertisement
Coach overturns on motorway
The driver of a coach that overturned on the M3 yesterday lost consciousness at the wheel, Hampshire police said.
The accident happened at about 6pm on the southbound carriageway, near Fleet services.
Eight people were taken to hospital, one seriously injured with a fractured bone.
Passengers on the Dutch-registered coach were were travelling to Southampton to begin a cruise.
Coach overturns on motorway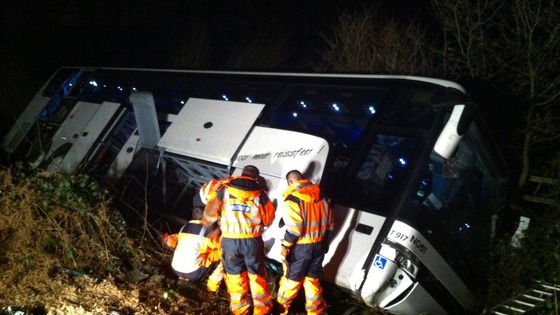 Eight people are in hospital after a coach overturned on the M3 this evening.
The coach overturned, a mile away from Fleet Services at around 6pm.
The vehicle, which is Dutch registered, was carrying around 26 passengers. None are thought to be seriously injured.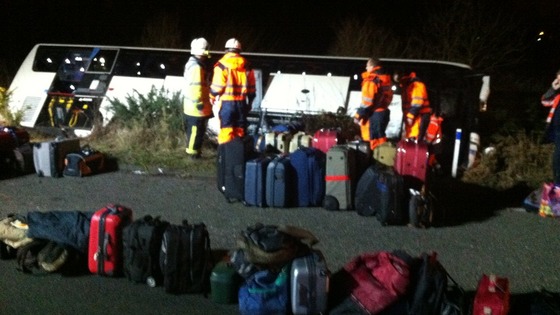 The coach passengers were being taken to Southampton and were due to go on a cruise.
It's believed the accident happened after the driver became ill at the wheel.
The carriageway was closed from junction 4a to 5 whilst the passengers are evacuated and the coach recovered.
Coach overturns on motorway
Emergency services are still trying to extricate passengers after a coach crash on the M3 in Hampshire.
Police have now confirmed that 26 people were on the Dutch registered coach, five have been taken to hospital with injuries not thought to be serious.
Coach overturns on motorway
Our crews from Basingstoke, Rushmoor and Hartley Witney assisting @hantspolice with overturned #coach on #M3
Load more updates
Back to top