Officers investigating a road traffic collision in Poole involving a teenage cyclist are appealing for witnesses and anyone with information to come forward.
At around 5.50pm on Sunday 16 November 2014, a 16-year-old boy was cycling across the zebra crossing in Sea View Road when he was in collision with a car.
The car stopped and the female driver and a man who was travelling in the vehicle got out and spoke to the boy but details were not exchanged.
The boy suffered bruising and his bike was damaged in the incident.
Witnesses and anyone with information should call Dorset Police in confidence on 101 quoting incident number 16:371. Alternatively, call the free and anonymous Crimestoppers line on 0800 555 111 where mobile phone tariffs may apply.
"I am appealing for the driver involved in this incident to please get in contact with me. I would also like to hear from anyone who saw what happened or has any details about the vehicle involved."
– Police Constable Kev Farenden, of Dorset Police's Traffic Unit
Detectives in Poole have released details of a car they are trying to trace after an alleged serious assault in Sea View Road.
Police were called at around 10am on November 13 to the viewing point after reports that a man had been struck by a car and assaulted by several men from the same vehicle.
The 33-year-old victim from Poole sustained a leg injury and was taken to hospital for treatment.
The vehicle involved in the incident was described as a silver VW with the registration number GD14 ZXV. The car was hired from Europa in Liverpool in November.
Anyone with information should call Dorset Police on 101, quoting incident number 13:102, or call Crimestoppers line on 0800 555 111.
Advertisement
A Poole man has today been given a custodial sentence of three and a half years for defrauding a 64-year-old vulnerable woman of several thousand pounds.
Derek Montague, 41, was found guilty of four counts of fraud and two additional charges in relation to the Consumer Protection from Unfair Trading Regulations 2008, following a successful prosecution by Borough of Poole Trading Standards.
The offences related to gardening and external works carried out by Mr Montague to the victim's home over a period of seven months. The court heard that Mr Montague charged approximately £41,000 for work undertaken including erecting two trellises, boarding and insulating the loft space as well as pointing to outside walls. He also failed to provide a written guarantee for the work undertaken.
Mr Montague was also found guilty of an 'aggressive practice' when he pressurised the victim to pay the additional £1,200 for removal of the garden shed and then accompanied her to the cashpoint to withdraw the money.
James Norman, Regulatory Team Manager, Borough of Poole Trading Standards said:
This is a clear case of a trader willing to exploit the trust of a customer over a long period of time for his own profit. We are pleased with the sentence given, which sends a clear message that practices of this kind will not be tolerated in Poole. Trading Standards will use every means possible to bring to justice traders who mislead or exploit their customers.
– James Norman
Detectives are appealing for witnesses to come forward following an alleged serious assault in Poole. Police were called to the viewing point in Sea View Road following reports that a man had been struck by a car and assaulted by several men from the same vehicle. The car involved in the incident has been described as a silver VW, possibly a Golf or a Polo. The victim, a 33-year-old Poole man, sustained a leg injury and was taken to hospital for treatment.
Detective Sergeant Andy Roberts, of Bournemouth CID, said: "The incident happened in a busy area of Poole and I urge anyone who saw what happened to contact me"
Five men, aged in their 20s, have been arrested in the Avon and Somerset area on suspicion of conspiracy to cause grievous bodily harm and are currently assisting police with their enquiries.
Anyone with information should call Dorset Police on 101 or the anonymous Crimestoppers line on 0800 555 111.
A rogue trader who preyed on a vulnerable pensioner, conning him out of hundreds of pounds, was sentenced today.
60-year-old, Michael McCann from Poole, tried to massively overcharge for what turned out to be shoddy external paint work, one expert even saying it was the worst he had ever seen.
Martin Dowse reports:
Half-term holiday makers on the south coast witnessed a dramatic sea rescue today as a woman was pulled to safety when her car fell into Poole Harbour.
Sam Holder reports.
Advertisement
Poole Inshore lifeboat was launched just after midday today to a report of a vehicle in the water on the North side of the chain ferry slipway at the entrance of Poole Harbour.
The Inshore lifeboat was on scene within 5 minutes and found a small 6 metre angling boat alongside the pier with the casualty, he had been in the vicinity when the incident had happened.
Two lifeboat crew were put across onto the pier to assess the casualty and administer first aid, they then transferred the casualty to a paramedic who arrived on scene.
The Inshore lifeboat than transported the fire brigade, to search for the car that was in the water, the fire brigade used a special device that could look through into the depths of the water to locate the vehicle.
Once the vehicle was located, Jenkins Marine barge was on hand to recover it, the inshore lifeboat crew stood by as a safety cover, once the vehicle had been salvaged and all persons accounted for the Poole inshore lifeboat crew returned the fire brigade colleagues ashore and returned back to station, on the way back they assisted a broken down jet skier at number 24 buoy, they took the casualty under tow back to Baiter slipway and were ready for service just after 14.00hrs.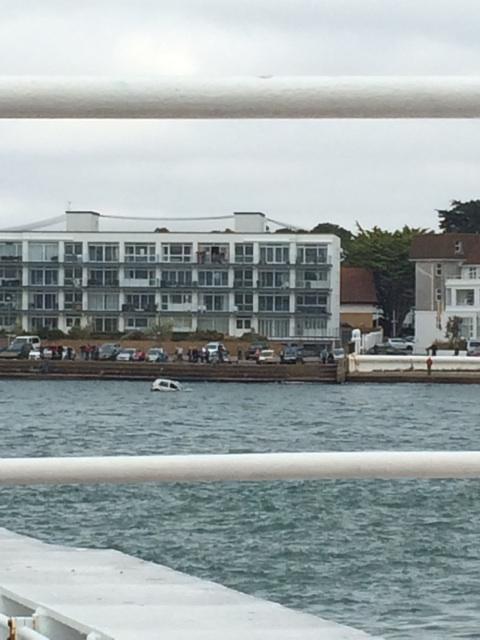 At Sandbanks where a car driven into the harbour by a lady in her 70's is being recovered. She escaped uninjured. http://t.co/0lEzMdnJBo
Holidaymakers went to the aid of a car driver after her vehicle rolled down a ferry ramp into the sea at Sandbanks. It happened near the chain ferry at Poole in Dorset just after noon.
Eye witnesses say a woman in a silver car rolled down the slipway into the sea just after the ferry had set off across the entrance to Poole Harbour.
Those on the shore threw a life belt to her while boat owners also came to help her.
She was able to free herself from the car and was helped ashore. The car is reported to have sunk.
A man has been taken to hospital with serious head injuries following a collision with a car in Poole.
A Vauxhall Corsa and a pedestrian collided at the junction of Constitution Hill Road and Ashley Road at around 9:30pm on Friday night.
The pedestrian was take to Poole Hospital with serious head injuries where he remains in a critical condition.
Police are appealing for witnesses.
Load more updates