A rogue trader who preyed on a vulnerable pensioner, conning him out of hundreds of pounds, was sentenced today.
60-year-old, Michael McCann from Poole, tried to massively overcharge for what turned out to be shoddy external paint work, one expert even saying it was the worst he had ever seen.
Martin Dowse reports:
Half-term holiday makers on the south coast witnessed a dramatic sea rescue today as a woman was pulled to safety when her car fell into Poole Harbour.
Sam Holder reports.
Advertisement
Poole Inshore lifeboat was launched just after midday today to a report of a vehicle in the water on the North side of the chain ferry slipway at the entrance of Poole Harbour.
The Inshore lifeboat was on scene within 5 minutes and found a small 6 metre angling boat alongside the pier with the casualty, he had been in the vicinity when the incident had happened.
Two lifeboat crew were put across onto the pier to assess the casualty and administer first aid, they then transferred the casualty to a paramedic who arrived on scene.
The Inshore lifeboat than transported the fire brigade, to search for the car that was in the water, the fire brigade used a special device that could look through into the depths of the water to locate the vehicle.
Once the vehicle was located, Jenkins Marine barge was on hand to recover it, the inshore lifeboat crew stood by as a safety cover, once the vehicle had been salvaged and all persons accounted for the Poole inshore lifeboat crew returned the fire brigade colleagues ashore and returned back to station, on the way back they assisted a broken down jet skier at number 24 buoy, they took the casualty under tow back to Baiter slipway and were ready for service just after 14.00hrs.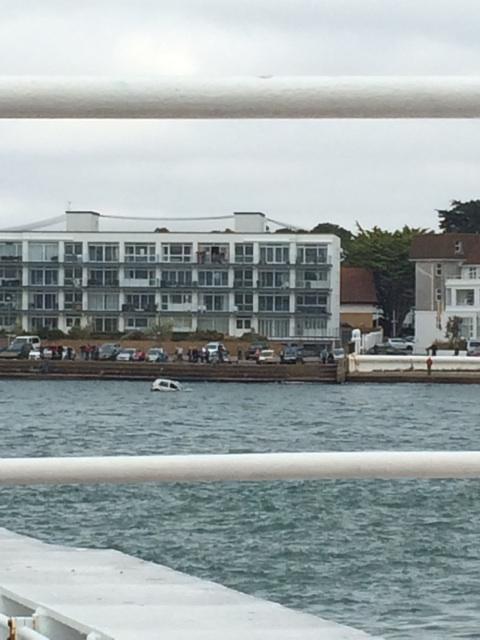 At Sandbanks where a car driven into the harbour by a lady in her 70's is being recovered. She escaped uninjured. http://t.co/0lEzMdnJBo
Holidaymakers went to the aid of a car driver after her vehicle rolled down a ferry ramp into the sea at Sandbanks. It happened near the chain ferry at Poole in Dorset just after noon.
Eye witnesses say a woman in a silver car rolled down the slipway into the sea just after the ferry had set off across the entrance to Poole Harbour.
Those on the shore threw a life belt to her while boat owners also came to help her.
She was able to free herself from the car and was helped ashore. The car is reported to have sunk.
A man has been taken to hospital with serious head injuries following a collision with a car in Poole.
A Vauxhall Corsa and a pedestrian collided at the junction of Constitution Hill Road and Ashley Road at around 9:30pm on Friday night.
The pedestrian was take to Poole Hospital with serious head injuries where he remains in a critical condition.
Police are appealing for witnesses.
Advertisement
Around 300 jobs are at risk at luxury boatbuilder Sunseeker based in Poole. Staff were told of plans today. It's thought the cuts will focus on administration and managerial roles.
The company said: "The focus of the plans is to ensure the continued growth and success of our business, based on the UK's South Coast. It is clear to us that customer demand and the industry as a whole is changing and we need to respond to those changes to retain our position at the forefront of an ever-competitive market. We have informed Sunseeker International staff of the outcome of a strategic review aimed at increasing efficiency, simplifying our operating model and positioning the business for its long term future. As part of these plans we are looking to rebalance the workforce by removing non-core activities as well as where we see cross-over and duplication. Around 300 roles could potentially be affected. We want to reassure our staff and suppliers that Sunseeker International is 100% committed to maintaining our current UK manufacturing capabilities, and we have no plans to move our brand or production elsewhere". "
The company says the news will have "minimal impact" on boat building activities and there is a "strong demand" for its product. A consultation on the plans will now take place. The company builds luxury yachts, often with a price tag of several million pounds
Women across Dorset will benefit from the new state-of-the-art digital mammography unit recently installed at the Dorset Breast Screening Unit in Poole Hospital.
The new digital breast tomosynthesis (DBT) with biopsy facility unit is an innovative development in mammography technology, with only ten currently accessible across the UK.
The unit produces 3D images which improve accuracy in the diagnosis of breast cancer by allowing cancer specialists to pinpoint the location of a tumour with greater accuracy.
Studies show that DBT plus the traditional 2D mammography could detect cancers earlier. It can be used to aid accurate biopsy and is better equipped for scanning breasts containing high quantities of glandular breast tissue.
The Dorset Breast Screening Unit (DSBU) at Poole Hospital performs screening mammograms on up to 40,000 women per year, of these approximately 6% are recalled for second stage screening and assessment.
The unit is currently using this new technology to aid assessment of mammographic abnormalities during second stage screening and has plans to take part in national studies to further evaluate the benefits for the women it serves.
"This is a fantastic addition to DBSU that will give women a more accurate and detailed diagnosis. It is great to be one of the few places in the UK to be able to offer scanning with this particular type of machine. Earlier diagnosis can mean more successful treatment and a greater chance of survival. The use of 3D technology is an innovative approach to breast screening and supports us in our aims of offering the very best experience possible under difficult circumstances."
– Stella Campbell, consultant radiographer
A window cleaner has been taken to hospital with a head injury after his ladder was knocked by someone driving a mobility scooter.
The 40-year-old fell two storeys (about 15ft or 4.5m) on Ashley Road, Poole, at about 1.20pm on Friday.
Dorset Police said the cleaner was taken to Poole Hospital with a serious head injury and a 70-year-old woman driving the scooter was uninjured. An investigation has been launched.
Detectives in Poole are appealing for witnesses to come forward after pensioners were targeted by fraudsters. Both victims were persuaded by workmen to withdraw thousands of pounds to pay for unnecessary work, but were stopped by alert bank staff.
A woman in her eighties went to her local bank and attempted to draw out £5000 in cash to pay workmen at her home. She advised the cashier that men had come round to cut her lawn in Kennart Road but told her she needed to pay them cash to have it paved instead. The bank did not allow the transaction and notified the police.
The second incident happened at an address on Emerson Road. A woman in her seventies informed a family member that a man had attended her home address and told her she needed to pay him £4000 cash to repair her roof. She attended her local bank to get the money, however, staff persuaded her not to make the withdrawal.
Neither victims had arranged for work to be carried out on their properties nor had any work been carried out.
Detective Constable Lee Emery, of Bournemouth and Poole CID, said: 'It was fortunate that the staff at both banks were alert and the women did not lose any money.
'We do not have any descriptions or any more information, therefore, I am appealing to anyone who may have been a victim of a similar crime or has any concerns about suspicious activity in their area to come forward.'
Witnesses and anyone with information should call Dorset Police in confidence on 101, quoting incident number 2:213. Alternatively, call the free and anonymous Crimestoppers line on 0800 555 111 where mobile phone tariffs may apply.
Load more updates