A key Portsmouth City Council meeting on budget cuts had to be temporarily stopped because of protests.
Demonstrators against proposed council cuts to domestic violence services in Portsmouth let off confetti in the chamber and chanted until they were removed.
The council has to find £11m of savings this year - and had proposed cutting funding to domestic abuse services by £130k. Today councillors announced that funding would be found to continue the service for this year at least.
A local tax rise of the maximum 3.99% for the next four years is also being proposed, as are cuts to the fire service.
Watch Sam Holder explain in a live report from outside Portsmouth Guildhall:
Women fearing budget cuts protest on city hall steps head of crunch meeting.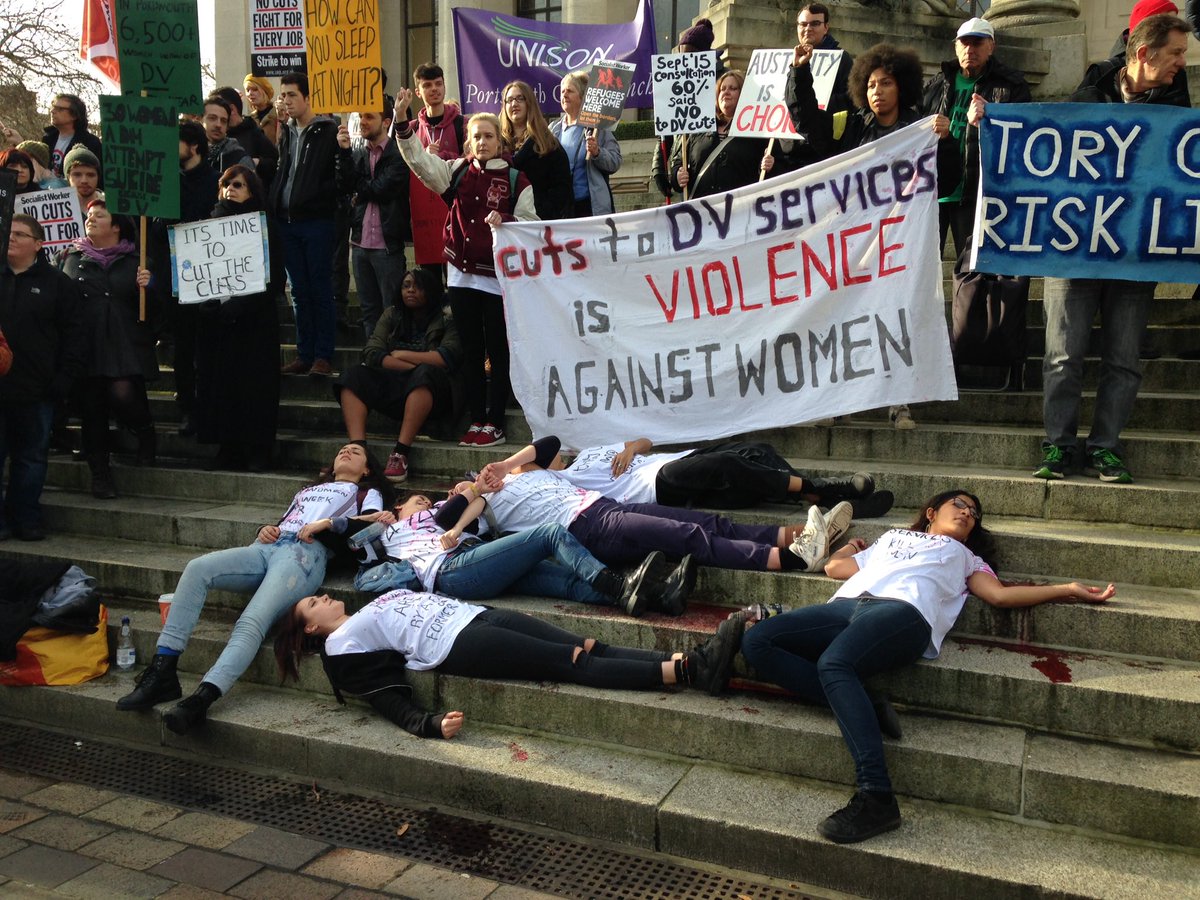 The city council has already made £74.4m of savings over the last five years. But city hall bosses needs to save at least another £31m over the three financial years from April 2016.
The £31m will have to come out of the £207m of spending under the council's control. Almost half of the £207m is spent on looking after vulnerable adults and children.
Advertisement
Protesters made their point to councillors outside a city hall budget meeting this afternoon in Portsmouth. The council needs to save £11 million this year. And £35 million over the next four years. A hundred council jobs could go, and council tax looks set to shoot up by its maximum 3.99 %
Portsmouth Council will meet today to sign off on bus cuts. A number of bus routes will be lost in and around the city as the local authority tries to save money. Some bus routes are subsidised because they aren't profitable enough for private companies to run.
27-year-old food addict Chris Mardlin once weighed 32 stone. He used to eat until he felt sick but now wants to help others lose weight.
Read the full story ›
A self-confessed food addict from Southsea has managed to shed four stones and is determined to help others also lose weight.
27-year-old Chris Mardin has lost weight before but then piled it back on. He once weighed more than 33 stones and couldn't walk more than 200 yards.
He is now 29 stones and is being supported by experts in obesity at the Queen Alexandra Hospital in Portsmouth.
Watch the video to see Chris' reaction when our reporter Kerry Swain showed him what he used to eat every day:
Chris wants a career in health and fitness and help others struggling to control their eating.
Advertisement
In Hampshire this morning, the eagle has landed.
Gerry the Golden eagle flew onto the stage at the Kings Theatre in Portsmouth.
From Liberty's Centre in Ringwood, he was there to promote the theatre's latest show, Tosca.
A man in Hampshire is on the road to success having lost and then regained fourteen stone over two years.
Chris Mardlin, from Portsmouth, weighed twenty stone at the age of thirteen, rising to thirty three by the time he was twenty five.
He's now supported by a team at the Queen Alexandra Hospital.
They are world class, described as the 'backbone of the Royal Navy'. But the Ministry of Defence has been forced to admit that the six Portsmouth-based Type 45 destroyers need new engines - because they keep breaking down at sea.
There has been persistent problems with the engines and power systems on the warships, which cost a billion pounds each.
In 2014, HMS Dauntless had to abandon a training exercise. And in 2009, HMS Daring lost power in the Atlantic, on her first voyage to the US.
The MoD won't disclose how much the work will cost - but it's thought it could run to tens of millions of pounds.
Richard Jones reports.
We are used to watching Sir Ben Ainslie compete on the water - but not on dry land.
That though is going to change this year, because the four time Olympic Gold medalist has pledged to take on the ten mile Great South Run - in support of a charity very close to his heart.
Sarah Gomme reports...
Load more updates