Portsmouth Hospitals NHS Trust has been awarded £27,000 to spend on new equipment, as part of a drive to make the NHS one of the safest places in the world to have a baby.
The award will be spent on maternal and fetal monitoring equipment and simulation equipment for training in the care of the mother and baby in emergencies. It is part of a fund of more than £2million which the Department of Health has awarded to trusts across the country, in a bid to halve the number of stillbirths, neo natal deaths and maternal deaths by 2030.
Gill Walton, Director of Midwifery at Portsmouth Hospitals NHS Trust said: "This will make a huge difference in terms of the care we can offer women. Any additional equipment helps to make care safer and we are delighted to receive this additional funding".
Health Minister Ben Gummer said: "It is my ambition to ensure the NHS is one of the safest places in the world to have a baby. Our staff do an excellent job providing high quality care but it is vital that they have the right equipment to continue to do this, that's why I am really pleased that so many trusts will benefit from this fund. I am determined to ensure we do everything we can to reduce the number of families going through the heartache of stillbirth, neo natal death, maternal death and brain injury occurring during or soon after birth."
Researchers at Portsmouth Hospitals are leading the way on a study which could save the lives of people with Ovarian cancer. A project, involving 60 patients, is looking at personalised treatment plans. It's said to have shown 'promising results'.
The aim of the study is to improve the outlook for future patients diagnosed with ovarian cancer. Treating patients with late stage ovarian cancer is difficult as they often have no symptoms, allowing tumours to go undetected. These tumours often become resistant to drugs in advanced stages.
A team of four in the Translational Research Laboratory, based at Queen Alexandra Hospital, have been working over the last two years to develop more patient-focused, personalised treatment plans for ovarian cancer sufferers.
Dr Sharon Glaysher said: "Because these ovarian tumours are so resistant, the treatment plan can often be a case of trial and error. And whilst the clinicians are trying various drugs to find one that actually works, time is ticking and the tumour is potentially growing. Our aim is to be able to find out which drugs work on which patients. If we can identify this through a simple lab test then we will be able to offer these patients a much more patient-focused, personalised treatment plan.
Fifty-one-year-old Dawn Baxter, a teaching assistant and mother-of-two from Clanfield, was diagnosed with advanced ovarian cancer in January 2014. She agreed to help the research team. She said "We do not know enough about ovarian cancer. So anything I can do in my present situation that will be of help to future patients is only a good thing."
The study, which has involved 60 patients, will close next month when all the data will be analysed. Ovarian cancer is the fifth most common type of cancer among women, after breast, bowel, lung and womb cancer. More than 7,000 women are diagnosed with the disease every year in the UK.
Advertisement
A transgender woman has been jailed for eight years for raping a vulnerable teenager in Portsmouth when she was a man.
Read the full story ›
Families in Portsmouth are being encouraged to reduce the amount of sugar they consume - with a new phone app. Launched by Public Health England, the app will help parents see who much sugar is in their diet. The free app works by scanning the barcode of products and revealing the total amount of sugar it contains in cubes and grams.
The national Sugar Smart roadshow team have been in the city this weekend. Doctor Janet Maxwell, Director of Public Health said "Sugar is lurking in everyday food and drink, taking children well over the maximum recommended amount. We're encouraging parents across Portsmouth to download the new Sugar Smart app and take control of the amount of sugar their family consumes, to protect them from the health risks of having too much sugar."
A key Portsmouth City Council meeting on budget cuts had to be temporarily stopped because of protests.
Demonstrators against proposed council cuts to domestic violence services in Portsmouth let off confetti in the chamber and chanted until they were removed.
The council has to find £11m of savings this year - and had proposed cutting funding to domestic abuse services by £130k. Today councillors announced that funding would be found to continue the service for this year at least.
A local tax rise of the maximum 3.99% for the next four years is also being proposed, as are cuts to the fire service.
Watch Sam Holder explain in a live report from outside Portsmouth Guildhall:
Women fearing budget cuts protest on city hall steps head of crunch meeting.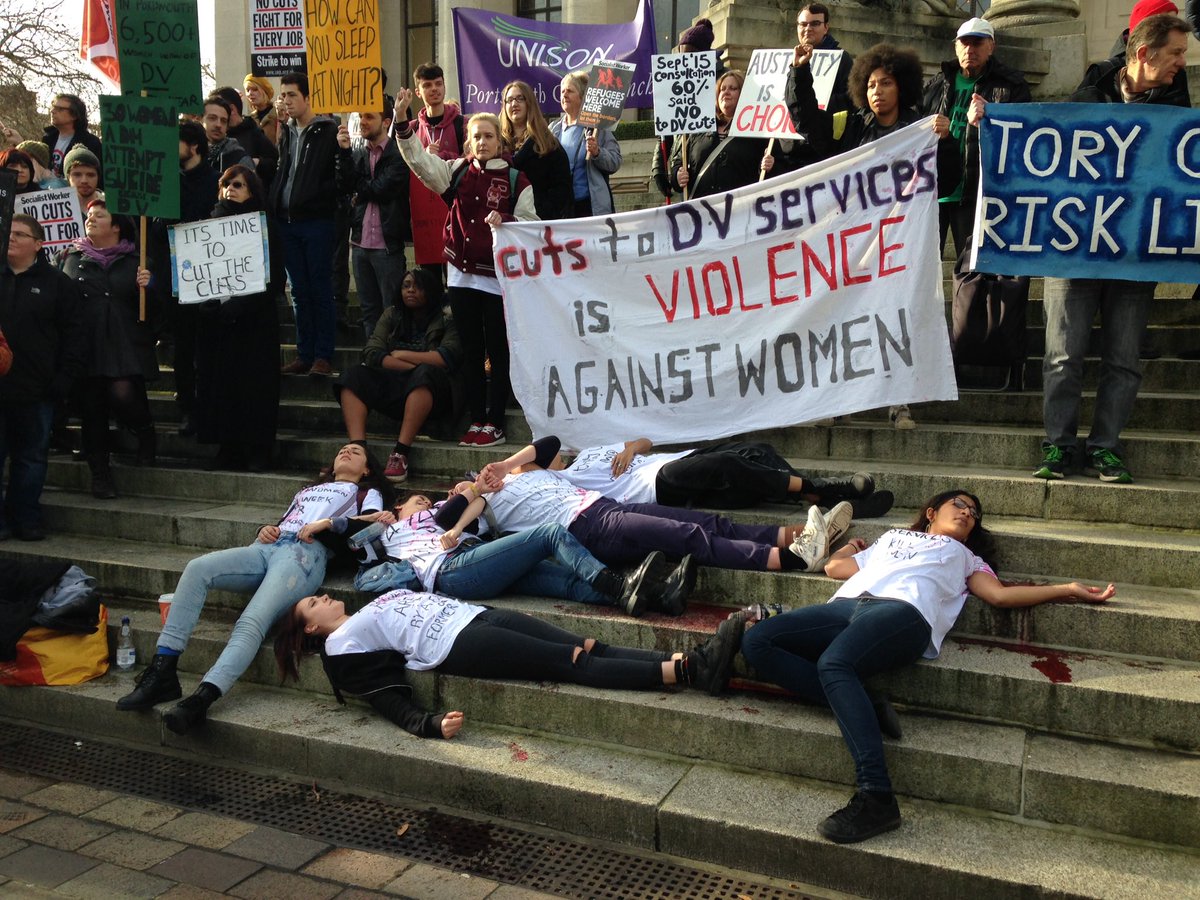 The city council has already made £74.4m of savings over the last five years. But city hall bosses needs to save at least another £31m over the three financial years from April 2016.
The £31m will have to come out of the £207m of spending under the council's control. Almost half of the £207m is spent on looking after vulnerable adults and children.
Advertisement
Protesters made their point to councillors outside a city hall budget meeting this afternoon in Portsmouth. The council needs to save £11 million this year. And £35 million over the next four years. A hundred council jobs could go, and council tax looks set to shoot up by its maximum 3.99 %
Portsmouth Council will meet today to sign off on bus cuts. A number of bus routes will be lost in and around the city as the local authority tries to save money. Some bus routes are subsidised because they aren't profitable enough for private companies to run.
27-year-old food addict Chris Mardlin once weighed 32 stone. He used to eat until he felt sick but now wants to help others lose weight.
Read the full story ›
A self-confessed food addict from Southsea has managed to shed four stones and is determined to help others also lose weight.
27-year-old Chris Mardin has lost weight before but then piled it back on. He once weighed more than 33 stones and couldn't walk more than 200 yards.
He is now 29 stones and is being supported by experts in obesity at the Queen Alexandra Hospital in Portsmouth.
Watch the video to see Chris' reaction when our reporter Kerry Swain showed him what he used to eat every day:
Chris wants a career in health and fitness and help others struggling to control their eating.
Load more updates