The WW2 bomb which was found at Portsmouth Harbour earlier today has been safely detonated at sea by the Royal Navy.
It was detonated off the Isle of Wight after being discovered during dredging work for the Royal Navy's new aircraft carriers.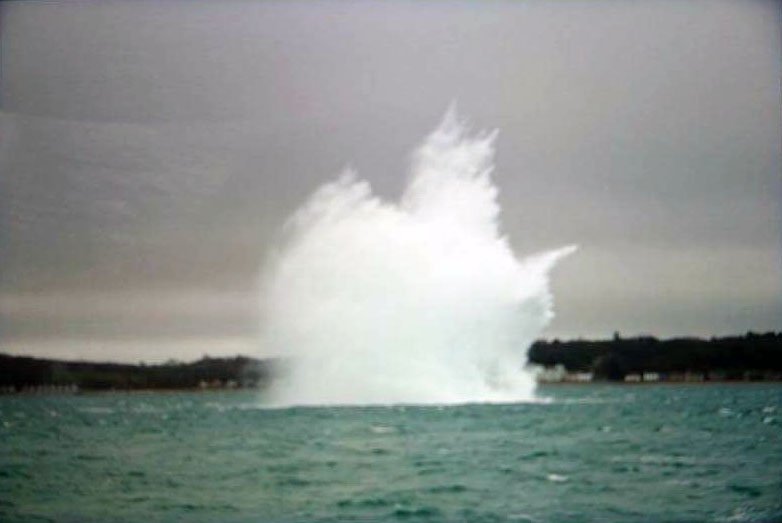 Restrictions have been lifted after a 500lb bomb discovered during dredging work for the Royal Navy's new aircraft carriers was towed to a safe location to be detonated.
Trains and ferries were cancelled and residents advised to stay in their homes following the discovery of the German Second World War bomb in Portsmouth Harbour.
Several pieces of unexploded ordnance have been found since work started to deepen the harbour channel to enable the next generation of carriers to access the Navy base.
Public transport links are now returning to normal. Portsmouth Harbour and Gunwharf Quays are also now open to the public.
"As always, the Royal Navy stands ready to respond to these call-outs and keep people safe.

"Despite being old, these devices can pose a very serious threat."
– Lieutenant Mike St Pierre, the officer leading the bomb disposal team
Advertisement
The unexploded ordnance found in Portsmouth Harbour this morning is now being moved to a safe place by The Royal Navy Ordnance Disposal and our police operation has been stood down.
Public transport links will be returning to normal. However be mindful that marine travel and ferries may still be affected so check before you begin your journey.
Portsmouth Harbour and Gunwharf Quays are now open to the public.
Wightlink ferries from Portsmouth are running again after sailings were suspended following the discovery of unexploded ordnance in the harbour.
The exclusion zone has been lifted, however it will take some hours before services are back to normal.
The St Clare car ferry is making her way to Portsmouth from Fishbourne and St Faith is preparing to pick up vehicles and passengers at Portsmouth.
Catamaran services to Ryde Pier will resume shortly.
Gosport ferry services reporting normal service has resumed. All roads around Portsmouth have now re-opened.
The bomb squad will detonate an "unexploded ordnance" in Portsmouth Harbour, found during preparations for the arrival of a new Royal Navy aircraft carrier.
Hampshire Constabulary said the device was found during a dredging operation. It comes five days after a wartime device was destroyed by bomb disposal experts at the harbour.
Divers from the Royal Navy's Portsmouth-based Southern Diving Unit 2 are on the scene.
They are working alongside the Ministry of Defence Police, Portsmouth City Council, Hampshire Constabulary, the Queen's Harbour Master and other organisations to ensure public safety and minimise disruption.
The entrance to Portsmouth Harbour is currently closed until the Royal Navy bomb disposal team can safely dispose of the ordnance.
Advertisement
"Unexploded ordnance has been located during an ongoing dredging operation to prepare for new Royal Navy aircraft carriers in Portsmouth Harbour.

"Ministry of Defence Police, the Royal Navy, Portsmouth City Council, Hampshire Constabulary and other organisations have activated a pre-arranged multi-agency plan.

"Our priority is to ensure public safety and minimise community disruption while the ordnance is detonated by the Royal Navy Explosive Ordnance Disposal.

"Further details will be communicated to any residents or visitors to the city affected by this operation."
– Hampshire Police
The Hard in Portsmouth is closed due to an unexploded WW2 bomb dredged up in the harbour.
Emergency services were called to Queen Street at Portsmouth Harbour a short while ago.
Extensive closures are in place around Portsmouth Dockyard and Gunwharf Quays, and there is no access to Wightlink Ferry Port.
Rail services on South West Trains, Great Western Railway and Southern have all been disrupted due to the device.
New flood defences will protect more than two thousand homes in Portsmouth according to the Floods Minister.
Therese Coffey visited the city to see the work on the forty four million pound scheme for herself. They'll provide over five miles of new flood defences to North Portsea.
The scheme will also create new areas for wildlife and plants in Langstone Harbour.
"Portsmouth's new defences will better protect over 2,000 homes and businesses in the city - giving people living and working here peace of mind.

"This scheme is part of our commitment to invest over £142 million in Hampshire's flood defences and, as well as reducing the flooding risk, it will create new habitats to support local wildlife that will be enjoyed by both residents and visitors."
– Floods Minister Thérèse Coffey
Load more updates