Live updates
Drivers urged to report potholes
Contact your council about potholes
Portsmouth (Unitary)
Southampton (Unitary)
Massive cost of pothole repairs
Potholes are now so bad that one in three of us have damaged our cars over the past two years. Andrew Pate introduces an item by Charlotte Wilkins.
Advertisement
Massive cost of pothole repairs
Steve Budd, who runs a car repair service in Tadley, in Hampshire, says it's the worst year he's ever known for pothole damage to vehicles.
He's been speaking to our reporter at ITV News Meridian and has told him that the roads are getting more dangerous.
And you can see more on that story on ITV's national website.
Massive cost of pothole repairs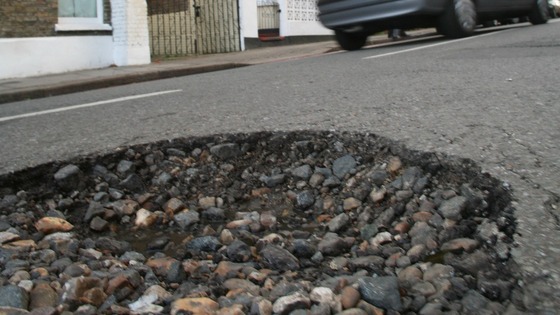 The Automobile Association says its members are reporting a new 'pothole plague' with road conditions worse than at start of 2012.
According to their report, out today, pothole damage claims to AA Insurance have doubled and a third of AA member's cars have been damaged by pothole in last two years.
A third of AA members have rated the overall surface condition of their local roads as poor, very poor or terrible in a new AA Populus poll. Only 10% rated them very good or excellent. And as spring arrives AA patrols are reporting potholes appearing faster than daffodils.
Edmund King, AA president, said: "This spring our patrols are telling us that potholes are popping up faster than daffodils. This reflects the effects of very wet and frosty weather on poor road surfaces. These AA findings are deeply worrying."
"What is even more worrying is the fact that the new 2013 Asphalt Industry Alliance 'Alarm Survey' reveals the scale of the problem from a local authority perspective and things look particularly bleak, with more potholes, a bigger maintenance backlog and less cash.
Massive cost of pothole repairs
The South's local authorities would need to spend an average of £66m to fix all the potholes on their roads. The latest figures show that it would take around 21 years for all the potholes to be fixed. On average, each authority filled nearly 13,000 potholes last year.
New flood alert after snow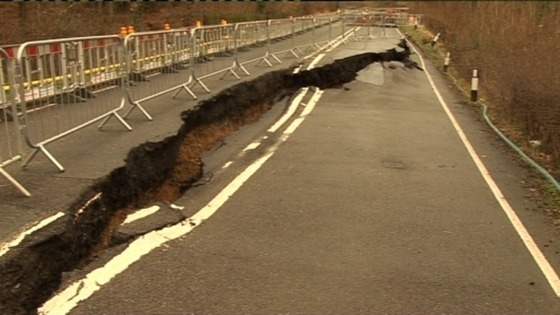 This was the picture three weeks ago, when a large section of the A4183 in Oxfordshire between Abingdon and Kennington subsided and caused a huge crack in the road. Engineers say it was caused by the recent wet weather.
And now we're being warned that as the snow melts, and warmer temperatures are on their way, more potholes will open up.
Darron Burness is head of special operations at the AA, said: "Unfortunately, this cold snap followed the second wettest year on record so, quite understandably, the roads are showing some ill-effects with a 'pothole storm' on the horizon.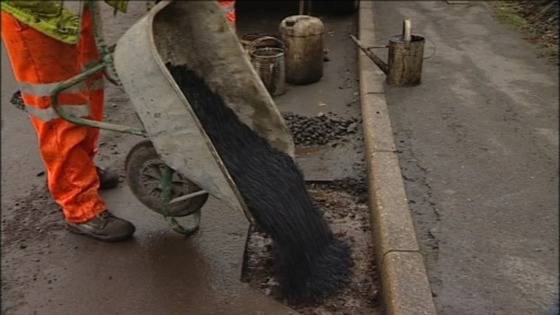 "As the snow melts, the temptation is to drive that bit faster but you need to keep a look out for potholes and other hazards like flooding.
Keep your speed down - particularly in rural areas where potholes are more likely - and take extra care in the rain as you don't know whether it's a puddle or pothole up ahead.
"We urge drivers to do a good deed and report potholes so councils can fix them and others don't hit them - there are local authority helplines and online reporting systems available for this.
"Over the weekend, ice will continue to be a risk in places, particularly on sheltered stretches and higher ground, and snow melt is likely to cause some localised flooding so take care and stay out of flood water."
Advertisement
£6m more for Kent potholes
Kent County Council says it will spend another £6.2 million pounds on improving the county's roads.
The pledge follows a cash boost from the government which is divided into £4m in the year 2013/2014 and £2.2m for 2014/2015. The funding was announced by the Transport Secretary Patrick McLoughlin.
The local authority says the investment will reinforce its approach to road maintenance which was backed by the AA last week. The council's Cabinet agreed to spend an extra £6m on resurfacing and renewing roads six months ago, in addition to this year's £17m roads resurfacing budget.
Kent County Council said the county completed 14,885 jobs to repair potholes in 2012, with crews out on the county's roads fixing the holes within an average of 14 days. The local authority says that is a 44% improvement on the previous year.
"This is welcome funding that dovetails exactly with the new approach to maintaining our roads. Over the past two years or so, we invested significantly in repairing the network and this has then been protected by sealing and surfacing dressing the roads. This makes the roads last longer and is a better use of council taxpayers' money than constantly being on the back foot having to repair roads, which only increases congestion and costs more money in the long term."
– Bryan Sweetland, Kent County Council Cabinet Member for Roads
"The condition of the roads is a top of motoring concern of our members. We have campaigned for many years to make sure councils have in place a system of roads inspection and repair that covers the frequency and method of inspection by road type; the type and size of defects that will be repaired; and the timeframe within which repairs will be completed once the council becomes aware of any defect. We therefore warmly welcome the transparent approach taken by Kent County Council to maintaining and improving its roads.
"It is vital that Kent residents get value for money value from the multi-million pound investment in road repairs and renewal making council tax payers' money go further whilst also improving road resilience and the driving experience. Kent's roads maintenance programme is aimed at doing just this."
– Paul Watters, Head of Roads Policy at the Automobile Association
Pothole patrols on Sussex roads
VIDEO: December's wet weather has damaged road surfaces and produced hundreds of potholes. Around 600 have been reported to West Sussex County Council since Christmas Eve. A 'pothole patrol' has being deployed in the county.
Drivers beware of water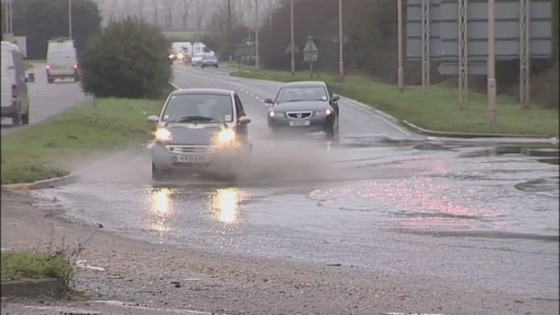 Motorists in West Sussex are being urged to drive slowly down roads that have been affected by flooding over the Christmas period.
The County Council says there has been an increase in the number and size of potholes because of the heavy rain.
Part of the A27 near Chichester was closed over Christmas due to flooding.
Rain blamed for more potholes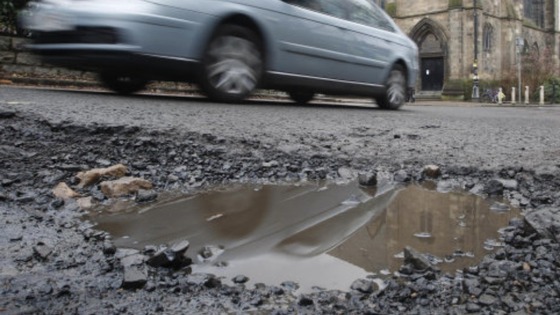 The heavy rain has taken its toll on the state of the roads in West Sussex, with an increase being reported in the number and size of potholes, according to council officials.
In West Sussex, drivers are urged to take extra care and to drive slowly on water-covered roads because of the threat of a pothole hidden underneath.
A county council spokesman said: "Surface water has exacerbated the problem with existing potholes, as the water washes away loose particles of road surface whenever vehicles pass over them.
"The county council's contractor Balfour Beatty has been busy assessing and fixing potholes throughout Christmas and New Year.
"The weather is forecast to improve over the next few days, reducing the risk of further flooding."
Load more updates
Back to top