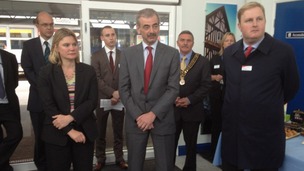 The Transport minister Justine Greening is in Southampton to unveil £2.4m of improvements to the city's central railway station.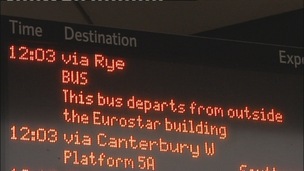 The Hastings to Ashford railway line has reopened after a nine week programme of repairs.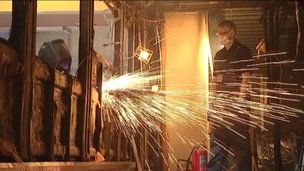 First Great Western is to invest £29 million pounds in converting old buffet cars for commuters in an attempt to stop overcrowding.
Live updates
Flooding continues to cause problems across the south
Groundwater levels are continuing to rise with residents along the river Avon in Wiltshire, the Stour in Dorset and the Meon in Hampshire warned about the risk of more flooding this weekend.
16 Flood Warnings remain in place across our region tonight. River levels also remain high along the Arun in Pulborough, flooding nearby fields.
In the New Forest, firefighters transported bales of hay to around 30 cows who became stranded by flood water.
Meanwhile, up to a million pounds is being spent repairing railways on the Isle of Wight. Islanders have been without any train services for almost three weeks because of floods and landslides. Today, work continued to repair the tracks - as Dave Russell reports.
Rail fare price rises: Passengers pay more for season tickets
Southern commuters will face a fare rise of 2.87% and Gatwick Express fares will be frozen at the 2013 prices.
The average fare rise will come into effect on 2nd January 2014.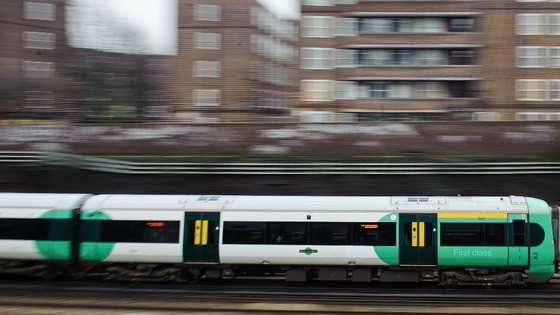 Southern's Commercial Director, Alex Foulds said: "There is good news for all of our season ticket holders as we have chosen not to use flex, meaning that all our season ticket holders will pay a lower increase.
"It's also great news for our Gatwick Express passengers as we are freezing fares on the route, and for those looking for cheap off-peak travel, we continue to freeze our cheapest Advance fare at just £5."
Advertisement
Hayling railway restore project underway
Local volunteers have secured a grant of nearly £89,000 from the Heritage Lottery Fund to restore the Hayling Billy heritage project.
The project will explore the history of Hayling Billy line on the island and enable conservation to take place.
It will also provide volunteering opportunities for local people to develop skills and work on the historic site.
To help guide people around the site there will also be leaflets, digital material and a new website to engage visitors.
The benefits for the local community will be a heritage project for generations to come, a focus for community volunteers to work on together to create a lasting legacy for local people and visitors. The Partnership have worked really hard with the council officers on securing the funding however, this is just the start."
– Councillor Yvonne Weeks, responsible for Economy and Communities at Havant Borough Council
A new report shows how the railway station area of Winchester could be revitalised.
Winchester City Council commissioned a 'Development Assessment' from planning and urban design specialists Tibbalds to look at the potential of the Winchester Station approach.
The report, which will be considered by the City Council's Cabinet in December, reveals how appropriate development could improve a major gateway into Winchester from Andover Road, increase employment in the city and maintain parking for rail users.
Improvements to the Railway Station approach, the Carfax site and Andover Road area are something that many have asked for and want to see. The City Council agrees that it is a good idea and is working towards an overall masterplan for the area. This will, if accepted by Council in due course, form part of our local plan."
– Cllr Keith Wood, Leader of Winchester City Council
Record number of rail users
There has been a massive rise in passengers using trains in the region according to figures just out from the Rail Regulator.
The figures for the first three months of the financial year show a rise of almost 9% in the South East.
There were 267 million journeys in the period, the highest ever.
The Office of Rail Regulation said, "The main reason behind the increase is the growth in advance and season ticket travel across all operators within this sector."
Railway signal boxes listed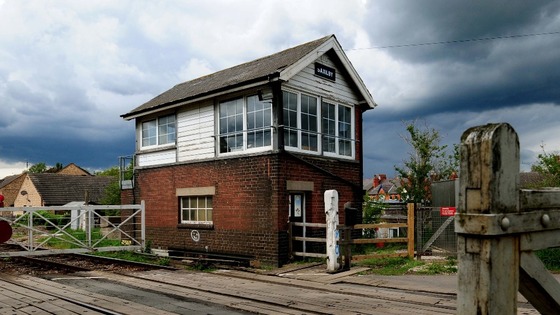 Some of England's rarest and best-preserved railway signal boxes from across our region have been given Grade-II listed status.
The chosen railway boxes include those from Canterbury East, Maidstone, Wateringbury Eastbourne, and Rye,
The list was announced by the Department of Culture, Media and Sport, who teamed up with Network Rail and English Heritage to seek out the best historic boxes.
In the 1940s, there were about 10,000 signal boxes but today there are fewer than 500 in use.
John Minnis, senior investigator at English Heritage, said:
"These are very special buildings, at one time in a familiar sight on our railway system. Today's listings will ensure that many of these highly distinctive designs are protected for years to come, providing a window into how railways were operated in the past."
Advertisement
Cash boost for Swanage rail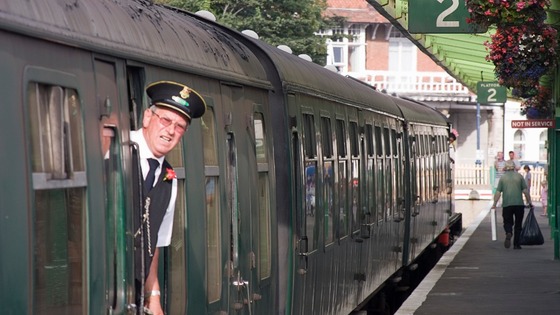 Plans to re-introduce a regular train service between two Dorset locations have been given a cash boost.
Swanage Railway volunteers are celebrating after winning a £1.47 million government grant to fund a regular train service from Swanage and Corfe Castle to the main line at Wareham - a long-held ambition since the service was axed four decades ago.
Campaigners say the historic grant from the Coastal Communities Fund will give an important transport, tourism and employment boost to the Isle of Purbeck.
The grant has been awarded to the volunteer-run Swanage Railway Company - owned and controlled by the Swanage Railway Trust charity - with the first regular trains hoped to be running between Wareham, Corfe Castle and Swanage within two years.
Peter Sills, Swanage Railway Company chairman, said: "We are elated at this tremendous and very historic news because the Swanage Railway has been campaigning to bring back regular trains from Swanage and Corfe Castle to Wareham since 1972."
The grant was one of 20 awarded to seaside projects by the Coastal Communities Fund in a bid to boost jobs and bring new business opportunities to coastal areas.
Heritage line joins network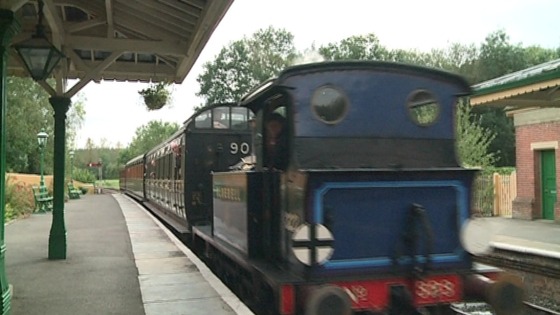 One of the South's most popular heritage lines has announced the date - it'll connect to the UK rail network, for the first time in half a century. The Bluebell Railway's two-mile extension into East Grinstead in Sussex will open on March 23rd.
It follows decades of tireless work and fund-raising by volunteers, who had to clear a massive rubbish dump in order to lay new tracks. The Bluebell attracts more than 170,000 visitors a year and has one of the largest collections of steam locomotives in the country.
Anger in Thames Valley over HS2
VIDEO: It's full speed ahead for the High Speed 2 rail link despite large scale opposition in Oxfordshire and Buckinghamshire. The Prime Minister today said the £32 billion scheme is needed to create 100,000 jobs and be a legacy for generations to come.
Anger in Thames Valley over HS2
VIDEO: The government has announced an extension to the controversial HS2 rail route. The proposed route has angered people living in the Thames Valley as they are concerned about the impact on wildlife and property prices. This promotional video shows the new trains and the route,
Load more updates
Back to top