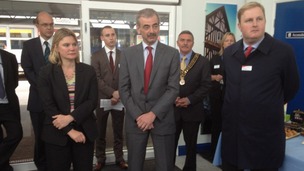 The Transport minister Justine Greening is in Southampton to unveil £2.4m of improvements to the city's central railway station.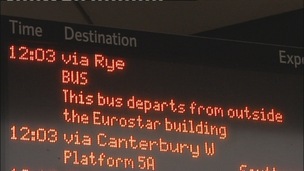 The Hastings to Ashford railway line has reopened after a nine week programme of repairs.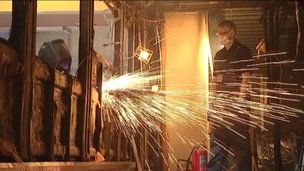 First Great Western is to invest £29 million pounds in converting old buffet cars for commuters in an attempt to stop overcrowding.
Live updates
Anger in Thames Valley over HS2
Prime Minister David Cameron says HS2 will create 100,000 jobs.
He added: "Linking communities and businesses across the country and shrinking the distances between our greatest cities, High Speed Rail is an engine for growth that will help to drive regional regeneration.
"We are in a global race and this Government's decision to make High Speed Rail a reality is another example of the action we taking to equip Britain to compete and thrive in that race.
"High Speed Rail is a catalyst that will help to secure economic prosperity across Britain, rebalance our economy and support tens of thousands of jobs."
Anger in Thames Valley over HS2
The government has announced an extension to the controversial HS2 rail route.
The proposed route has angered people living in the Thames Valley as they are concerned about the impact on wildlife and property prices.
The extended route will now extend from Birmingham to Manchester and Leeds.
Deputy Prime Minister Nick Clegg said: "We have to move with the times as a country. We can't keep relying on Victorian infrastructure for 21st Century Britain.
"We can't keep turning a blind eye to the north-south divide in our economy. That is what this high-speed project is all about.
"Of course there'll be people who don't like one or other aspect of it but if we really want to build for the future, so that our children and grandchildren have a future fit for the 21st Century, we've got to get moving."
Advertisement
Anger in Thames Valley over HS2
The Prime Minister is today expected to put High Speed 2 at the heart of the Government's growth agenda and confirm the line will be extended to Leeds and Manchester.
It could spark anger in Oxfordshire and Buckinghamshire where the outcome of a legal challenge into the project is still to be made.
It's claimed the Government failed to properly consult on the scheme.
In a speech Mr Cameron will say HS2 is going ahead and will be the most important project in the UK to create jobs and boost the economy. He is attending a Cabinet meeting in the north where he is expected to make the comments.
Those opposed led by Buckinghamshire and Oxfordshire County Councils say the scheme will destroy large parts of The Chilterns.
It would link London and Birmingham and then go on to Leeds and Manchester. The cost is £32bn.
It would pass close to Wendover, Aylesbury, Bicester and north of Banbury.
Anger in Thames Valley over HS2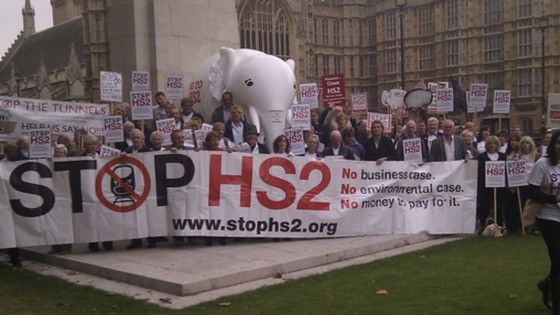 Woman attacked near station
An 18-year-old woman has been attacked near a railway station in the early hours of the morning. The teenager was walking down New Park Avenue from Bexhill railway station when she was grabbed and pushed to the ground. When the victim screamed it disturbed neighbours and the attacker ran away.
The man is described as white, in his 20s, of slim build and was wearing casual clothing. Detective Inspector Viv Johnson said: "This was an incredibly distressing incident for the woman and we would appeal for information from the public to assist us in tracing the offender."
Railway carriages for the disabled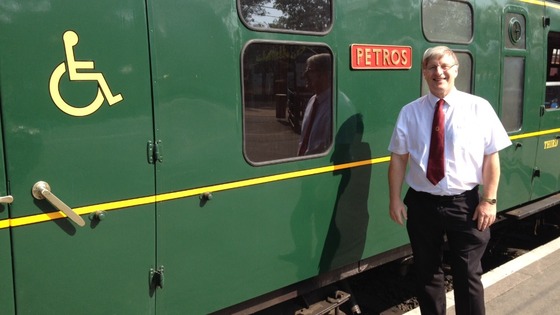 A specially adapted carriage for the disabled has come back into service after a two year refurbishment.
"Petros" was launched in Tenterden this morning.
Advertisement
Weekend travel updates
Weekend travel updates
M4 Westbound lane closed on exit slip road due to accident at J8/9 A404(M) / A308M Maidenhead.
Weekend travel updates
A339 SOUTHBOUND - GREENHAM, A339 Southbound blocked due to flooding at A339 Newtown Road (St Gabriel's Roundabout).
Weekend travel updates
A3060 CASTLE LANE EAST WESTBOUND Just passable due to flooding on A3060 Castle Lane East Westbound between A35 Christchurch Road (Iford Roundabout) and A338 (Cooper Dean Roundabout).
Load more updates
Back to top