A feature film that was made in Ramsgate and starring local people who gave up their time for free has had its premiere in the town.
"The Lost Choices" was made on a shoestring budget by Jamie Thomson, a writer/director who went to extreme measures to get the film made, as David Johns reports.
The interviewees include actors Levi hart and Callum Pease.
David Johns (@davidjohns_itv)
The leader of UKIP, south east MEP Nigel Farage has been in Thanet this afternoon.
Mr Farage says he will make immigration the centrepiece of his campaign for the UK to quit the EU, and for the first time, an opinion poll puts the quitters ahead of the remainers.
David Johns went to see how Ramsgate responded to the UKIP leader.
Advertisement
It was called the 'Ramsgate Sprint', a daredevil ride along the seafront that had to be stopped when the motorbikes became too fast.
That was in 1968 and now the event is set to return as Andy Dickenson reports.
More than 50 Little Ships are gathering in Ramsgate ahead of the 75th anniversary of the evacuation of Dunkirk.
Thousands of troops were brought home from the beaches of Northern France using these little ships as part of the Royal Navy's rescue plan Operation Dynamo in 1940.
A sex offender from Ramsgate in Kent who assaulted a 13-year-old girl has been jailed for four years
Read the full story ›
Advertisement
The Mayor of London, Boris Johnson, has hit the election campaign trail in Ramsgate. Thanet South is a key battleground between the Tories, Labour and UKIP. Tom Savvides reports.
Kent Police is appealing for witnesses to come forward following a robbery in Ramsgate.
Shortly after 12.15am on Tuesday 7 April, a 48-year-old woman had visited the petrol station in Hereson Road, Ramsgate, and was making her way along King Street when she noticed two men in an alleyway near to a derelict pub.
One of the men then walked away whilst the second approached her and asked for the time.
Shortly afterwards, the man ran up behind the woman and knocked her to the floor. He then grabbed her purse and made off with it.
He is described as a white, aged in his 30s, of thin build and approximately 5ft 10ins tall. He was clean shaven, had light brown hair and was wearing a coloured hooded top, a dark-colour jacket and tracksuit bottoms and white trainers.
The second man, who walked away prior to the robbery, is also described a white, of medium build, approximately 5ft 8ins tall and had short light brown hair.
Anyone with information about the identity of the two men or who may have seen them before, during or after the incident is asked to contact Detective Constable Vanessa Law at Kent Police by calling 01843 222289 quoting reference ZY/10166/15.
Drugs with a street values of £100,000 have been seized from houses in Kent.
Officers carried out a warrant under the Misuse of Drugs Act in D'este Road, Ramsgate yesterday. Substances believed to be cocaine, MDMA (ecstasy) and cannabis were seized along with associated equipment.
A second warrant was carried out in King Street, Ramsgate where police uncovered a quantity of a substance believed to be heroin.
Four men have been arrested on suspicion of possession with intent to supply Class A drugs. A 47 year old man, two 24 year old men all from Ramsgate, and a 21-year old from London are all currently in police custody.
Kent Police Detective Sergeant Keith Taylor said: 'This is good work carried out by officers. We estimate the drugs seized today could be worth in total as much as £100,000.
'That is a significant amount of drugs that have been stopped from getting onto our streets and affecting the community. I would urge anyone who suspects drug activity near them to report it to police.'
Fire crews from Ramsgate have been tackling a blaze at the King George VI recreation park in Dumpton near Ramsgate.
Officers say rubber safety matting around the play area is thought to have been set alight deliberately, and that the fire then spread to play equipment.
RAMSGATE: The children's play area was set on fire in King George VI Park around 7.15pm tonight. Pic Pam Bellingham http://t.co/9sWZlbmH0U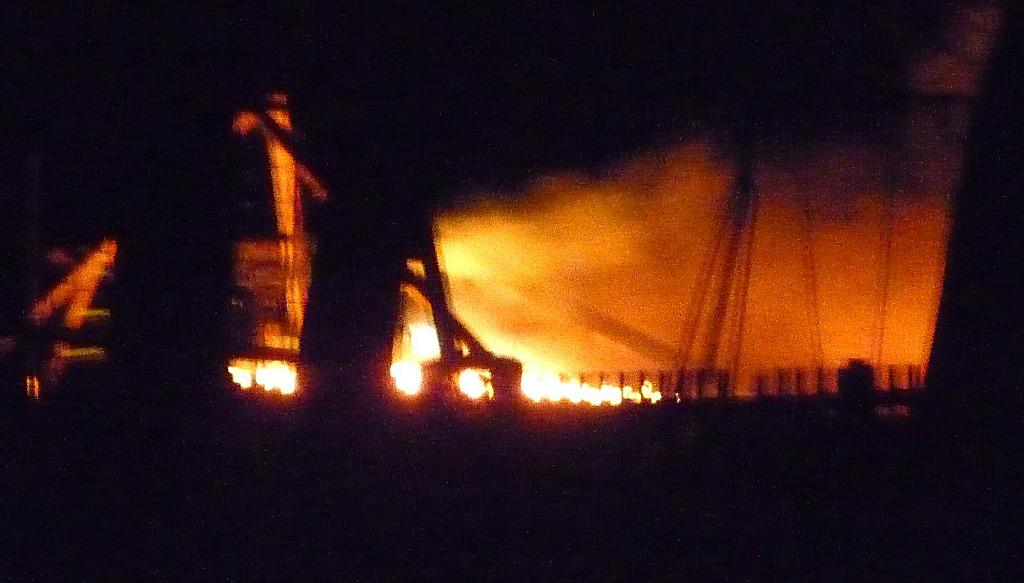 Cant believe someone has set fire to the children's play area in King George VI Park. An utter shame and a totally stupid act. #thanet
Load more updates