More than 50 Little Ships are gathering in Ramsgate ahead of the 75th anniversary of the evacuation of Dunkirk.
Thousands of troops were brought home from the beaches of Northern France using these little ships as part of the Royal Navy's rescue plan Operation Dynamo in 1940.
A sex offender from Ramsgate in Kent who assaulted a 13-year-old girl has been jailed for four years
Read the full story ›
Advertisement
The Mayor of London, Boris Johnson, has hit the election campaign trail in Ramsgate. Thanet South is a key battleground between the Tories, Labour and UKIP. Tom Savvides reports.
Kent Police is appealing for witnesses to come forward following a robbery in Ramsgate.
Shortly after 12.15am on Tuesday 7 April, a 48-year-old woman had visited the petrol station in Hereson Road, Ramsgate, and was making her way along King Street when she noticed two men in an alleyway near to a derelict pub.
One of the men then walked away whilst the second approached her and asked for the time.
Shortly afterwards, the man ran up behind the woman and knocked her to the floor. He then grabbed her purse and made off with it.
He is described as a white, aged in his 30s, of thin build and approximately 5ft 10ins tall. He was clean shaven, had light brown hair and was wearing a coloured hooded top, a dark-colour jacket and tracksuit bottoms and white trainers.
The second man, who walked away prior to the robbery, is also described a white, of medium build, approximately 5ft 8ins tall and had short light brown hair.
Anyone with information about the identity of the two men or who may have seen them before, during or after the incident is asked to contact Detective Constable Vanessa Law at Kent Police by calling 01843 222289 quoting reference ZY/10166/15.
Drugs with a street values of £100,000 have been seized from houses in Kent.
Officers carried out a warrant under the Misuse of Drugs Act in D'este Road, Ramsgate yesterday. Substances believed to be cocaine, MDMA (ecstasy) and cannabis were seized along with associated equipment.
A second warrant was carried out in King Street, Ramsgate where police uncovered a quantity of a substance believed to be heroin.
Four men have been arrested on suspicion of possession with intent to supply Class A drugs. A 47 year old man, two 24 year old men all from Ramsgate, and a 21-year old from London are all currently in police custody.
Kent Police Detective Sergeant Keith Taylor said: 'This is good work carried out by officers. We estimate the drugs seized today could be worth in total as much as £100,000.
'That is a significant amount of drugs that have been stopped from getting onto our streets and affecting the community. I would urge anyone who suspects drug activity near them to report it to police.'
Fire crews from Ramsgate have been tackling a blaze at the King George VI recreation park in Dumpton near Ramsgate.
Officers say rubber safety matting around the play area is thought to have been set alight deliberately, and that the fire then spread to play equipment.
RAMSGATE: The children's play area was set on fire in King George VI Park around 7.15pm tonight. Pic Pam Bellingham http://t.co/9sWZlbmH0U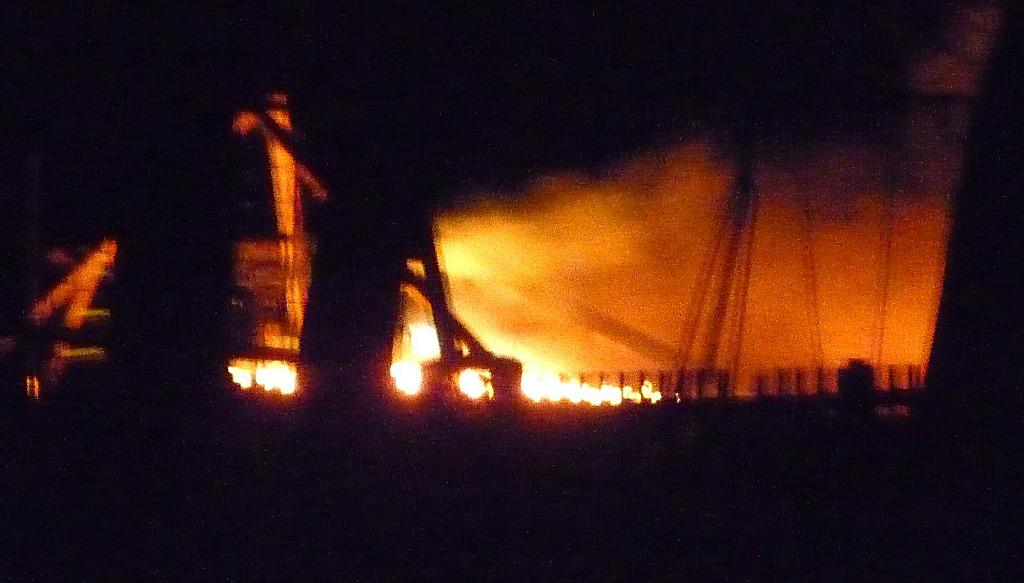 Cant believe someone has set fire to the children's play area in King George VI Park. An utter shame and a totally stupid act. #thanet
Advertisement
Hundreds of thousands of pounds have been invested, and now a major upgrade of Ramsgate Harbour is officially complete.
It's hoped the facelift will bring more boats, more visitors, and more money to the local area. David Johns reports.
We've all heard horror stories about buying a sofa that's too big to get into the lounge, but what about building a boat that's too big to get out of your garden?
That's exactly what happened to Ramsgate resident John Couzens who decided - along with his two sons - to build a luxury yacht in his back yard.
It was a project designed to boost both the skills and confidence of his children.
But when the big day came to take it to the marina, they were presented with a major obstacle: the house...
Watch John Ryall's report.
Foxy the Chihuahua might only be tiny, but she had a big adventure after escaping from the family home in Pegwell Bay, near Ramsgate on Sunday afternoon.
Hayley King, owner of the four-year-old, red-haired Chihuahua believes one of her children left the back door open and Foxy saw her opportunity to take herself off for an afternoon stroll. Once the family realised she was missing they spent over three hours searching for her, alerted the police and put up posters and messages on Facebook.
At 6.30pm Hayley received a call from Kent Police to advise that someone had seen her run past the Stanley Gray pub in Pegwell Bay, but couldn't catch her as she darted towards the undergrowth at the top of the cliff.
"As soon as I went to the cliff, I immediately recognised her cry but couldn't see her," said Hayley, "but thankfully off duty Kent Fire and Rescue Service firefighter, Gareth Redmond came to help. He climbed down to look for Foxy in the brambles and undergrowth, but just couldn't get to her."
Gareth put in a call for assistance and colleagues from Blue Watch at Ramsgate Fire Station used a thermal imaging camera to find the adventurous pooch, whose faint whimpering could be heard in the distance.
Foxy was quickly brought back to safety using safe access equipment - a line-based system for lowering and raising firefighters into areas of difficult or hazardous access and happily reunited with her grateful owner.
Amazingly Foxy wasn't even injured, she was checked over by the vet and had a few scratches and just needed a bath. I can't thank the team enough for rescuing her.

I would also like to say a big thank you to Gareth for his efforts and to his partner Nikki, who stayed with us throughout and was really helpful and reassuring during a very upsetting time.
– Hayley King, owner
David Johns (@davidjohns_itv)
It's the stuff that dreams are made of - a lottery win to change your life just as you're heading into retirement. Well that's exactly what's happened for a couple in Ramsgate who today picked up their cheque for one point five million pounds!
Sally Wells and Jerry Gregory didn't realise they'd won until appeals by the National Lottery to find out who had the winning ticket for the draw last month. David Johns has been to meet them.
Load more updates