New neighbourhood teams are being rolled out across Reading to deal with environmental issues and anti social behaviour. The council wants them to respond to people's concerns including graffiti, fly-tipping, speeding and fear of crime.
Police are investigating the deaths of two people whose bodies were found in a hotel in Reading. The man and woman, believed to be in their 60s were discovered in the Forbury area of the town. Officers described their deaths as "unexplained" and it was not believed anyone else was being sought in connection with the incident. Forensic teams have been at the scene this evening.
Advertisement
The A329 Oxford Road in Reading remains partially blocked in both directions at Connaught Roa due to an unsafe building.
It is after a car collided with shops at around 05:30am. There are restrictions in place whilst the buildings are made safe.
Vehicle collided w/ shops Oxford Rd, Reading at 5.30. One lane closed as making buildings safe. Avoid congestion Grovelands to Beresford Rds
Three people are in hospital after a car left the road and crashed into shops on Oxford Road in Reading this morning.
Thames Valley Police were called to the scene at 5.30am. A red Peugeot 206 had gone into the Shazz Hair and Beauty salon and the Christian Community Action Shop on Oxford Road. Both shopfronts were damaged.
A car has collided with shops on Oxford Rd, Reading next to Connaught Rd. Expect delays-p3888 http://t.co/xPRXNIp6ik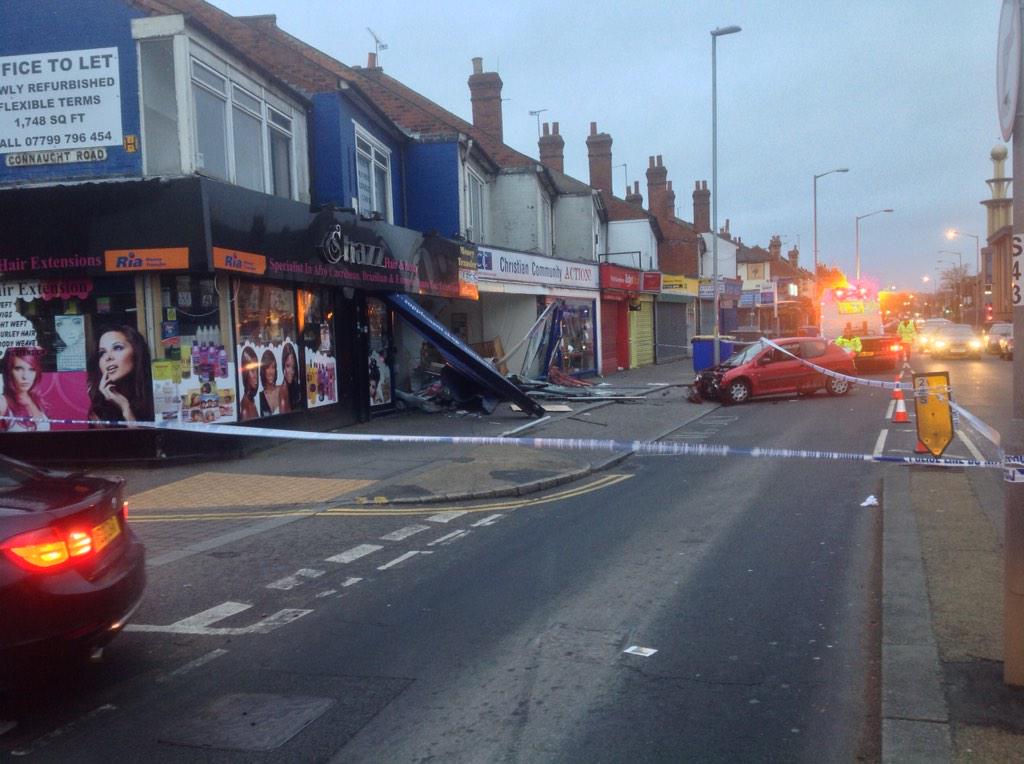 Two of the three people found in the vehicle had minor injuries. All three are at the Royal Berkshire Hospital with police officers. Detectives are investigating what led to the incident. No-one has been arrested.
A police spokesperson said there was a suggestion that someone else was in the car at the time of the accident. Officers are appealing for that person to come forward by either contacting police on 101 or by going to a police station.
Anyone who has information or who witnessed the collision is asked to telephone 101 and quote incident reference number URN 268 28/2.
A car has crashed into shops on Oxford Road in Reading. Police are appealing for witnesses.
The latest stage in a £150m regeneration of a Reading housing estate is to open. The 8-year scheme at Dee Park started 5 years ago.
Read the full story ›
Advertisement
The National Lottery has taken unusual steps to find the owner of an unclaimed EuroMillions ticket.
Read the full story ›
A memorial bike ride is being held in Berkshire - a year to the day since two cyclists were killed by a drink-driver. Kris Jarvis and John Morland were travelling on the A329 in Purley when they were hit by a stolen car during a police pursuit. Their families and friends are cycling from the crash site at the top of Westbury Lane, along the Oxford Road into town where a candle-lit service will be held at St Laurence's Church.
Mr Jarvis' fiancée Tracey Fidler and Mr Morland's fiancée Hayley Lindsay hope the memorial ride will also raise awareness of their petition, launched in July, calling for the sentence for causing death by dangerous driving to be changed. The petition currently has 56,000 signatures and has until March 30 to reach 100,000 which will trigger a debate in Westminster on the topic.
Last March family and friends took part in a 13-mile memorial bike ride from Caversham Bridge in Reading.
Social Affairs Correspondent, Christine Alsford
More than a quarter of primary school children in Reading aren't receiving a good education according to results just published by Ofsted.
They say the proportion of schools for pupils aged 4 to 11 that are rated "inadequate" is far above the national average.
Of ten schools and nurseries recently visited as part of a crackdown on poor standards, three had got worse and only one had improved.
Reading Borough Council says it has already strengthened its school improvement team, and the majority of schools are good.
Interviewees: Ofsted's Senior Inspector Mike Sheridan, Reading's Lead Councillor for Education, John Ennis (Labour).
Load more updates