Plans will go on show next week on the redevelopment of the former Arthur Clarks Residential Home and Albert Road Day Centre in Caversham.
Both closed two years ago despite a long campaign.
A new extra care housing scheme has been proposed for the site which would see forty one and two bed units with communal facilities built.
"Local residents have been saying they want to see this site used for services for older people so that they can continue to live fulfilling lives in their own community. I'd encourage people to give their views on the proposals to help ensure that the services provided are the best they can be."
– Lead Member for Adult Social Care, Cllr Rachel Eden
"The Council is working with A2 Dominion to ensure that this site continues to benefit older people in Caversham. Our priority it to deliver a sustainable, high quality housing development that includes activities for older people in the wider community."
– Lead Member for Housing, Cllr Richard Davies
The Council will contract additional specialist providers to deliver care services, catering and community activities at the new facility.
Subject to gaining planning permission, it is expected that builders will be on site later on this year to start work on the scheme.
It's been described as the biggest investment in rail services for a generation. Today millions of pounds worth of improvements have been announced in the Thames Valley to help provide a solution to daily overcrowded commutes.
200 First Great Western trains will be renewed or refurbished. More carriages and services will also be added to provide an extra three million seats a year. And stations in Berkshire, Surrey, Wiltshire, Hampshire and Oxfordshire will benefit from a £50 million upgrade scheme.
It's all part of the company's new three and a half year contract to operate the service. Rachel Hepworth was in Reading to hear the announcement.
Advertisement
A key planning document protecting the heritage and history of the former Reading Prison site is set to be adopted by Reading Borough Council this week.
A Grade II listed building, Reading Prison - famous for Oscar Wilde's poem "The Ballad of Reading Gaol," - was shut down by the Government in December 2013. Although the Ministry of Justice has indicated it intends to sell the site, 16 months on the historic building sits empty with no indication on progress.
This week, Reading Borough Council is moving to adopt what is known as an Outline Development Framework. This important document provides a framework to help shape any potential future use and development of the prison site. The proposed adoption of the framework follows a public consultation exercise where members of the public were invited to comment on a draft.
The Outline Development Framework for Reading Prison is set to be adopted at a meeting of the Council's Strategic Environment, Planning and Transport Committee on Thursday.
"More than 16 months after the Reading Prison was abruptly shut down by Government, this historic building remains empty with nothing definitive from the MoJ on progress. The Council is nevertheless moving to protect the history and heritage of what is a key site for Reading."
– Tony Page, Lead Member for Strategic Environment for Reading Borough Council
Thames Valley Police is appealing for witnesses to a crash in Reading on Friday.
At 12.41pm on the A329 Oxford Road, near the junction with Constitution Road, there was a collision between a grey Vauxhall Insignia and a black Suzuki motorcycle.
The rider of the motorcycle, a 21-year-old local man, suffered serious head injuries as a result of the collision and was airlifted to the John Radcliffe Hospital in Oxford, where he is still being treated.
Police are appealing for any witnesses to the incident, in particular, the driver of a white van who was reportedly at the scene before the police arrived.
An inquest has been opened into the deaths of two people found dead in a hotel room earlier this week.
David Brown, 63, and Lorraine Grant, 57, both from the same address in Reading, were found dead in a room at the town centre hotel shortly after 2.30pm.
Berkshire Coroners have opened and adjourned an inquest into their deaths.
Post mortem examinations have been completed and the coroner is awaiting further test results.
New neighbourhood teams are being rolled out across Reading to deal with environmental issues and anti social behaviour. The council wants them to respond to people's concerns including graffiti, fly-tipping, speeding and fear of crime.
Advertisement
Police are investigating the deaths of two people whose bodies were found in a hotel in Reading. The man and woman, believed to be in their 60s were discovered in the Forbury area of the town. Officers described their deaths as "unexplained" and it was not believed anyone else was being sought in connection with the incident. Forensic teams have been at the scene this evening.
The A329 Oxford Road in Reading remains partially blocked in both directions at Connaught Roa due to an unsafe building.
It is after a car collided with shops at around 05:30am. There are restrictions in place whilst the buildings are made safe.
Vehicle collided w/ shops Oxford Rd, Reading at 5.30. One lane closed as making buildings safe. Avoid congestion Grovelands to Beresford Rds
Three people are in hospital after a car left the road and crashed into shops on Oxford Road in Reading this morning.
Thames Valley Police were called to the scene at 5.30am. A red Peugeot 206 had gone into the Shazz Hair and Beauty salon and the Christian Community Action Shop on Oxford Road. Both shopfronts were damaged.
A car has collided with shops on Oxford Rd, Reading next to Connaught Rd. Expect delays-p3888 http://t.co/xPRXNIp6ik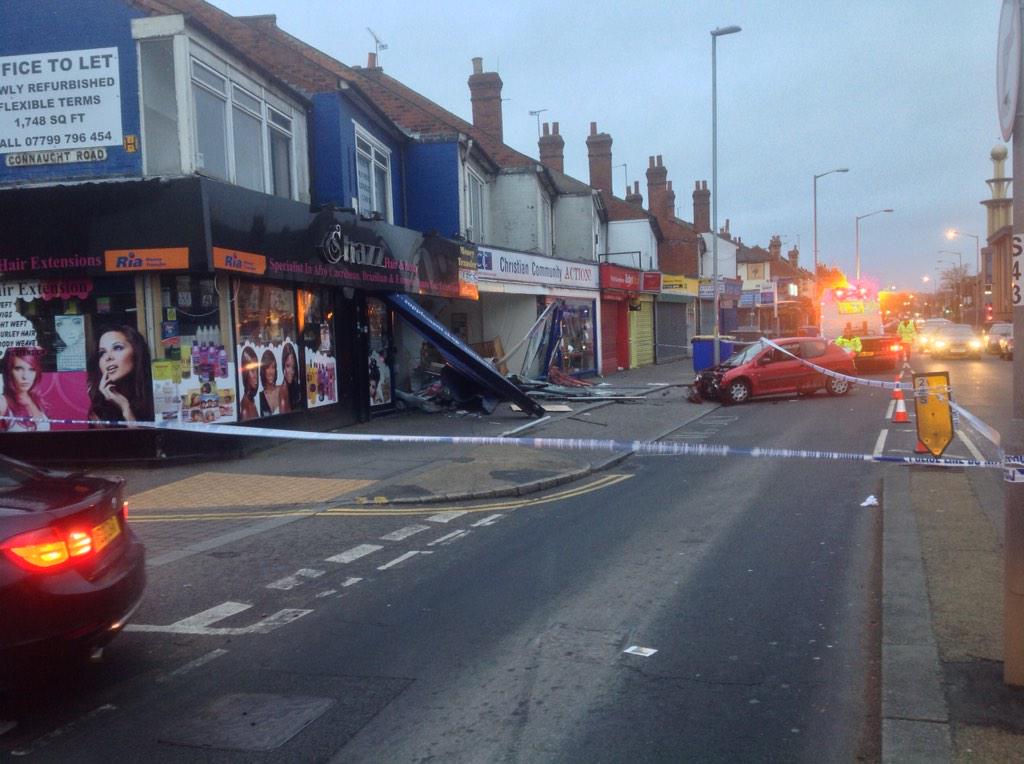 Two of the three people found in the vehicle had minor injuries. All three are at the Royal Berkshire Hospital with police officers. Detectives are investigating what led to the incident. No-one has been arrested.
A police spokesperson said there was a suggestion that someone else was in the car at the time of the accident. Officers are appealing for that person to come forward by either contacting police on 101 or by going to a police station.
Anyone who has information or who witnessed the collision is asked to telephone 101 and quote incident reference number URN 268 28/2.
A car has crashed into shops on Oxford Road in Reading. Police are appealing for witnesses.
Load more updates