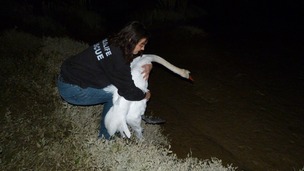 Wildlife volunteers in Sussex have rescued a stricken swan which crash landed onto a footbridge above a river.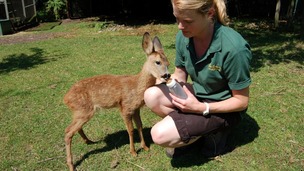 A tiny baby deer has been nursed back to health after being found malnourished and alone at just two days old.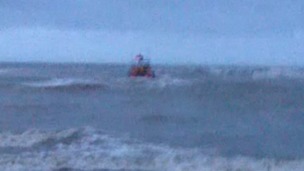 Three lifeboats from Selsey, Eastbourne and Hastings were launched on Thursday night to search for a missing yacht in stormy weather.
Live updates
Animal crisis in Kent
by David Johns (@davidjohns_itv)
For a nation of animal lovers we're doing a pretty bad job. Animal centres across Kent are reporting ever greater numbers of cats, dogs and other pets being dumped, abandoned or mistreated.
The RSPCA says its centres at Canterbury and Leybourne are now at crisis point - so full, they simply can't deal with any more animals. David Johns reports, speaking to Christine Dooley and Adele Collier from the RSPCA in Kent.
To help re-home a cat or any of the other animals, please call the RSPCA on 0300 123 0751 or visit www.rspca.org.uk
Neighbour rescues elderly woman from fire
Fire crews were called to a house fire on Devices Road in Salisbury just before 9 o'clock this morning. The alarm had been raised by a next door neighbour who had also gone in and rescued the elderly woman living in the house.
"This highlights how important keeping an eye out for each other can be, especially vulnerable people, every day community support can save a life."
– Station Manager Dan Cooke Wiltshire Fire and Rescue
Advertisement
Dog gets head stuck in wall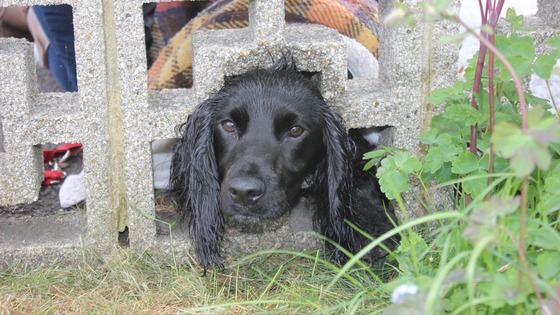 A dog had to be rescued after her head stuck in a wall.
Lexi, an eight month old field cocker spaniel, was rescued by a member of Hampshire Fire and Rescue Service's Animal Rescue team.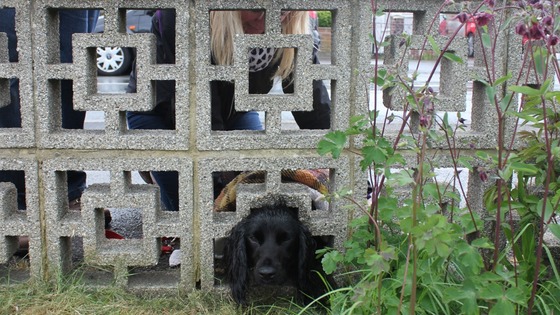 The dog's owner, Vicky Lovelock, called for help incident when the poor pooch got stuck in White Hart Lane, Portchester, yesterday
Vicky said: "I was walking Lexi and she was on the lead. She must have smelt or seen something which drew her attention enough to poke her head through a wall."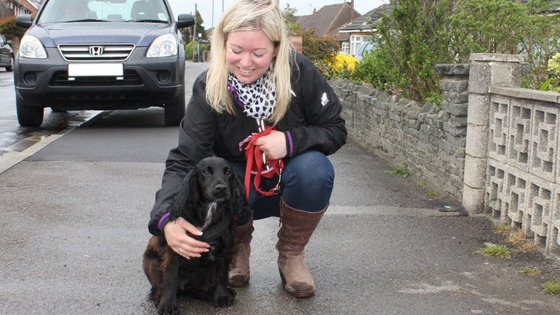 Animal Rescue Specialist, Anton Phillips said: "I asked Vicky to hold the dog firmly whilst I released Lexi by using a hammer and chisel, gently using the chisel to crack the wall."
Vicky added: "I am so grateful to Anton and Hampshire Fire and Rescue Service."
Smoke Rescue Training
New figures from Kent Fire and Rescue Service show a drop in the number of house fires across the county in the last year. But now their safety experts are trying to highlight the danger posed by smoke. Iain McBride reports from their specialist training centre in Ashford.
Man falls into sea
The search for a missing crewman who was lost overboard off the East Sussex coast has been called off. The lifeboat at Eastbourne was called out and volunteer crews spent nine hours searching for the man who had fallen from a tugboat in rough seas.
Man falls into sea
Eastbourne all-weather lifeboat was launched just after midnight when a crewman fell overboard in gale force winds and violent seas from a passing tug five miles south of Sovereign harbour.
The tug Endurance, with two people on board, was on passage from Dover to Brighton
with a 60ft motor cruiser under tow when the man fell overboard. His colleague sent out a Mayday distress call which mobilised the rescue services.
Eastbourne ALB began the search close inshore off Beachy Head joined later by Coastguard Rescue helicopter 104. The two lifeboats continued their search throughout the night, but found nothing and abandoned the search after 9 hours at sea.
Advertisement
Dog rescued from quarry fall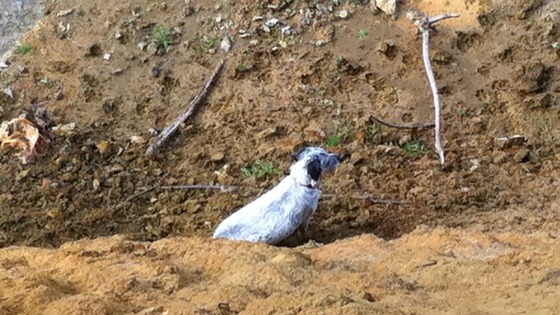 A specialist fire team have rescued a dog which fell 30 feet into a quarry in Kent.
Jason Ensinger was walking Dexter, a three-year-old cross breed, when the much-loved pet ran under a fence and slid 30 foot down the quarry. He became stuck on a ledge, approximately 50 feet from the bottom.
A specialist line team from Kent Fire and Rescue were called in to rescue him.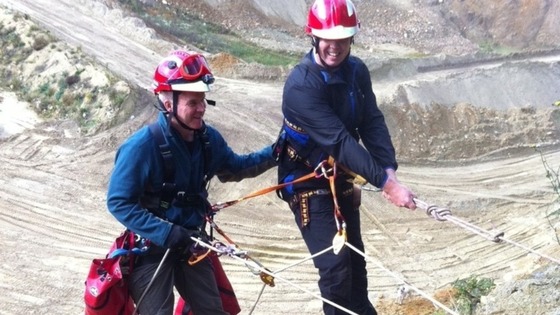 Station Manager Dean Firmin explained what happened next: "Wearing a harness, a firefighter was lowered down but he then had trouble trying to get the dog and it was becoming increasingly anxious and was trying to escape so we were starting to worry that it could fall off the ledge.
"Following a suggestion by Jason, we then gave him a harness and clipped him onto our firefighter; making sure they were both safely attached, they then went down to the ledge. Fortunately this time, the dog was happy to go to his owner and he was successfully brought back to safety.
The line rescue team are specially trained and equipped to deal with this sort of rescue and we're pleased we were able to help."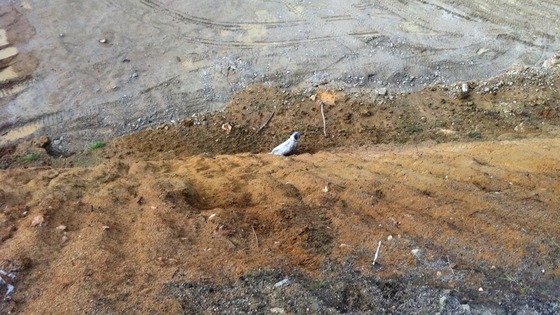 Jason said: "We can't thank them enough as Dexter is more than a family pet, he's like a child to us and we were so frightened for him, especially as he became more scared and started trying to run around on the ledge.
"The fire crews were fantastic and I know people would say 'what's the fuss, he's just a pet?' but he's more than that and we're so very thankful that they managed to help."
Fundraiser for rescue hero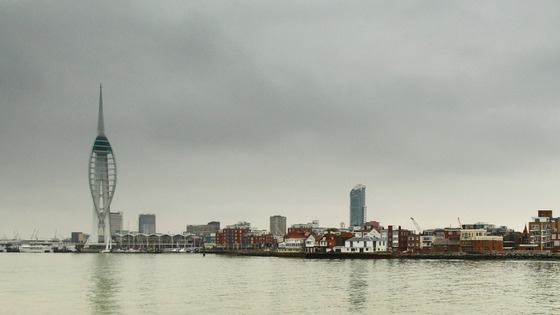 The local community have come together to raise funds for the family of a man who drowned after he had jumped into Portsmouth Harbour to rescue two children.
Both children are safe but Marco Araujo lost his life in July.
Local company Krazycruisers organised a car show to raise money to help Marco's family. The event "Cruise fit for a hero" saw more than 500 people gather to show their respects.
It was followed by a two minute silence and a convoy of more than 350 cars from Cascades car park to Southsea seafront. The event raised more than £1100.
Sussex house explosion: latest
A man in his 50s was pulled from a burning building in Sompting by four members of the public who were passing by.
The rescue follows reports of an explosion at a house in Hillrise Avenue, today at 4.15pm.
The man was taken to the Royal Sussex County Hospital in Brighton. It is not known what injuries he has at this stage. No one else was injured and no one was evacuated.
The road was closed with the junction of Hillbarn Avenue while West Sussex Fire and Rescue dealt with the fire, which is now out.
Three fire pumps are at the scene.
RNLI summer rescues increase
Distressed sailors and struggling swimmers. If you are in trouble at sea - they will be there to help you.
And this summer Kent and Essex had the UK's busiest coastal RNLI lifeboat stations - at Southend on Sea and Ramsgate.
But with the worst summer on record for 100 years - why have call outs soared in some areas? Sarah Saunders has been finding out.
Load more updates
Back to top