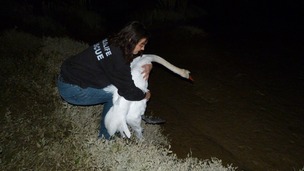 Wildlife volunteers in Sussex have rescued a stricken swan which crash landed onto a footbridge above a river.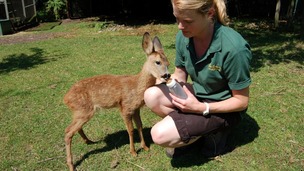 A tiny baby deer has been nursed back to health after being found malnourished and alone at just two days old.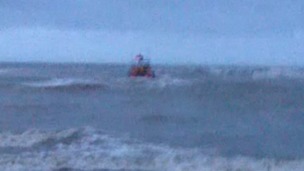 Three lifeboats from Selsey, Eastbourne and Hastings were launched on Thursday night to search for a missing yacht in stormy weather.
Live updates
Fundraiser for rescue hero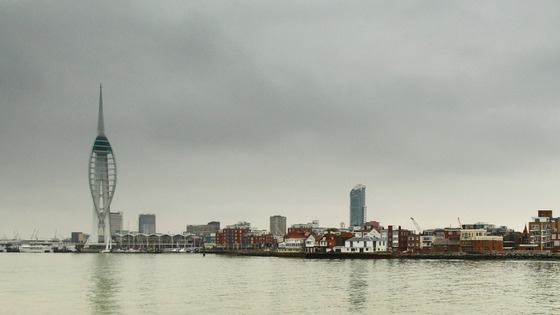 The local community have come together to raise funds for the family of a man who drowned after he had jumped into Portsmouth Harbour to rescue two children.
Both children are safe but Marco Araujo lost his life in July.
Local company Krazycruisers organised a car show to raise money to help Marco's family. The event "Cruise fit for a hero" saw more than 500 people gather to show their respects.
It was followed by a two minute silence and a convoy of more than 350 cars from Cascades car park to Southsea seafront. The event raised more than £1100.
Sussex house explosion: latest
A man in his 50s was pulled from a burning building in Sompting by four members of the public who were passing by.
The rescue follows reports of an explosion at a house in Hillrise Avenue, today at 4.15pm.
The man was taken to the Royal Sussex County Hospital in Brighton. It is not known what injuries he has at this stage. No one else was injured and no one was evacuated.
The road was closed with the junction of Hillbarn Avenue while West Sussex Fire and Rescue dealt with the fire, which is now out.
Three fire pumps are at the scene.
Advertisement
RNLI summer rescues increase
Distressed sailors and struggling swimmers. If you are in trouble at sea - they will be there to help you.
And this summer Kent and Essex had the UK's busiest coastal RNLI lifeboat stations - at Southend on Sea and Ramsgate.
But with the worst summer on record for 100 years - why have call outs soared in some areas? Sarah Saunders has been finding out.
RNLI summer rescues increase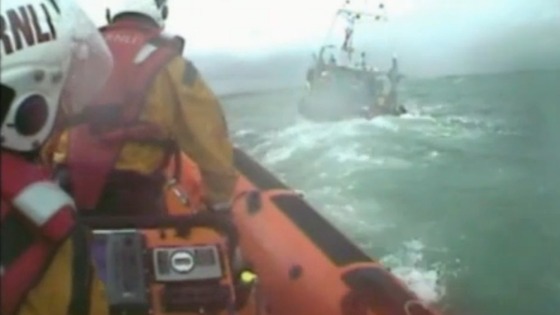 The RNLI has released figures showing an increase in the number of rescue missions in the Meridian region. The charity's second busiest lifeboat station in the country is Ramsgate in Kent. Its crews attended 49 call outs over the Summer - ten more than in the same time period in 2011.
While in the county of Hampshire the number of incidents over the Summer was 11% higher than in the same stretch of time last year. In total the crews at Hayling Island, Portsmouth, Calshot and Lymington launched one hundred and forty-two times.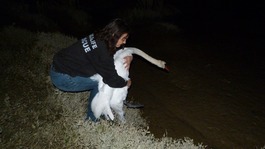 Wildlife volunteers in Sussex have rescued a stricken swan which crash landed onto a footbridge above a river.
Read the full story
Rescue after mid-Solent cricket match
The journey home from the country's weirdest cricket match ended with eight people and a dog being rescued by a lifeboat crew.
They were aboard an eight-metre RIB which had been returning to Cowes after taking advantage of a low tide to attend a cricket match on a sandbank in the mid-Solent .
But yesterday when off Old Castle Point, East Cowes the craft broke down when its engine over-heated.
Luckily Cowes lifeboat had also been one of the many craft attending the cricket match, staged on Bramble Bank, and responded straight away.
The cricket match, between representatives of sailing clubs at Cowes and Hamble, proved even more testing than usual, with the wind ensuring the sand was not so exposed on thisoccasion.
Advertisement
French yacht rescue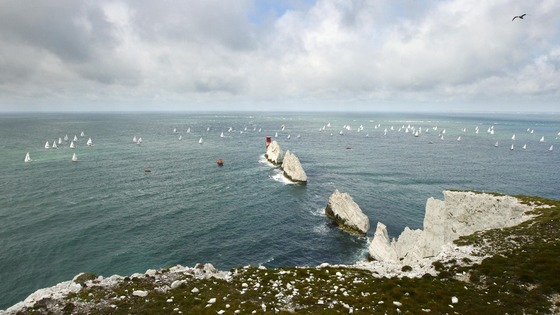 Two French crew on their yacht have been escorted safely into Cowes after broadcasting a Mayday when one crew member fell overboard, off the Needles.
Solent Coastguard received the Mayday broadcast from the sailing yacht Bridailly in French.
Officers scrambled the coastguard rescue helicopter from and requested the launch of the Yarmouth RNLI lifeboat. The vessel and crew were located in the Hurst Narrows (Needles) and escorted into Cowes.
Steven Mann at Solent Coastguard said:
"We needed to ask the caller questions so we called on our counterparts in France at MRCC Joburg to help with the language barrier.
We connected our radios to the French phone system to enable our colleagues to communicate directly with the casualty vessel using the needles channel 16 aerial. "
Rescue at Olympic sailing beach
A MAN has been airlifted to hospital after falling on rocks at the Nothe in Weymouth which overlooks the Olympic sailing course.
Rescuers were called in after the man suffered a head injury.
The coastguard helicopter, a lifeboat, police units and coastguard ground teams all attended.
It has not been confirmed if he was within the official Olympic sailing viewing area at the Nothe Gardens or on the rocks close by.
See the video of the rescue here
Children saved by lifeguards
Lifeguards say their quick actions prevented a tragic outcome when they pulled a pair of children, aged 4 and 6, from severe difficulties in the water at Westbrook Bay, Thanet, yesterday.
Only five to ten metres from the shoreline, the pair were being slowly being pulled out by the tide.
Lifeguards rushed to their aid and found that the boy was holding onto his sister to try to keep her afloat, unwittingly pushing her under the water.
Lifeguard Breanainn Roberson said: "Although panicked, the boy seemed to be okay, but the girl was making a gurgling sound which was quite distressing.
"She had swallowed a lot of sea water and was foaming at the mouth."
They administered oxygen, keeping the girl calm until the ambulance arrived and took her to hospital. The boy was given oxygen by paramedics, and taken away in a second ambulance as a precaution.
This incident shows just how important it is for families to choose a lifeguarded beach, and always swim between the red and yellow flags. As was the case here, lifeguards can reach those in difficulty within seconds, and will have first aid kit close at hand once casualties are recovered to the shore."
– Area Lifeguard Manager Rory Smith
Sea rescue man 'my soulmate'
The partner of a man missing at sea after he helped rescue two children who had
got into trouble has spoken of the loss of her "soulmate
Marco Araujo, of Grafton Street, Portsmouth, Hampshire, was last seen in the
water at the mouth of Portsmouth Harbour on Thursday afternoon.
The 33-year-old and another man went to the rescue of two girls, one aged four
and the other aged 10.
The other man made it back to the shore but Mr Araujo did not.
In a statement Mr Araujo's partner Tracey Hall
said: "A lovely family day turned into my worst nightmare, which I cannot wake
from.
"My three-year-old grandson and I watched Marco go into the sea to save lives.
There was no hesitation from Marco."I have lost my partner, my best friend and my soulmate.
"To everyone you are a hero, but to me, you were my life. "
Anyone with information should contact Hampshire Police.
Load more updates
Back to top