The estimated repair bill to fix Surrey's roads and bridges has reached £6m. Torrential rain, strong winds and burst river banks over Christmas and the New Year prompted county council roads teams to work around the clock to clear hundreds of flooded roads and fallen trees.
Council roads inspectors assessing damage to roads, bridges, drainage, embankments and footpaths across the county gave early estimates that the clear-up would cost around £5 million. This has now gone up to £6 million. The eventual bill could be as much as £10m.
The hidden treasures of the new link road between Hastings and Bexhill have been laid bare deep in the earth. Archaeologists say some wonderful treasures from many eras are now on display.
Advertisement
This morning a heavy good vehicle collided with a stationary broken down car on the A3 southbound at Buriton, leaving two women with life threatening injuries.
The cars collided at 9.25am and on impact with the barrier they both caught fire.
The two female occupants were rescued by a female police officer and two members of the public.
The car driver, a 21-year-old woman has suffered life threatening injuries and her 19-year-old sister, who was a front seat passenger, has serious injuries.
Both women were airlifted to Southampton General Hosptial and the third female was treated for shock at the scene.
The driver of the HGV, a 33-year-old man from Bulgaria, was arrested at the scene on suspicion of driving without due care and attention.
Police are appealing for witnesses to the crash.
The A3 at Petersfield is completely shut in both directions due to a serious RTI. Please avoid the area http://t.co/Yiy0hjx7T4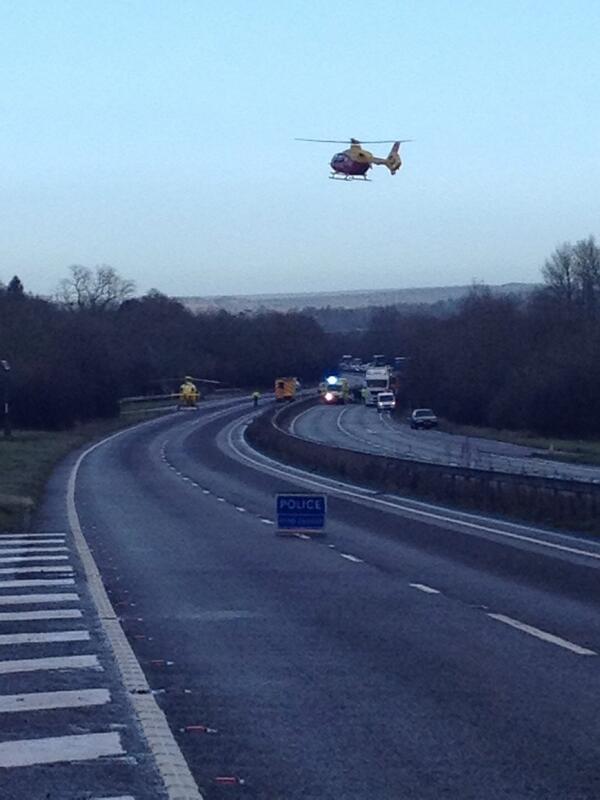 Winchester Police have confirmed that two cars are alight on the A3 Southbound and emergency services are on the scene.
The A3 southbound is currently closed.
There was a broken down car on southbound carriageway near to the Buriton turn off and another car went into the back of it, causing them both to catch fire.
All the people have been taken out of the vehicles.
Southern are expecting delays of up to one hour between Victoria and Barnham and between London Bridge and Horsham due to signalling problem at Gatwick Airport.
There are also delays on the Gatwick Express between Victoria and Gatwick Airport.
First Great Western trains are expecting delays between Gatwick Airport and Guildford and First Capital has delays between St Pancras and Brighton.
Advertisement
There is queueing traffic and two lanes closed after an accident on the M4 Westbound between Membury Services and J15 A346 Marlborough Road (Swindon East).
The A24 Worthing Road between Buck Barn crossroads and the Southwater roundabout has been closed in both directions today (Thursday, January 2) after a bus and a cyclist were in collision shortly after 11.30am.
The cyclist, a man, was seriously injured and the road was closed to enable the Kent, Surrey and Sussex Air Ambulance to land close to the scene. Police have set up diversions.
The M25 Orpington Spur outbound is blocked and there is stationary traffic due to an accident from A224 Orpington ByPass to Hewitts Roundabout.
The A24 in West Sussex is closed both ways after a serious accident involving a bus and a motorcycle.
The incident happened at Southwater between Mill Straight and A272 (Buckbarn Crossroads).
Load more updates