Police have arrested 23-year-old man in Rochester on suspicion of supporting a proscribed organisation, according to the South East Counter Terrorism Unit.
He is currently being questioned at a police station in the Kent area following what officers describe as a "pre-planned" operation. They say it is not linked to any immediate threat in the UK.
The suspect is being held by anti-terrorism officers under section 12 of the Terrorism Act 2000 in Rochester.
I would like to reassure the community that this investigation should have very little impact on local residents.

The arrest was pre-planned and was not made in response to any immediate threat to public safety.

Our officers will continue to maintain a presence in the area, offering reassurance to the local community.
– Detective Chief Inspector Keith Roberts, Kent Police
A Rochester man spent the final moments of his birthday in hospital after having 6 teeth knocked out and his head stamped on 3 times in an unprovoked attack.
The 25-year-old victim had been out with friends celebrating his birthday on 30 September last year in a Chatham pub when he met Deividas Radvila and accepted a drink from him.
Later that evening the victim left the pub with his friend and Radvila and the trio walked to a nearby petrol station to buy some cans of lager. All three men continued drinking as they walked into town, before the victim's friend left to go home.
Radvila said he would walk back with the victim as he lived in Rochester.
As they began walking together, just as they approached an alleyway, Radvila turned and punched the victim to the ground before stamping on his head twice.
The 20-year-old then began rifling through the victim's pockets and stole £200 in cash, a mobile phone and bank cards in a wallet.
Not satisfied with his initial bruising attack, Radvila stamped on the victim's face once again, knocking him unconscious and knocking out six teeth in the process.
Almost a month later, on 25 October, officers from Kent Police were called to a report of a fight in Railway Street, Chatham. Radvila was arrested and charged with using threatening, abusive, insulting words or behaviour with intent to cause fear of or provoke unlawful violence. He pleaded guilty and was sentenced at Medway Magistrates' Court on 17 November 2014 to 30 days in prison.
As a result of CCTV footage, Radvila was identified as the suspect for the incident on 30 September. He was subsequently charged with robbery.
Radvila, of Scotts Terrace in Chatham, pleaded not guilty to robbery, but admitted assaulting his victim. He was found guilty of robbery by a jury. He was sentenced to 6 years in prison when he appeared at Maidstone Crown Court on Thursday 25 June.
Advertisement
A wanted fly-tipper has been found and given a suspended prison sentence for his involvement in the dumping and burning of more than 30 tonnes of rubbish.
Glen Dobson, 54, of Victoria Street in Rochester disappeared mid-investigation and was found guilty in his absence.
He was ordered to pay £100 in costs for the offences at a site in Ash Tree Lane, Chatham.
Fly-tipping is unacceptable and will always be taken very seriously.
– Cllr Jane Chitty, Medway Council
People living near the Medway City Estate in Rochester have been warned to keep their doors and windows closed following a fire there earlier this evening. Andrea Thomas has been talking to Stuart Albon from Kent Fire & Rescue Service about the incident about how they've been coping with it.
A man has been taken to hospital suffering from the effects of smoke inhalation following the fire at Medway City Estate in Strood. The fire broke out at the Viridor recycling plant at about 6 o'clock this evening. Fire officers say the building was empty, but a man appeared later. They think he was a member of staff who had been trying to tackle the fire. The fire is now under control and has been confined to one building. Plumes of thick black smoke from the fire could be sen as far away as East London, but the fire service said tonight, the fumes weren't toxic. Most of the material in the plant was cardboard for recycling. Residents living nearby were, however, advised to keep their windows and doors open.
Advertisement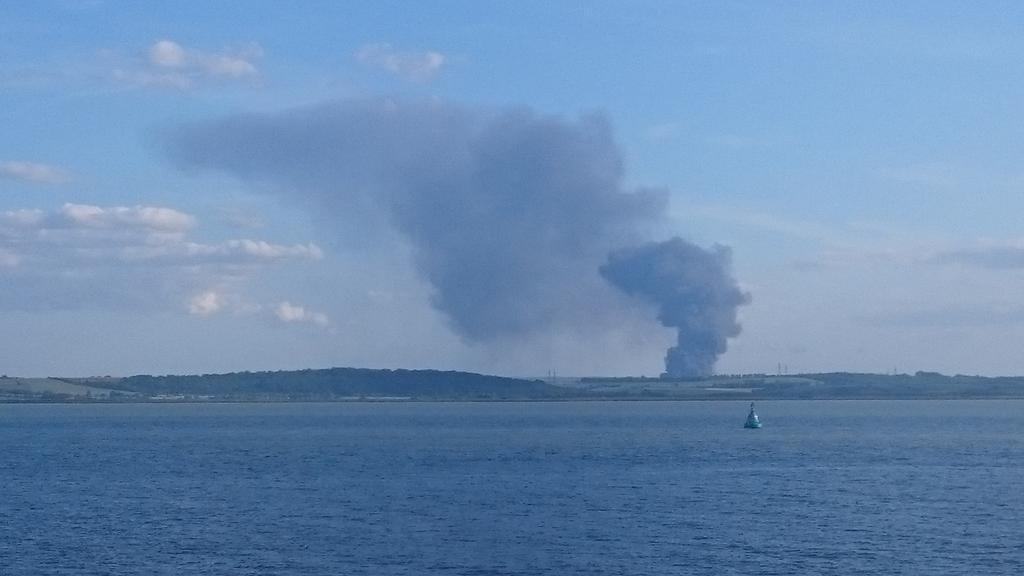 Load more updates