A skewbald male pony, thought to be a yearling, and a four month-old bay foal with white flecks, have been found in Orpington, Kent, in a horrific state.
The pony was so underweight and weak that he had collapsed in the middle of the road. A vet attended and said he was in such a bad state of health that the kindest thing to do was put him to sleep to end his suffering.
The foal was also extremely thin, and had nasty infected leg wounds, thought to be caused by untreated dog bites. He was taken to a vet where they attempted to treat him, but sadly he didn't respond to treatment and also had to be put to sleep to prevent further suffering.
RSPCA inspector Anthony Pulfer said: "The pony was one of the thinnest horses I have ever seen - his bones really sticking out and he could be picked up with my hands he was so light, despite being 12 hands high."
A black car called Rigby has survived a 130-mile journey inside a car engine. He has a fractured pelvis.
The cat was found curled up in a corner of the engine after the vehicle was placed on a ramp at a garage in Kidlington, Oxfordshire.
RSPCA animal collection officer Dennis Lovell was called by the staff and he traced Rigby's owner to Eastbourne, East Sussex, where it is suspected he was hit by a car five days beforehand.
I was shocked to hear that the car had come all the way from Eastbourne. Poor Rigby must have endured a four-hour journey in that engine - which can't have been very popular.
"I arrived at the garage and it was tricky to get him out as he was very nervous, but eventually I managed to coax him and was relieved to see him in one piece."
It was soon clear that Rigby, 11 years old, was in some discomfort so he was taken to Chipping Norton Vets for treatment.
Dennis added: "The vets discovered poor Rigby had a fractured pelvis. We can only assume he had been hit by a car back home in Eastbourne, and scrambled up into the car engine to hide away. It was a twist of fate that the vehicle happened to be a hire car, which was then transported 130 miles away to Oxfordshire!"
As Rigby was microchipped, Dennis was able to contact his owners.
Advertisement
The RSPCA is asking for the public's help after four newborn puppies were found in a ditch.
The tiny spaniel crosses, thought to be just days old, were found by a passing member of the public in a ditch next to a little lane behind Benyon Primary School on Tyssen Place, South Ockendon on Saturday, 4 October.
Three were dead, but one was described as alive and twitching when found. Sadly by the time an RSPCA inspector arrived they were all dead. The puppies still had their umbilical cords attached.
This was a truly heartbreaking incident. The sight of these little bodies will not leave me for quite a while.

They were soaking wet despite warm dry weather that day, and one possibility is that the puppies were drowned before being placed in the ditch - a horrible way to die.

It seems likely that they had not been there that long by the state of the bodies - and the reports that one was moving, when found.
– RSPCA Inspector Caroline Richardson-Braun
The RSPCA has launched an appeal after two kittens were seen being thrown out of a car in Bognor in West Sussex.
Read the full story ›
A family of ginger cats have been abandoned in a cat carrier next to sewage works in Dorset.
A mother cat and two four-month old kittens were found by the roadside on a lane that leads up to Sherborne's household recycling centre this week.
The cats were found to be crawling with fleas and are now being cared for by the RSPCA.
Anyone with any further information about this incident can contact the RSPCA on 0300 123 8018.
We understand that sometimes people can face unexpected difficulties in life and this can mean a crisis when it comes to their pets but there are organisations out there that can help when times get tough and there is no excuse to dump any animal in this way. People need to be aware that not only are incidents such as this unthinking and callous but they are also a criminal offence.
– RSPCA inspector Ken Snook
Five kittens are recovering after being buried under rubbish and left to die. They were found by a member of the public in a small cardboard box. It was buried under rubbish beside bins in Basingstoke.
The kittens were crying to be fed, underweight and cold. Happy Cat Rescue at Bordon took the animals in. They have been hand-reared for the past six weeks - bottle fed every two hours. One of the kittens died, but the others are now said to be 'flourishing'.
Advertisement
Delphine, the springer spaniel that captured the hearts of the nation after being dumped in a remote lane in Maidstone, is now ready to be re-homed.
The terrified dog had ear infections and cataracts in both eyes which left her almost blind. Thanks to substantial donations from the public Delphine had specialist veterinary treatment and, although her sight could not be restored, she is recovering well from her ordeal and now needs a new home.
Christine Dooley, manager of RSPCA Leybourne Animal Centre, said: "As a blind dog Delphine needs a very special home.
"We have taught her to respond to voice commands to help her find her way around without bumping into things, and her new owners will need to carry on with that training.
"We all have a soft spot for Delphine. She has such a sweet nature and loves nothing better than laying on the grass in the sun. She is good with other dogs, but is naturally very nervous of sudden and loud noises.
Christine added: "I still cannot understand how anyone could dump a dog and leave it to starve to death, but the public's amazing response to Delphine's story has restored my faith in humankind."
If you think you can offer Delphine a forever home contact RSPCA Leybourne on 0300 1230751.
David Johns (@davidjohns_itv)
Here's a startling fact. A single female cat can become parent, grandparent, and great-grandparent to up to 20 thousand descendants in just five years. Yes, you read that right. Twenty thousand cats.
And that's why animal charities are becoming over-run and are calling for drastic solutions. Cat Chat - the Kent-based charity - wants more vets to offer neutering or spaying for free, or at least at low cost.
David Johns has been to one cat rescue centre to see the extent of the problem.
He spoke to cat rehomer Sharon Weller and Sir Roger Gale MP.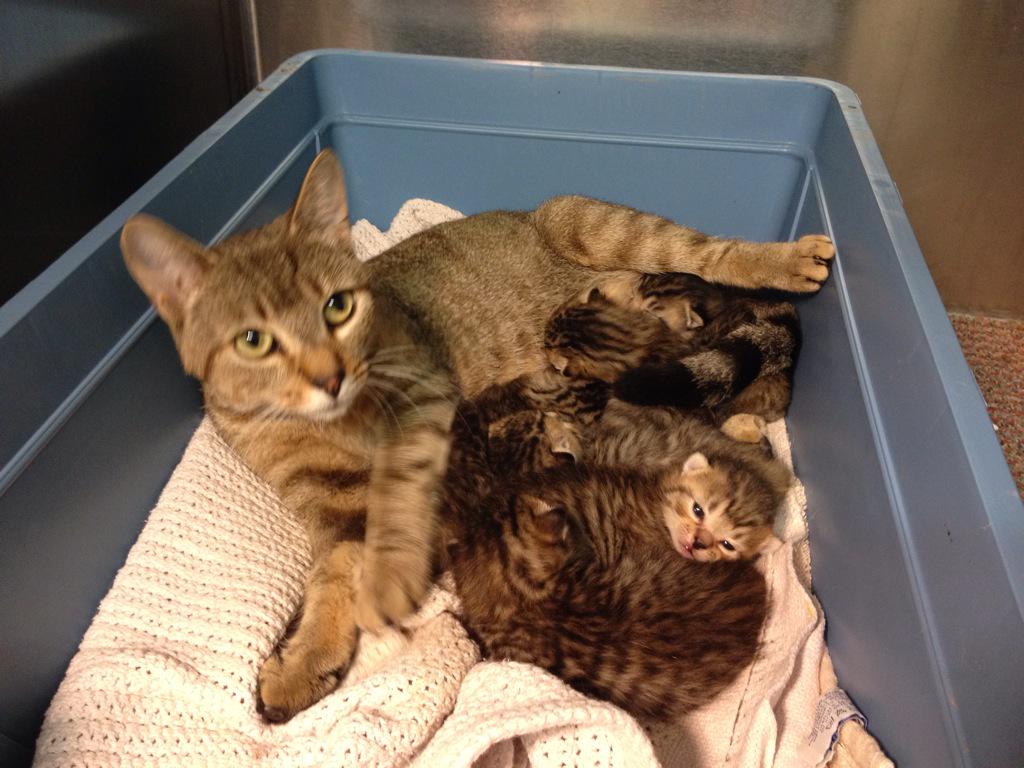 A single female cat can become parent, grandparent, great-grandparent and so on for thousands of descendants in just five years.
And that's why animal charities are becoming overrun with them, and are calling for drastic solutions. Cat Chat - the Kent-based charity - wants more vets to offer neutering or spaying for free.... or at least at low cost.
We will have an item from David Johns this afternoon.
Load more updates