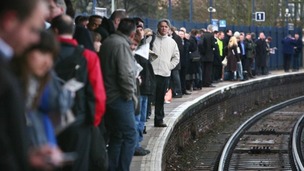 Hundreds of thousands of rail passengers using South West Trains face massive disruption over the Christmas and New Year holidays.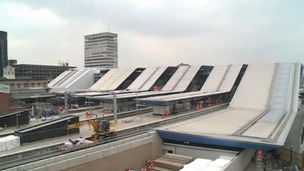 An army of workers will move in to work on Reading's rails - 6, 000 hotel rooms have been booked over the week to accommodate them.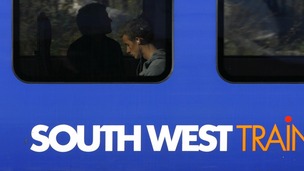 The cold weather meant more misery for rail travellers today with serious disruption on a number of key commuter routes.
Live updates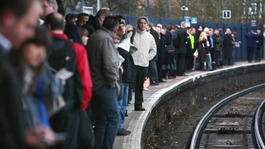 Hundreds of thousands of rail passengers using South West Trains face massive disruption over the Christmas and New Year holidays.
Read the full story
South West trains - rail delays
Advertisement
South West trains - rail delays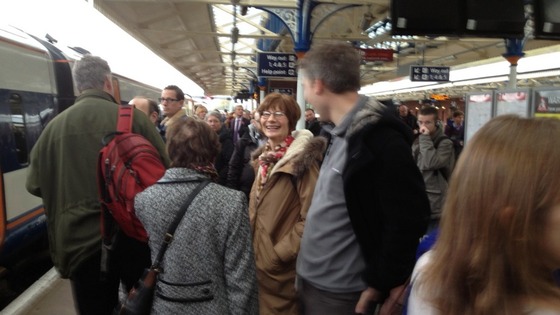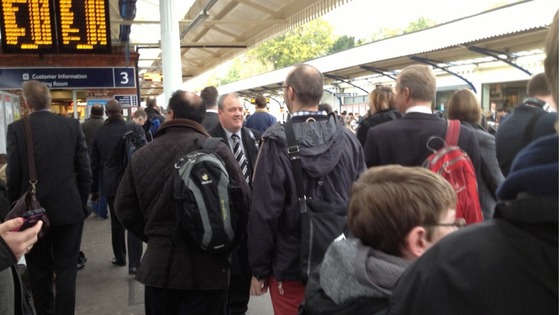 A signal fault near Basingstoke is causing delays at South West Trains.Some services are delayed by up to forty minutes.The problem has hit services on the West of England line trough Andover and Salisbury.
Mainline services to Southampton and Portsmouth are running as normal but with some minor delays.
South West trains get smart cards
The government have today announced it is giving South West Trains millions of pounds to expand smart card technology at ticket gates.
Passengers at all stations will be able to use plastic, credit card sized tickets instead of paper ones.
The tickets are stored on the card where passengers touch in and touch out of the station.
It is part of a £45 million scheme in the south to improve the buying and use of tickets.
The Department of Transport say passengers will benefit immediately with the smart card tickets because:
they trigger automatic ticket gates more quickly and reliably
it will be easier to buy tickets online and collect them at stations
they will help to shorten queues at ticket offices
they are much more durable than paper tickets and do not wear out as quickly
Storm affects rail services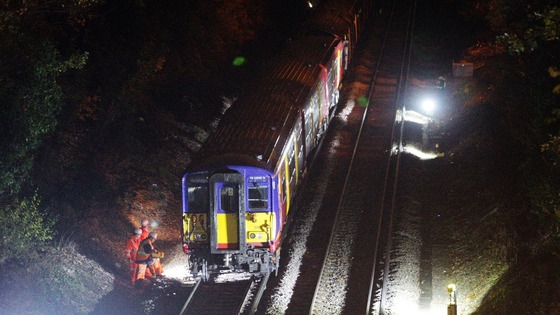 South West Trains have asked passengers not to travel today - in an update on their website issued this morning. They say they will be operating a significantly reduced timetable all day.
The statement continues: "It is highly unlikely that trains will run before 0900 at the earliest and in some cases this could be considerably later. We have been running test trains this morning across our network and many have encountered fallen trees and debris on the line."
High winds mean they can only run trains at a maximum speed of 50mph, this is a safety measure in case of obstructions on the tracks. This will result in significant delays and in some cases these may take up to twice the normal time.
Maintenance teams are checking high-risk sites to carry out work to reduce the impact from flooding and fallen trees. South West Trains say extra staff are also being deployed at key locations across the network . Test trains will run during the morning to check routes are safe to operate.
The rail operator says the alterations to services are designed to maintain safety across the network, give passengers greater certainty on what trains will be running, and help avoid knock-on disruption.
Advertisement
New carriages on South West trains
Overcrowding on South West Trains could be reduced from today.
The first of more than a hundred new train carriages will come into service. It's hoped they will ease crowding on routes to Windsor, Reading, Wokingham, Bracknell, Ascot and Basingstoke.
There's disruption on South West Trains between London Waterloo and Southampton Central, and between London Waterloo and Salisbury after a person was hit by a train at Basingstoke.
The line is currently blocked and there's no estimate for when the line may reopen.
The incident is also affecting CrossCountry and First Great Western trains.
Your weekend travel
We are currently experiencing issues with our ticket machines across the network, engineers are working on rectifying the problem.
There are no trains this afternoon between Reading and Wokingham. A person has been hit by a train at Earley. More details here
Load more updates
Back to top