England full-back Ryan Bertrand has signed a new five-year contract with Southampton FC.
The 26-year-old joined from Chelsea in 2014 and made 34 appearances for Saints last season, helping them qualify for the Europa League.
It means Bertrand is now committed to St Mary's until 2021. And he joins Virgil van Dijk, Fraser Forster, James Ward-Prowse and Steven Davis in agreeing fresh deals at the club in recent months.
"I'm very pleased. It's been a fantastic move for me since the day I came to this club and I look forward to many more successful years and really pushing forward.

"I've enjoyed my football here. I've really enjoyed the club, and the fans have been fantastic with me personally as well, so I couldn't think of any better place to play football and to keep on developing.

"The club is always thinking forward and I really want to be a part of that, and I am sure we can go on to achieve even better things."
– Ryan Bertrand
A goal from Bobby Stokes sparked amazing crowd scenes in 1976, the year in which Southampton Football Club won the the FA Cup.
The parade is being recreated this Sunday - 1st May 2016 - with players of the time back onboard that bus. Among the footballers we spoke to ahead the event are Jim Steele, Hugh Fisher, Nick Holmes and David Peach.
Advertisement
This weekend marks the 40th anniversary of Southampton's F.A. Cup win of 1976. The city's streets were lined with fans celebrating.
It was thanks to a goal by Bobby Stokes, a man who was loved by both Southampton and Portsmouth fans. Andrew Pate spoke to Mark Sanderson, the author of a new book about Bobby's life.
Southampton fans are being given the chance to play a starring role in an exhibition celebrating the club's past and present.
The exhibition will take place at SeaCity Museum in 2018 and chart Saints' history from 1885, including victory in the FA Cup in 1976.
Supporters will be encouraged to provide memorabilia like programmes, tickets, commemorative items, photographs and signed shirts at a series of road shows later in the year.
"I am delighted that the club will have such a tremendous exhibition in SeaCity Museum, as it will be a fantastic opportunity for the city to find out more about our ground-breaking technology and processes, as well as providing an exclusive look at what lays ahead.

"We absolutely don't want this to be just a list of historical artefacts. Whilst that will form part of the exhibition, we want it to be interactive and want everyone to understand what makes us unique, not just dates in our history."
– Chief Executive Gareth Rogers
"It's important to involve the fans in something like this, especially being one myself.I grew up near Saints' stadium and just like so many others within the city, I'm really excited that we're having this exhibition.

"It will be really exciting to see what memorabilia people bring and interesting to see the social history of the football club and the integral part it is to Southampton.

"It forms very much its identity and is the heartbeat of so many Sotonians like myself. I'm really pleased that its an exhibition for the city, for the city."
– Southampton City Council's Cabinet member of Communities, Culture and Leisure, Councillor Satvir Kaur
The first road show will be at St. Mary's Stadium on 21 May, with more events to be announced at a later date.
Southampton travel to Swansea in the Barclays Premier League this weekend. We have all you need to know ahead of the fixture.
Read the full story ›
Charlie Austin says his mind was made up the second he heard of Southampton's interest.
The striker completed a move to St Mary's on a four-and-a-half-year contract on Saturday, sealing a return to the Barclays Premier League.
Austin scored 18 goals during his first spell in the top flight last season, but despite plenty of interest from elsewhere, the Englishman knew Saints was the right step for him.
Austin came up against Saints during his time with Swindon Town and says seeing the club's rise and ambition, which has in many ways matched his, was a key factor in his decision-making.
"To be honest, I didn't think I was going to move until the summer, but as soon as Southampton showed an interest in me, it was the one club I wanted to go to.

"If we could get the deal as soon as possible I was ready to go, and lucky enough it's now and I'm delighted.

"You see the progression from when I was playing for Swindon against Southampton back in League 1 five or six years ago. You just look at where they've gone from then – straight up to the Premier League, Europa League last season.

"So for me it's important to come to a club on the up and I can't wait to be involved. When Southampton came in it was a no-brainer. I think the last five years have shown the ambition the club has and I just want to be part of that now.

"I'm delighted to join forces and hopefully bring my quality into a team with a lot of quality players already here. I can't wait to meet the lads and show them what I can do on the pitch."
– Charlie Austin
Advertisement
Virgil van Dijk's first goal in England and Sadio Mane's third in a week helped fire Southampton to a 3-1 win over Swansea.
Footballer Dusan Tadic scored the third goal in Southampton Football Club's 3-0 win against Norwich City in the Premier League today at St Mary's Stadium in Southampton.
Southampton Football Club have netted their first Premier League win of the new season. The Saints beat Norwich 3 - 0 at St Mary's Stadium.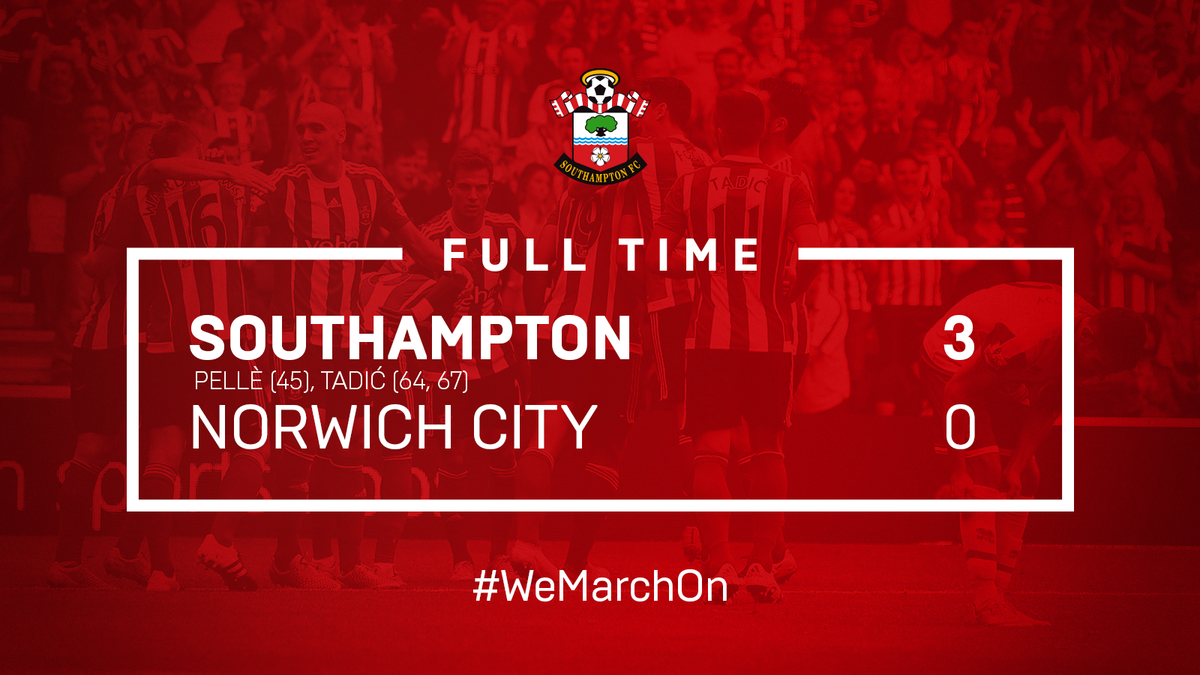 Load more updates