"It's a great compliment. It's a personal prize for the manager, but I have to say thanks to the players it's always those on the pitch who win games. We had a great month, which was maybe unexpected for a lot of people and maybe that's had an influence on this prize. Everybody was a little afraid before the season, but we've done a great job – all of the coaches and the technical staff, and all of the people at the club. This means a lot, and now we have to take the next step. It's now October, and September is behind us. We have to look forward and we'd like to celebrate with three points against Sunderland."
– Ronald Koeman, Manager Southampton FC
Southampton FC manager Ronald Koeman has won the Premier League manager of the month award.
Koeman steered the Saints to 3rd place after seven matches. In September alone, they won three premier league games and sent Arsenal out of the Capital One Cup.
It's a double swoop for the club with striker Graziano Pelle winning player of the month.
Advertisement
Ronald Koeman told Southampton to "take a picture" of the Barclays Premier League table after Graziano Pelle volleyed "one of the goals of the season" to see off QPR.
Saints boss Koeman heaped praise on Pelle's scissor-kick winner as Saints edged out Harry Redknapp's side 2-1 at St Mary's, conceding his surprise at his side's impressive start to the campaign.
Southampton held on to second place thanks to strikes from Pelle and loan man Ryan Bertrand that secured their fourth straight win.
Koeman admitted Southampton have exceeded his pre-season expectations, shaking off Mauricio Pochettino's exit and a raft of player departures.
"I'm a little bit (surprised) by our start yes, because always you have to wait after a lot of changes in the team," said Koeman.
"But we had a good pre-season, we had some difficult moments in the club, a lot of people, even the press was a little bit afraid, with questions about relegation.
"But we know what our qualities are, and little by little we have shown them.
"I'm satisfied with how we're playing. Now we can watch the table tonight and take a picture.
"Then we start again on Tuesday."
Koeman will now hand his Southampton players two days' rest ahead of next weekend's league clash with Tottenham.
Southampton's players turned down a day off on Wednesday in a bid to seize on the good feeling fostered by Tuesday's Capital One Cup victory at Arsenal.
Pelle's acrobatic volley separated the teams on Saturday, the Italian pouncing just moments after Charlie Austin had levelled with an impressive finish for QPR.
Koeman believes there will be few more spectacular Premier League strikes this term than the improvised winner.
"It was a great finish - it will be one of the goals of the season," he said.
"And still it's more important because it made it 2-1.
"I'm happy about his performance from the start of the season, because he has showed his quality and personality.
"He will always keep the ball for the team.
"And that's important for the team in how we play.
"And if you can score like this, you can't do it better."
Rangers boss Redknapp shook off taunts from Southampton fans on his south coast return, owing to his defection from Saints to Portsmouth in 2005.
The ex-Tottenham boss was impressed by Austin's second league goal of the campaign, but admitted his side must sharpen up further in their bid for top-flight stability.
Brazil star Sandro returned after knee trouble only to depart in the opening exchanges due to a heavy blow to the head.
Redknapp allayed fears about any lasting damage, admitting the medics had to remove the holding midfielder as a precaution.
"It was a great finish, he's proved again he can score at this level and that's important and encouraging," said Redknapp.
"We didn't play too badly at all to be honest, but we can still keep improving and we've got to make that progress.
"We were sorry to lose Sandro so early in the game, after a matter of minutes.
"We kept going, kept working, lots to work on and we can keep going.
"He got a bang on the head and the doctor was worried about it.
"He didn't look too bad at half-time, but obviously the doctors have got to err on the side of caution.
"There have been plenty of new directives on head injuries and we just couldn't take any risks at all."
On-loan defender Ryan Bertrand opened his Saints account to hand the hosts the lead before Charlie Austin blasted home on the turn.
Italian striker Pelle trumped Austin's smart finish with a true showman's goal to secure Saints' fourth win in six Premier League ties this term.
Former Southampton boss Redknapp received the hate-filled welcome he anticipated, after quitting Saints for bitter rivals Portsmouth in 2005.
The ex-Tottenham boss was subjected to vitriolic chanting from home supporters, but would have chuckled to himself when Austin stole the second half equaliser.
The former bricklayer had a fine chance to double his tally, but headed wide, while Nico Kranjcar also hit the woodwork with a fine free-kick.
The ex-Portsmouth midfielder fired a set-piece goal to steal QPR a point against Stoke last weekend, but was just unable to repeat the feat at St Mary's.
Pelle's stunning volley won the day however, the £8million summer recruit notching his fifth Southampton goal.
Southampton's victory kept them second in the table, after Chelsea eased past Aston Villa at Stamford Bridge, to continue new boss Ronald Koeman's fine Premier League start.
Dusan Tadic spent the first half gamely battling to cajole Southampton's staccato attack into something resembling fluency.
Despite his best efforts however the hosts were unable to break the deadlock before the break, even with QPR remaining largely toothless up front.
Morgan Schneiderlin squandered the chance of the half, screwing his low shot well wide after being sent clean through by Sadio Mane.
Serbia striker Tadic wasted a gilt-edged chance himself, unable to connect cleanly enough in the box to provide the power to beat Rob Green.
The relieved Rangers keeper tapped wide at full stretch when Tadic should have buried his point-blank effort.
None of Saints' big men were able to meet Tadic's early whipped free-kick with any accuracy early on and that missed opportunity set a frustrating tone for the opening exchanges.
Pelle fired wide of Green's left post when he could have aimed across goal too, as Saints continued their wasteful half.
Eduardo Vargas and Austin spent precious little time combining with their midfield to offer any tangible threat for Rangers, but Kranjcar and Leroy Fer had to shoulder their share of blame for not bridging the divide.
Matt Phillips blasted high and wide after a botched clearance from Nathaniel Clyne, before Austin chipped wide in first-half stoppage time.
Redknapp's men were fortunate to turn around on level terms, desperately hoping to grow in stature with every chance Saints fluffed.
Just when the visitors thought they could frustrate Southampton into a costly error though, Koeman's men opened the scoring.
Mane's prescient back heel opened the QPR defence, Bertrand raced through the door and blasted the ball under Green to wrestle control for Saints in the 54th minute.
Austin disabused any Saints notions of coasting to victory with a fine finish 12 minutes later, firing home on the spin after controlling Vargas' cross.
Rangers' return to level terms was meant to stun Saints into a state of shock, but instead the hosts struck straight back.
A peripheral figure for much of the afternoon, Pelle forced the tie to turn on his acrobatic finish.
The Italian striker teed himself up before unleashing an unstoppable scissor-kick blast into the top corner to put Saints 2-1 to the good only two minutes after the visitors had levelled.
Steven Davis rattled the woodwork from 20 yards as Saints pressed again, before Austin headed wide in another fine opportunity for QPR.
Kranjcar hit the angle of post and bar for QPR as Redknapp's men ground on in search of a second equaliser.
Tadic struck a post as the match edged into stoppage time, but Saints eased to victory despite failing to add a third goal.
Mixed fortunes for the South's football teams in the Capital One Cup second round. Here are the final scores:
Bournemouth 3 Northampton 0
Millwall 0 Southampton 2
Norwich 3 Crawley 1
Swindon 2 Brighton 4
Scunthorpe 0 Reading 1
West Brom 1 Oxford1 (West Brom wins 7-6 on penalties)
Gillingham 0 Newcastle 1
Bournemouth, Southampton, Brighton and Reading celebrate being through to the next round
Francis Benali, the former Saints defender, is about to tackle his toughest match-up yet - running nearly 1000 miles in three weeks to raise £1million for Cancer Research UK.
'Benali's Big Run' starts on Sunday 24th August at St James Park, home of Newcastle United and finishes at St Mary's - on Saturday 13th September - coincidentally when Saints take on the Magpies in the Barclays Premier League. He aims to visit every Premier League stadium on the way.
The ex-defender, who club spent over 20 years of his career with Southampton, said: "I've been told that 'I'm mad', 'it can't be done', 'don't do it' - but it's made me even more determined to succeed. This challenge has been nagging away at the back of my head for years. It's hugely demanding I agree, but that's why I'm so motivated to do it. Cancer Research UK is a fantastic charity and has made a difference to many thousands of families in the UK. I want to raise as much money as possible - it would be great to hit £1 million, but every pound counts. Thank you to everyone who has sponsored me so far."
Benali has been preparing for his big challenge by running around Southampton in the summer often covering over 20 miles a day.
Advertisement
They are best known for their performance on the football pitch, but now some of Southampton's most famous former players are taking to the stage to star in a new play. Matt Le Tissier and Francis Benali will be appearing in the premiere of 'The Saints' - an open-air play about the highs and lows of being a fan of the club.
A pop-up theatre has been built in Guildhall Square especially for the show, which will run for two weeks. Sarah Cooper's been backstage to meet one of the unlikely stars.
A production surrounding the highs and lows of being a Saints fan will be unveiled in a specially built theatre in the city centre this month.
'The Saints' will include acting debuts from the ex-Saints players in pre-recorded film segments.
It will premiere at Nuffield Playing Field, a specially built pop-up theatre which combines outdoor stadium with Jacobean theatre
As part of the play, two of Southampton FC's most famous ex-players will have cameo roles in the new production.
Matt Le Tissier and Francis Benali are fondly remembered by fans and played from the mid-1980s until the early 2000s.
The production explores the unequivocally theatrical experience of attending a football match, from the sense of spectacle and occasion to the intimacy and power of crowd behaviour and the sense of belonging and community this creates.
Nuffield is running a crowdfunding campaign alongside The Saints, called 'Be a Saint' - where audience members can donate amounts from £5 to £500 and will receive rewards including having a drink with Matt Le Tissier and Francis Benali as well as football and theatre memorabilia.
Southampton chairman Ralph Krueger has declared that neither Jay Rodriguez nor Morgan Schneiderlin will be sold this summer.
With former manager Mauricio Pochettino believed to be interested in taking the duo to join him at Tottenham, Saints fans would have been worried that the outgoings at St Mary's were set to continue.
Adam Lallana, Rickie Lambert and Dejan Lovren have all moved to Liverpool while Luke Shaw has signed for Manchester United and Arsenal have taken Calum Chambers to the Emirates Stadium, with Southampton pocketing almost £100m for the combined deals.
But Krueger has refuted reports that Rodriguez, who is currently sidelined with a serious knee injury, and Schneiderlin will follow them away from Southampton.
"They are part of the core that we have decided to keep at Southampton," he told Sky Sports News.
"Jay Rodriguez and Morgan Schneiderlin are not for sale and they will be a part of our club as we enter the new season.
"In and around Jay Rodriguez and Morgan Schneiderlin and the rest of our core players, we're excited to continue to build forward, but all those stories are false."
A theatre play showcasing the roller-coaster of being a Southampton FC fan will ironically face its own roller-coaster of emotions - after it was been delayed because of a major technical glitch.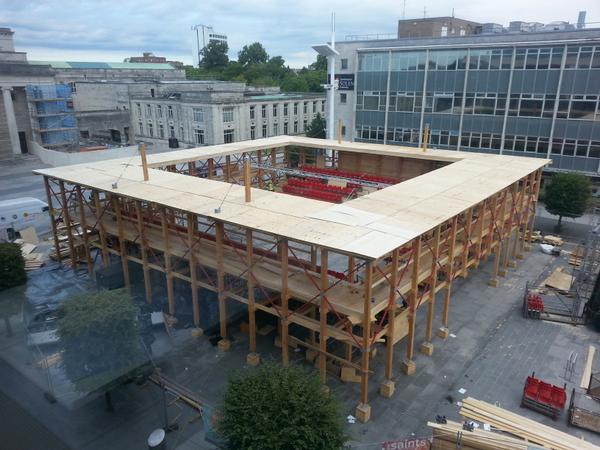 The show was meant to begin its three week run this Friday at the pop-up theatre in Guildhall Square, Southampton.
The venue was part of the city's celebrations to mark its 50th anniversary.
Now, it seems the structure is being put in place as building site staff say the launch will need to be delayed by a day.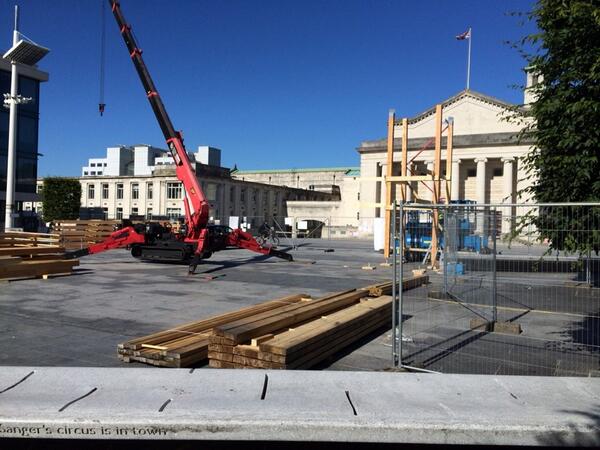 Load more updates