Fans of Portsmouth Football Club will be pig sick after it was announced that the city's Spinnaker Tower is being turned red and white - the colour of arch rivals Southampton!
It's one of the most recognisable landmarks in the South and will be now be sponsored by Emirates.
At a press conference a short time ago it was revealed that the colour change was part of the rebrand.
They handed over naming rights to the airline company from Dubai this morning.
The rebranding of the tower is set to be in place by July.
But it's likley to get a frosty reception from Portsmouth fans, whose team plays in blue and white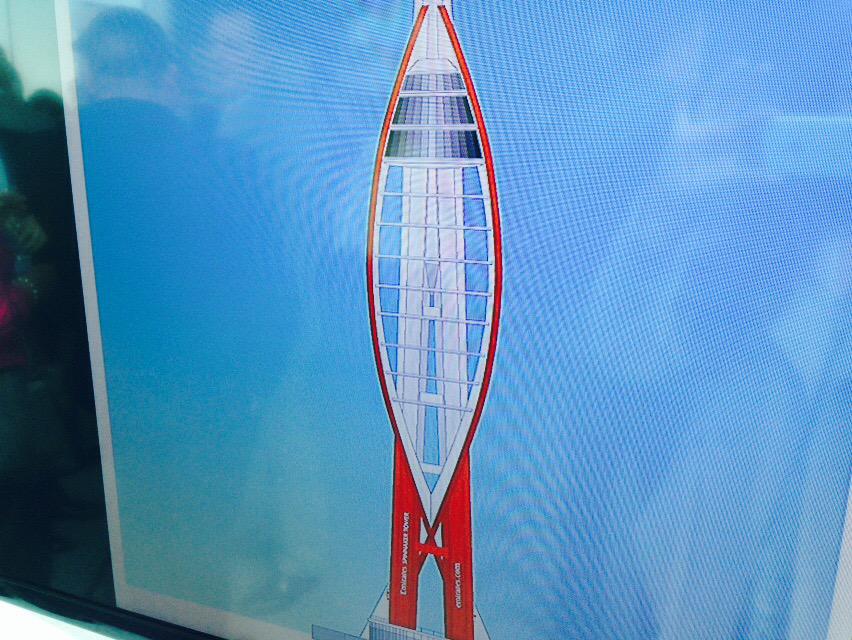 Southampton Football Club will go through to the Europa League in the third qualifying round after Arsenal beat Aston Villa in today's FA Cup final.
Advertisement
Former Southampton FC footballer Francis Benali has opened a new accommodation facility for families of children in hospital.
The new Ronald McDonald House Southampton is a "home away from home" for families who need to stay near their children while they are being treated at Southampton Children's Hospital and nearby Princess Anne Hospital.
Benali was joined by Fiona Dalton, chief executive of University Hospital Southampton NHS Foundation Trust, and Dr Simon Fradd, trustee of Ronald McDonald House Charities, for a ceremony to mark the opening of the house, which has 53 en-suite bedrooms as well as communal kitchens, lounges and playrooms.
The full-back said: "It's an honour and a privilege to be here to open such an incredible facility. I want to do alI I can to encourage people to support the house and spread the word about how much it helps families in their time of need."
During the opening ceremony, guests heard from Sandra Brown, a mother from Jersey, who is among the first to stay at the Ronald McDonald House while her son Jack, 15, is being treated for bleeding on the brain.
She said: "The Ronald McDonald House has brought normality back into our life. It's been a godsend. I have been able to stay near Jack while he is being treated in hospital and not worry about the expense of travel to and from Jersey or paying for accommodation. It will always have a special place in my heart".
There are 14 Ronald McDonald Houses in the UK that in 2014 provided a place to more than 6,000 families who had children in hospital.
Saints' boss Koeman previews this weekend's clash with Hull City & expects his players to score in order to qualify for the Europa League.
Read the full story ›
Southampton FC manager Ronald Koeman has admitted that qualifying for the Champions League is improbable
The Saints sit seventh in the Premier League, eight points behind fourth-placed Manchester City.
Speaking about his side's position, he said the difference is too big to make up with only seven games left of the season.
"If Saints reach the Europa League, it's like the rest reaching the Champions League.
– Ronald Koeman, Saints Manager
On reaching the Europa League he said:
" It means more games and buying more experienced players. But, I don't like to speak about these things until we have qualified."
– Ronald Koeman, Saints Manager
Southampton welcome Hull City to St. Mary's on Saturday.
Southampton FC manger Ronald Koeman has spoken to the media ahead of his side's Premier League game against Hull City on Saturday.
Advertisement
Southampton remain in the hunt for a Champions League place after a 1-1 draw at Chelsea.
Dusan Tadic equalized from the penalty spot after Diego Costa gave Chelsea the lead at Stamford Bridge.
The result has moved Southampton up to sixth position in the Premier League, three points behind fourth place Manchester United who play later against Tottenham Hotspur.
Saint's manager, Ronald Koeman, has called for his side to produce a fearless, confident performance at title-chasing Chelsea on Sunday. Despite a few bumps along the way, but Jose Mourinho's side remain on track to win the Premier League this term.
Manchester City start the weekend five points behind and with a game less than the Blues, who will can ratchet up the pressure with victory over Southampton on Sunday.
However, three points will be far from straightforward against this season's surprise package as Koeman's side look to the continue their scarcely-believable top-four tilt.
"Confidence and not afraid," the Dutchman said when asked how Saints need to approach the match.
"That's the most important when you play against big teams in an away game that you be yourself and you focus on your own game, your own way of playing, your own organisation.
"We know one of the best 45 minutes we play at home against Chelsea and that gives the team and the players confidence that we can have a good result."
While Saints have been impressive on the road, the trip to Chelsea has been made all the tougher by Wednesday's Champions League exit to Paris St Germain.
"They will do everything to win the game," Koeman said of the backlash. "That's a normal reaction because they need a win after a disappointing result.
"They have the experience to handle that, the manager has the experience to handle that, more experience than our players, and that's no question I think."
Southampton are without a win in five trips to Stamford Bridge, where last season they went down 3-1 despite taking the lead after 13 seconds.
Jay Rodriguez struck that goal but will be absent on Sunday, as he has been all season.
The England international is slowly working his way back from rupturing an anterior cruciate ligament last April and went on the recent mid-season break to Switzerland, with a return before the season is out "not unlikely".
"The reason to take Jay with the group was to give him that feeling back to be part of the group," Koeman said.
"He's doing well, he's progressing but he's still to score to be part of the squad of the team.
"He needs more time for that and he will get more time for that. Most important is the health of the player and we will see when he is back."
Philippe Coutinho's exceptional strike amid a series of controversial decisions from referee Kevin Friend helped Liverpool overcome Southampton 2-0 in what could prove a crucial result in the chase for a Champions League place.
There was no lack of vim and vigour on display in miserable conditions at St Mary's, where Brendan Rodgers' side moved within two points of the top four as the season enters the home straight.
Southampton are third in the Premier League after a late winner at Queens Park Rangers.
Sadio Mane fired a powerful shot into the top corner in the 93rd-minute in a 1-0 win at Loftus Road.
The result means Ronald Koeman's side remain in the Champions League qualifying position, despite last week's disappointing home defeat against Swansea.
Load more updates