More from @lukeshaw3: "I'm looking forward to this new chapter in my life & learning from the world-class players & management at the club."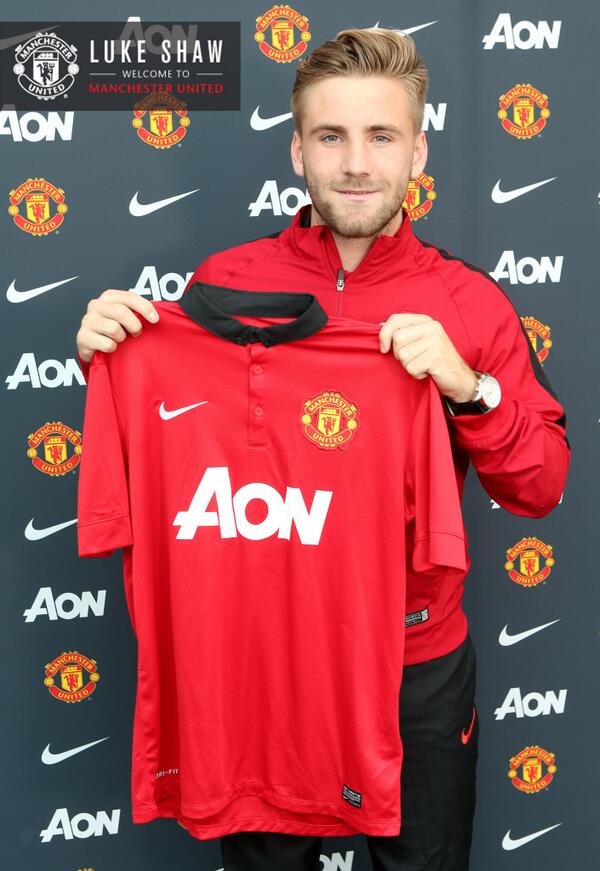 Advertisement
Luke Shaw 's Twitter profile says he is a Manchester United player despite no official announcement from the club.
However, a short time ago he changed his profile back and removed any mention of Manchester United.
Luke Shaw has completed his move to Manchester United from Southampton, PressAssociation Sport understands.
The latest fixture list for Southampton Football Club has been released.
The first match of the 2014/15 season for the Premiership Club is away to Liverpool on Saturday 16th August.
Their first home game will be on Saturday 23rd August to West Bromwich Albion.
The team will also be away to Crystal Palace on Boxing Day.
The last game of the season will be away to Manchester City on Sunday 24th May 2015.
Striker Rickie Lambert has written a letter to Southampton fans thanking them for their support during his time at the club.
Read the full story ›
Advertisement
Southampton Football Club has confirmed it has received "multiple offers" for some of its players in recent weeks. It described the bids as "confirmation of the depth of the development that is ongoing in our academy and of the present standing of our first team within the Premier League."
But it said it not need to accept any offers that had been made for transferring players - with the exception of Rickie Lambert.
We are staying true to our plan and vision and, as a result, we have no need to accept any offers. We are deep in the process of appointing a new manager who will continue to move our club forward. It remains our preference not to partake in any transfers until the new manager is in place. Our scouting & recruitment department continues to monitor targets we have identified to improve our squad, and the new manager will have final input into our recruitment process."
– Southampton FC statement
Regarding Rickie Lambert's transfer to Liverpool, the club said it was the right move for the player and for the club.
There may be circumstances under which the club will feel it is right for a player to move on. Those circumstances have to be right for the club and the player. This is the case with Rickie's move to Liverpool.

When Rickie Lambert requested to leave for Liverpool, the club felt it could not stand in the way of having him fulfil his boyhood dream of playing at home. It will be a big challenge to replace him and our intention is to source a quality replacement who will fill his shoes now but also for many years to come."
– Southampton FC statement
Southampton and England striker Rickie Lambert appears a step closer to completing a move to Liverpool after undergoing a medical on Merseyside.
The Anfield club are understood to have agreed a £4 million deal for the 32-year-old, who was once on their books as an academy player.
Liverpool are thought to be keen to complete a deal before Lambert heads to England's pre-World Cup training camp in the United States on Sunday.
Lambert told Sky Sports News: "The medical went well but as you know I can't say anything."I'll speak properly about it, hopefully, very shortly.
"It's been a crazy football year to be honest, the way it's carrying on."
Lambert was asked if he had spoken to Liverpool captain Steven Gerrard about the move while with him on England duty over the past week.
He said: "I've spoken to Stevie a while ago, but I'll speak properly on Monday."
News of Lambert's impending move to his boyhood club came as a surprise when it emerged on Thursday evening.
Lambert was released by Liverpool at the age of 15 in 1997 and was later shown the door by Blackpool after moving to the Lancashire club as a trainee.
He did eventually turn professional and played in the lower divisions with Macclesfield, Stockport, Rochdale and Bristol Rovers before finally flourishing at Southampton.
Having helped Saints to two promotions and then impressing in the Premier League, he admits he will leave St Mary's with a heavy heart.
He said: "There's lots of emotions as you can imagine so it's something I need to address and obviously I will address all parties when I get the chance."
Liverpool are also understood to have made an improved offer of £25 million for Lambert's Southampton team-mate Adam Lallana after having an initial £20 million bid rejected.
Southampton FC's up-and-coming World Cup squad defender, Luke Shaw, says he's still in a state of shock after getting confirmation that he is heading to Brazil as part of England's team.
Luke has got his call up at the age of 18. His interview was posted on the Southampton FC website.
Load more updates