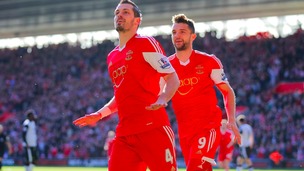 Mauricio Pochettino's side moved eighth in the Barclays Premier League with a win at home to Norwich.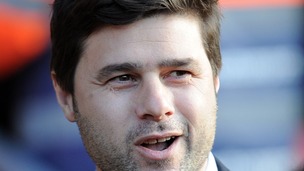 Southampton's Mauricio Pochettino believes the way his squad responded to the departure of Dani Osvaldo shows they have a "great future"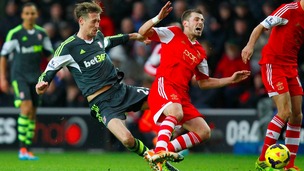 Southampton extended their unbeaten run to a fifth league match but couldn't secure a victory against Stoke.
Live updates
At 10.30pm, on Wednesday April 2, two men forced entry into a house on St Elizabeth Avenue in Bitterne.
The offenders threatened and assaulted the four occupants of the house with what was described as a hammer and stole a large sum of money.
The men had their faces covered and may have used motorbikes to get away.
The victims sustained injuries and received medical treatment at the scene.
This type of crime is very usual, and the homeowner's understandably have been shaken up by the incident. I would appeal to anyone who was in the area, who may have seen or heard anything usual to contact me at Bitterne Police Station on 101."
– DC Rob Dawson
Disruption for passengers as major rail improvements begin at Southampton station
A video has been produced by Network Rail explaining the works taking place on the main line through Southampton. The twenty million pound scheme aims to improve the reliability of trains. It's due to continue on weekends until May including the Easter bank holiday.
Advertisement
Fire crews tackle large blaze at city building site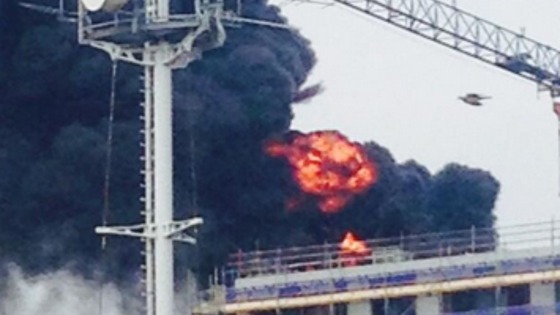 The fire at the planned student accommodation in Southampton. It's believed that no one was injured. Local residents were told to close their windows.
Fire crews tackle large blaze at city building site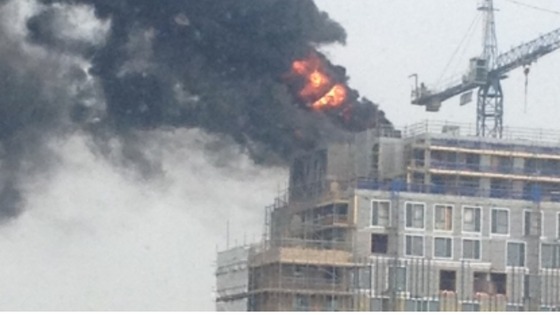 Thirty firefighters are tackling a blaze in student accommodation being built in Commercial Road, Southampton.
Reports of fire at new student accommodation in Commercial Road, Southampton. More shortly.
Men enter flat and threaten resident with firearm
Police are appealing for witnesses after an assault and firearms incident in Millbrook, Southampton.At 8pm on Tuesday March 25, three men forced their way into a flat in Irving Road.
They threatened a man living there with a firearm and assaulted him.
The three men who were all wearing black clothing and balaclavas searched the flat. A friend of the occupant was also assaulted.
The men made off with a mobile phone.
We believe this is an isolated and targeted incident and that there is no danger to the wider public. It's believed a firearm was used to intimidate the victims but it was not discharged. We would like to hear from anyone who saw these men force their way into the flats, or who saw them as they left the building. If you know who they are, please contact us.
– PC Jess Lawlor, Hampshire Police
Advertisement
Police investigating a burglary in Southampton are appealing for information about some distinctive items that were stolen. On Wednesday March 12, a flat in Lumsden Mansions, Shirley Road was broken into.
A number of extremely distinctive items were taken:
a jade buddha approximately 12 inches tall
several Chinese paintings
five ivory bracelets (including two with unqiue Chinese decoration),
a brass lion statue
a Chinese sword
an ivory jewelley box
a set of silver 25 piece cutlery,
one silver tea pot
two ivory statues
other several Chinese jade and stones decoration

DC Kate Gillingham who is investigating said: "These items are unique and have been collected by the family over a number of years. We'd like to hear from you if you have been offered any of these items for sale, or have seen them for sale anywhere. "
Police are investigating after an assault in Southampton which left a 20-year-old man with injuries to his face and hand.
Sometime between 1am and 2.30am on Friday, March 14, the victim is understood to have been attacked at Bedford Place while he was walking with friends to get a taxi.
They saw a group of men and women across the road shouting at them. A woman from the group came towards them. The next thing the victim recalls is waking up about 30 minutes later having been assaulted.
His injuries include a broken thumb which has required wiring and metal rods, a hairline fracture on his right cheekbone, a sprained neck, and bruising to his face. The victim was treated in hospital for his injuries.
Massive rise in cruise passengers in the South
We spoke to Andy Harmer from the Cruise Line International Association about the huge rise in people going on cruises from the South.
Massive rise in cruise passengers in the South
The region has seen a massive rise in cruise passengers, new figures have shown.
For the first time ever, more than one million people started a cruise in the UK, with many setting sail from Southampton.
This is a 10% rise on the previous year, according to the Cruise Line International Association.
Southampton is used by more cruise passengers than any other in Europe.
Portsmouth and Dover are also reported to have healthy passenger numbers too.
The number of people visiting the UK by cruise ships has increased whilst it's estimated that the value to the local economy is now £1 billion a year.
Load more updates
Back to top