Scientists at the University of Southampton are to develop and trial a new wearable technology to help people who have had a stroke recover use of their arm and hand.
The team will create a wireless sleeve, which will provide automatic, intelligent information about muscle movement and strength while patients practice every-day tasks at home.
The data will be available on a computer tablet to enable patients to review their progress as well as to allow therapists to tailor their rehabilitation programme.
The two-year project has been funded with a grant of just under £1 million from the National Institute for Health Research.
"About 150,000 people in the UK have a stroke each year and, despite improvements in acute care that results in better survival rates, about 60 per cent of people with moderate to severe strokes fail to recover useful function of their arm and hand."

"Stroke rehabilitation is increasingly home-based, as patients are often discharged from hospital after only a few days. This policy encourages independence and avoids problems associated with prolonged hospital stays"
– Professor Jane Burridge, Restorative Neuroscience, Southampton
A timecapsule from 1935 containing a warning of troubled times to come has been uncovered at Southampton Guildhall
Read the full story ›
Advertisement
Councillors in Hampshire are due to consider how to balance the county council's budget later.
Its leader says it's facing its most "challenging period" - after forty eight million pounds was cut from the authority's government funding.
"We are facing the most challenging period of the prolonged national austerity measures. In Hampshire, this means having to deliver savings of £98 million by April 2017, rising to a further £140 million of savings by 2019/20."

"We have a strong reputation for careful financial planning, which has delivered £240 million of savings since 2008, but it's clear that having lost so much of our Government grant, future savings will become even harder to find.

"Our approach to date, has focused on running the County Council more efficiently by reducing the cost of back office functions; using savings to help protect front line services; and prudently using some reserves to manage the costs of change.

"We are proposing to continue applying these principles in the years ahead, as well as considering an increase in council tax for the first time in six years - an approach which was supported by the majority of people who fed back to us during our summer consultation.

"This option is being put forward because of the blow we received before Christmas when Government announced more drastic cuts to the local authority funding formula, which impact particularly badly on County Councils. This translates into a further £15 million gap in our budget by 2017/18 - and that's taking into account the amount we could receive if we put up council tax by just under 4% each year, in line with the Government's expectations. "The percentage includes 2% to help specifically fund adult social care - even though this only provides £10 million against anticipated costs of £35 million in adult social care, next year."
– County Council Leader, Councillor Roy Perry
Police investigating a spate of sex attacks in Southampton have charged a man.
In the past fortnight there have been 12 assaults in Millbrook, Lordshill and the city centre.
Daniel Randall-Coles who's 25 and of Millbrook Road West has tonight been charged with 20 counts of sexual assault.
He'll appear before magistrates in Southampton tomorrow.
Almost 200 jobs are to go - and some services will be merged as Southampton City Council, once again, struggles to balance its books. Today, council leaders confirmed the scale of the savings needed.
One hundred and ninety jobs will be axed this year, with 40 posts to go immediately. Council tax in the area will rise by almost two percent - for the fourth year running. There is a £12 million financial black hole, and the authority needs to save £40 million over the next four years. Juliette Fletcher reports.
The interviewees are Councillor Simon Letts, Leader of Southampton City Council, Labour; and Hayley Garner from the Unison trade union.
Southampton City Council will later announce its budget proposals for the next financial year.
Councillors are set to outline plans to tackle the deficit - the gap between money being received from central government and the cost of services.
Advertisement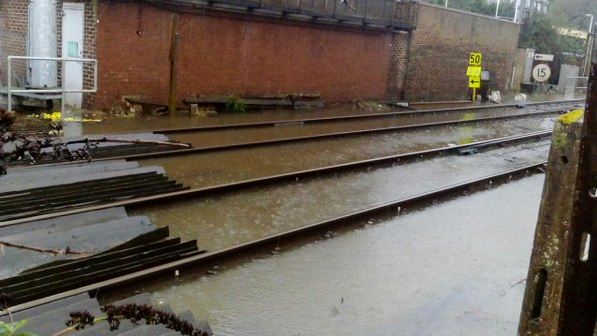 Trains running between Brockenhurst and Bournemouth are expected to be subject to delays until at least 11am today according to South West Trains.
The line was closed last night due to flooding causing major disruption for passengers. Although the line has been reopened trains are subject to speed restrictions.
Trains between Brockenhurst and Bournemouth are being delayed by up to 30 minutes
Electric trains are unable to run from Southampton to Bournemouth, buses are replacing these trains
South West Trains passengers travelling to intermediate stations from Southampton should travel via Bournemouth. Passengers travelling to Bournemouth from intermediate stations should travel via Southampton
Some services may be cancelled due to trains not been in the correct place at the end of service last night
#IncidentSWT the line is open to diesel trains, but they are limited to 5mph in places and delays are expected.
South West Trains has apologised for the disruption and suggested that their passengers may use CrossCountry between Southampton and Bournemouth.
The hashtag on social media for the incident is #Brockenhurst.
The routes affected are:
CrossCountry between Manchester Piccadilly / Birmingham New Street and Bournemouth.
South West Trains between London Waterloo and Weymouth and between Brockenhurst and Lymington Pier
Hampshire Constabulary can confirm that missing Jobie Cross and Michael Cross have been found safe and well in the Southampton area on Saturday, January 23rd.
We would like to thank the public and media for their assistance with our appeals.
A search is underway to trace two missing boys from Southampton.
Jobie Cross who's 15, and his 11-year-old brother Michael were last seen on Wednesday afternoon in the Bitterne area.
Police say they are growing increasingly concerned for their welfare and are asking for the public's help to find them.
It's believed the brothers are still in the Southampton area.
Jobie is described as:
• White • 5ft 6 • Brown hair • Brown eyes • Slender build
Wearing:
• Casual clothing; hoodie, tracksuit bottoms, chequered jacket, caterpillar workman boots. • Wears gold sovereign rings.
Michael, who is believed to be with Jobie, is described as:
• White • Approx. 4ft 10 / 4ft 11 • Mousy brown hair • Left ear pierced with stud. • Short bitten finger nails • Blue eyes • Large build
Wearing:
• Hoodie and tracksuit bottoms.
Load more updates