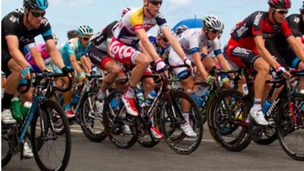 Thousands of cyclists have set off on this year's Southampton Sky Ride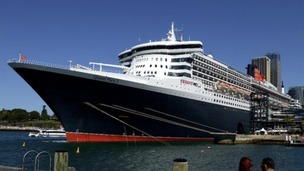 New figures show a big increase in cruise passengers using ports in the South.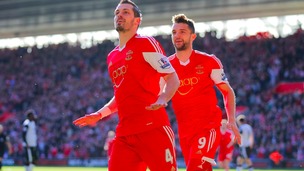 Mauricio Pochettino's side moved eighth in the Barclays Premier League with a win at home to Norwich.
Live updates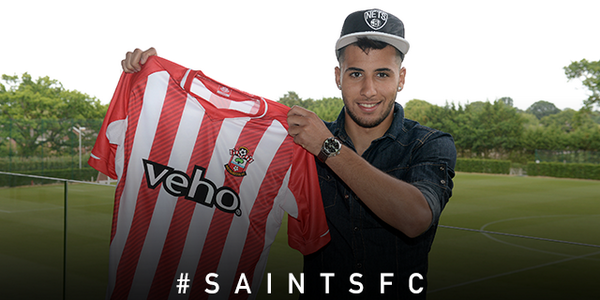 Concerns for missing Hampshire man
Hampshire police are appealing for information about a man who has gone missing.
Wayne Noke, 36, is originally from Sandown on the Isle of Wight, but went missing from an address in Southampton on Monday August 4.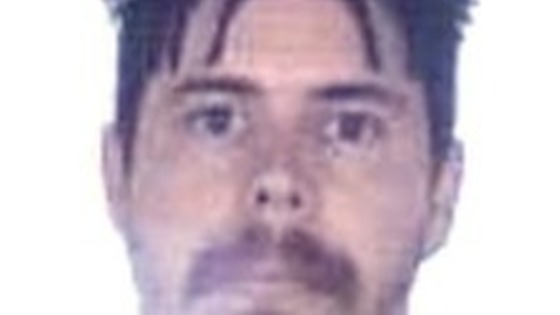 There are concerns for his welfare as he needs regular medication which he does not have with him.
He is described as:
White
5ft 9 tall
Slim build
Possibly wearing black shorts and t shirt
Carrying a cricket bag
Advertisement
Child's grave damaged in Southampton
Police in Southampton are appealing for witnesses to come forward after the grave of an 11-month-old boy was damaged st St Mary Extra Cemetery on Portsmouth Road.
At some point between midday on Monday, July 28 and 5.30pm on Wednesday, July 30, two solar lamps were taken and damage was caused to small teddy bears and other items left in memory of the little boy who died of a rare terminal disease earlier in July.
Officers are keen to trace whoever is responsible, as it has caused upset and distress to the boy's grieving family.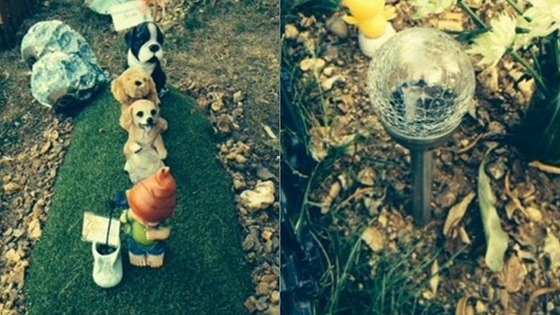 "He was a very loved and well known little boy by people all over Southampton and other places. I can't understand why somebody would do this to his grave as they can quite clearly see it is a baby's grave. I am upset to think that anybody could do this. Whoever is responsible has done this for no reason, as there is no money to be made from these solar lights. All they have done is upset me and my family and ruined a baby's grave, it's disgusting."
– Boy's mother
World War One mystery message found in folds of a kilt
A mystery message has been found in the folds of a kilt, which dates back to the First World War.
As economic historian Dr Helen Paul was removing the packing stitches from the kilt, which has been passed down her family over many years, she discovered the note.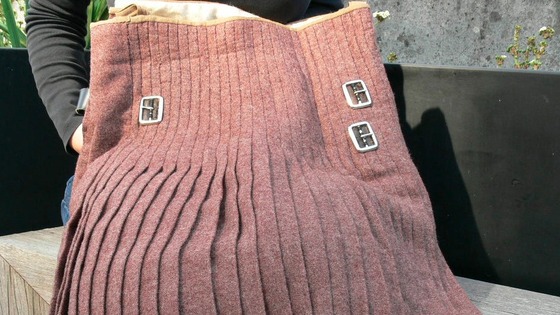 The University of Southampton academic hopes to trace the descendants of the seamstress who left the note of the kilt which was destined for a soldier heading to the frontline. The note reads:
"I hope your kilt will fit you well & in it you will look a swell If married never mind If single drop a line Wish you bags of luck & a speedy return back to Blighty"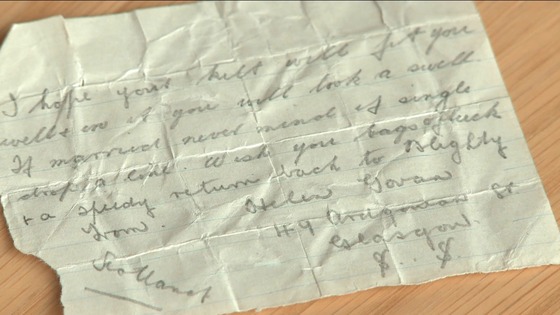 The kilt would have been made for a soldier sent to fight in the war, but some some unknown reason, it was never unpacked or worn.
Helen says, "This garment has been in our family for a number of decades, and until recently, we were completely unaware there was such an intriguing secret hidden in its folds. It was a real surprise when the note fell out.
"My father tried to trace any relatives of the note's author a few years ago, but his efforts failed and I'm hoping to pick up where he left off.
"There are many unanswered questions. We don't know how many of these poems this lady sent. Was this a one off, or were there many more lost to the battlefield, or even still existing undiscovered? If there were more, did anyone ever answer her message and indeed did she ever meet and marry a soldier returning from the war?"
Surgeons create "new" knee operation to help arthritis
Surgeons have created a new knee operation which could prevent the development of arthritis.
The procedure, which is being trialled in Southampton, includes coating damaged cartilage with stem cells.
The video, courtesy of University Hospital Southampton NHS Foundation Trust, talks through how the operation works with surgeon Mr Gorav Datta.
Controversy over Immigration Street show
A community has clashed with television producers over a new documentary being made in their street.
Filming for 'Immigration Street' is already underway on Derby Road in the Northam area of Southampton. It's being made by the same people who produced the controversial documentary 'Benefits Street' filmed in Birmingham.
The documentary makers say Derby Road has been chosen because more than half of residents were born outside of the UK. But some people in the neighbourhood fear the programme will cause tension and negativity. Richard Slee reports.
Advertisement
Controversy over Immigration Street show
A street in Southampton has been divided after a television company has started filming in the area to make a programme that will follow Benefit Street.
We spoke to Kieran Smith, the creative director for the new Immigration Street documentary.
Controversy over Immigration Street show
Controversies are growing for residents in Southampton over a new documentary series following the multicultural community in Derby Road.
The makers of Channel 4's controversial 'Benefits Street' show are filming a follow-up called "Immigration Street".
However, many residents are against the project as they are worried their area will be portrayed in a negative light
We spoke to councillor Satvir Kaur, Cabinet Member for Communities at Southampton City Council.
Athletes from the South at the Commonwealth Games
As the Commonwealth Games begin today, many athletes competing are based in the Meridian region.
The Games will take place in Glasgow until the 3rd August.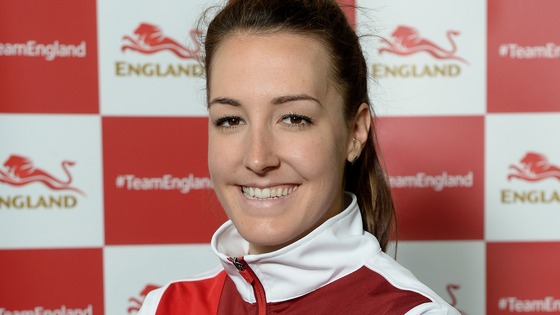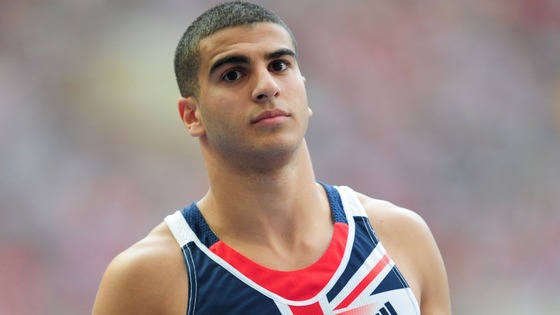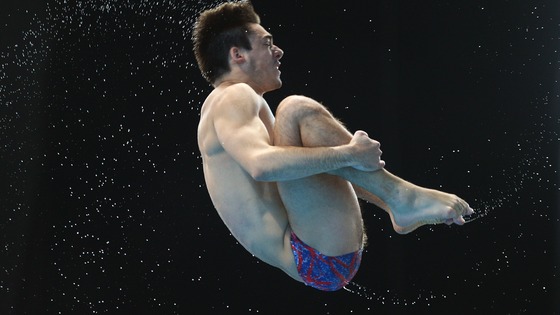 Southampton patients use first mobile pacemaker
Heart patients in Southampton are the first in the world to use a new mobile station to assess their pacemakers without visiting hospital.
The high-tech programme, which is currently based at Bitterne Park Medical Centre, allows people fitted with the devices to have instant check-ups at times that suit them.
The device is designed to provide care closer to home, cut waiting times as well as freeing up staff to treat patients in hospital.
Pacemakers are small electronic devices implanted in the chest to help regulate patients' heartbeats.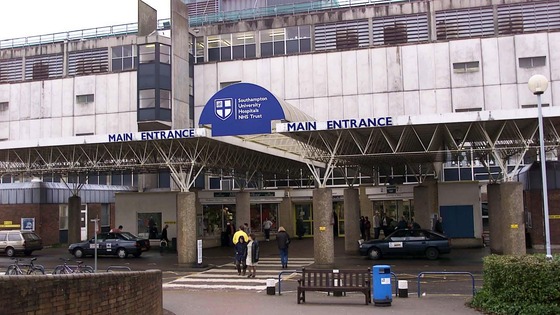 The monitoring allows experts to examine any changes in heart rhythm and intervene before patients become unwell.
The mobile station means patients do not need to attend fixed appointments – they head straight to the box, take a seat, follow the on-screen instructions and hold a monitor to their pacemaker for a few minutes.
Staff can then access the data remotely through a secure server using a monitoring system known as CareLink and download it for review.
The pilot study has enabled a number of patients local to the surgery the opportunity to visit whenever they want and head home immediately after their assessment.

"Once the team has evaluated their results, patients are sent a letter to inform them transmission was successful and when their next download is scheduled for.

"If we spot any problems with the data and want to investigate further, we contact patients at home to inform them of the outcome and what they need to do next – and this can all happen without a trip to hospital."
– Hollie Cottrell, a cardiac physiologist at Southampton General.
Load more updates
Back to top