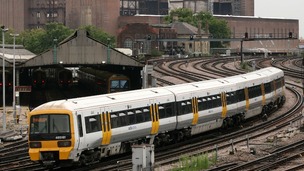 Southeastern have announced the following changes to their timetable on Monday morning, in light of the stormy weather.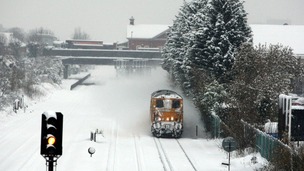 Major sections of the regions rail network will be shut down yet again between Christmas and the New Year, it was revealed today.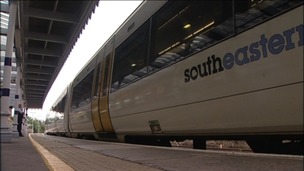 Rail companies have been criticised for not paying passengers enough compensation for train delays.
Live updates
Rail fares sale by Southeastern
From now until Christmas Eve, off-peak Southeastern tickets between London and Kent are available for purchase online with a 25% discount.
The discount applies to high speed services and is on top of our 'GroupSave', 'Weekender', 'Kids for a Quid' ticket offers.
Southeastern also said a special high speed service would operate on Boxing Day. The service will run half hourly between Ashford and St Pancras International (between 08:00 and 20:00). Free car parking is also available at Ashford and Ebbsfleet International stations on Boxing Day.
The offer is available for single and return off-peak Southeastern tickets purchased through the Southeastern website. It is not available on journeys wholly within the London Oystercard fare zones 1 - 6 or when purchasing a Travelcard.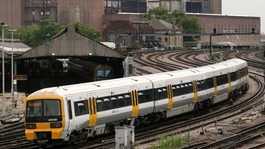 Southeastern have announced the following changes to their timetable on Monday morning, in light of the stormy weather.
Read the full story
Advertisement
Southeastern Xmas plans a hit
Southeastern's website has received over a thousand page views in a single day, following the release of travel advice for customers planning to travel through Gravesend this Christmas.
Network rail are planning to carry out a £19 million upgrade of the station between Sunday 22nd December and Monday 6th January.
This will affect services that normally run via Gravesend.
To see the advice from Southeastern, click here.
Southeastern leaf fall timetable
Southeastern are advising passengers to check changes in train times as the new leaf fall timetable commences on Sunday 29th September.
Autumn can be a challenge for rail operators as leaves falling onto the tracks can cause poor rail conditions.
The fallen leaves, compressed by passing trains, become slippery and are difficult to remove from the tracks. The conditions on the tracks is a lot like black ice on the roads. In the mornings, with added frosty and cold conditions, the leaves can also affect the trains running speed.
Starting the early morning service a few minutes earlier helps to minimise the knock-on effect of any delays and allows drivers time to adapt to the driving conditions.
The autumn timetable will run from 29th September to 7th December 2013.
Southeastern name train after Olympian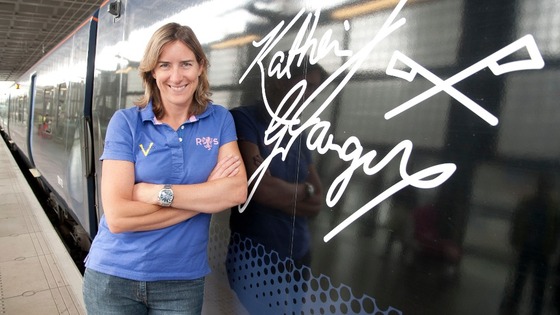 Katherine Grainger has unveiled a train that has been named after her.
Southeastern named the High Speed Javelin train after the successful Olympian. Dr Grainger described the event as 'crazy'.
"It's all so surreal. I can't wait to take my mum for a trip on my train. Thank you to Southeastern, this is a huge honour."
Southeastern's engineering director, Wayne Jenner said, "Southeastern's high speed service played an important part in the success of the London 2012 Games. To honour this, we've named the fleet of trains after some of Britain's greatest-ever Olympians."
"We took the train naming to an employee vote, and Katherine was a clear choice."
Train evacuated after fire
Credit: Bulbzmedia
Advertisement
Train evacuated after fire
A spokesperson for Southeastern has apologised for the disruptions this morning. They said:
This was an understandably distressing event for the passengers onboard the train this morning. Thankfully we've had no reports of any passengers injured. We're fully investigating the cause of the problem to make sure this doesn't happen again– but we understand the shoe gear overheated, causing a lot of smoke to billow out from under the train. Station staff rushed to assist the passengers onboard and staff from Network Rail's nearby depot assisted passengers on the ground to evacuate through the depot."_
– Spokesperson from Southeastern
Train evacuated after fire
London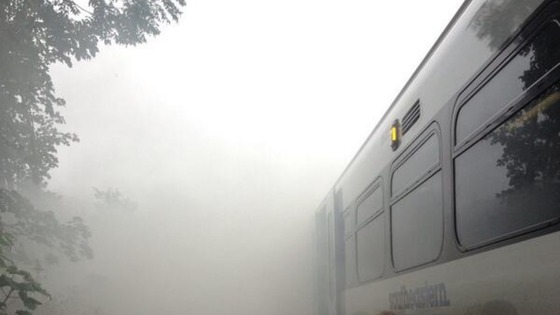 The fire this morning at Hither Green station was caused by equipment underneath the train overheating.
The shoe gear, which sits beneath the train and gives it power along the track, overheated in the last four carriages of the train.
Half of the passengers, on the 7.17am train from Gravesend to Charing Cross, were able to leave via the platform. The others had to leave through a nearby depot.
At least 20 people were photographed standing by the side of the train line.
The London Fire Brigade and emergency services were called to the scene at 7.56am.
As of 10am all lines have reopened but there are knock on delays.
Train evacuated after fire
London
NEW: Following emergency services dealing with a prior incident at Hither Green all lines have now reopened. (1/3) #southeastern
All lines have now reopened at Hither Green. Tube services have now been withdrawn. (2/3) #southeastern
NEW: Arrangements previously made to convey passengers by local bus have now been withdrawn as lines at Hither Green have now reopened (3/3)
Train evacuated after fire
London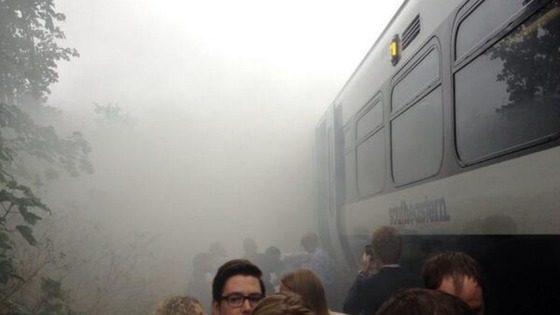 Passengers were evacuated from a Southeastern train at Hither Green this morning.
The train was travelling through Kent to London Bridge.
Due to the incident, there has been disruption on Southeastern trains between London Bridge and Dartford, and between London Bridge and Orpington.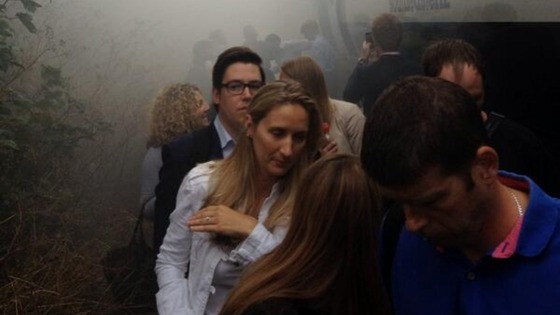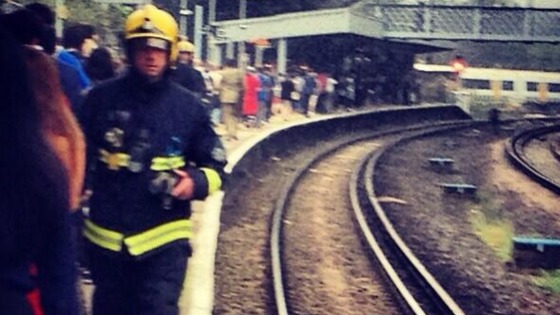 Load more updates
Back to top