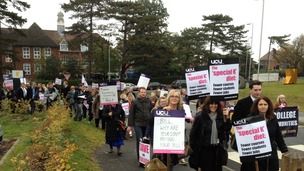 Staff and students are fighting planned cuts at K College in Kent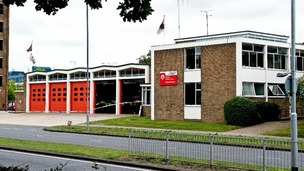 The first of five planned strikes by Essex firefighters will take place today in a row over cuts to services.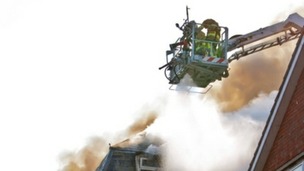 Firefighters in Essex plan to strike five times in the coming months following a row over cuts to services.
Live updates
Baggage handlers plan to strike
Urgent talks will take place tomorrow to try to stop strike action by baggage handlers and check-in staff at Gatwick, Heathrow, Manchester and Stansted airports.
Workers from the ground handling company Swissport, based at the four airports, have overwhelmingly voted in favour of strike action in a dispute over pay.
According to Unite the union, 94% of workers balloted voted in favour of a walk-out.
Swissport's clients include:
Stansted airport: Ryanair, Thomas Cook and Thomson
Manchester airport: Monarch, Thomson, Thomas Cook and Virgin Emirates
Gatwick airport: Monarch, Thomson, Thomas Cook, Virgin and British Airways
Heathrow airport: Virgin
Fire Brigade Union to strike
Hampshire Fire and Rescue Service are reassuring the public that emergency calls will be answered and responded to during the planned strike by the Fire Brigade Union.
The FBU have planned a four hour strike in a row over pensions. It will take place on Wednesday 25th September, between 12noon and 4pm.
Hampshire Fire and Rescue Service will remain in operation as usual but are also calling for the public to help reduce unnecessary calls during that time.
Deputy Chief Officer Dave Curry said, "I want to reassure the public that we will be answering emergency calls and responding to them in the same way during the planned periods of industrial action.
"We urge the public to be vigilant during the strike and take extra precautions to prevent fires."
Advertisement
Vital Portsmouth council services, which rely on the revenues from the port, could be hit by the 'heavy-handed' way the port's management has treated its staff, Unite, the country's largest union, claims.
The union says that customers will suffer if the management goes ahead with its plans to reduce staff costs by 10 per cent in the next few years as the city council relies heavily on the port's revenues to maintain the authority's services across the city.
Unite members at Portsmouth International Port have unanimously voted for industrial action in a dispute that ranges from security, health and safety, and plans that they say could see workers lose up to £1,300-a-year. The port employs about 100 workers.
Brighton bin strike suspended
A bin strike which led to rubbish bags piling up on the streets of Brighton has been suspended.
Hundreds of members of the GMB union at Brighton and Hove council walked out last week in a row over pay, but a new offer is now being put to workers.
The GMB said industrial action had been suspended for 28 days so workers could be consulted on a new offer.
Mark Turner, the GMB's branch secretary, said:
"We have made significant progress over recent days. The proposal significantly reduces or in some cases eliminates the losses for individual staff members which arose under the previous offer, although there are still some areas that must be addressed."
Brighton bin strike suspended
A week-long strike by Brighton and Hove's refuse collectors continues. Binmen held a demonstration through the city streets on Saturday. The industrial action is over a change to allowances which coud see some workers pay cut by thousands of pounds.
The City Council and union officials are due to meet later today.
Brighton & Hove City Council has apologised to residents for the disruption and has advised people to take their rubbish to recycling centres.
We are very sorry that our service is being affected during the dispute and will keep you up to date with developments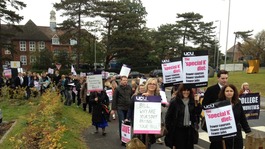 Advertisement
College staff go on strike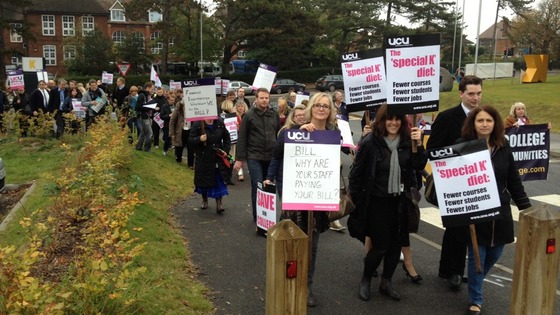 Protestor have begun to gather outside the Tonbridge campus of K College in Kent to protest about plans to cut up to 145 jobs.
The college, whch has campuses across the county, is 11 million pounds in debt.
Campaigners are also fighting proposals to shut down the Folkestone campus.
College staff go on strike
Around 200 members of staff at K College in Kent are expected to take industrial action on the afternoon of Monday October 8. They are protesting at plans to make up to 145 members of staff redundant, following revelations that the institution is £11 million in debt.
Managers and the board of governors are due to hold a meeting about the college's financial situation this afternoon. Protesters fighting the cuts have set up a campaign group called 'Save K College' which has its own social media page.
Council workers accept pay deal
Southampton Council workers have accepted a deal to end the long running dispute over pay cuts imposed by the City Council.
The workers have held a series of strikes since the dispute started back in February 2011.
Under the new deal workers will see their pay restored in stages and those made redundant as a result of the 2011 / 12 Council budget will receive a one off compensation payment..
"UNISON members have voted by a large majority to accept this settlement because it restores that pay which was cut by the previous Conservative administration. Council workers now face savage job cuts being forced on the Council by the actions of the Coalition Government in reducing funding."
– UNISON Branch Secretary Mike Tucker

In return for the settlement, UNISON and Unite will withdraw all legal action against the Council and call off ongoing industrial action.
French ferry strikes hit South
Thousands of ferry passengers have been hit by a second day of wildcat strikes on Brittany Ferries between France and England.
Sailings from Portsmouth have been affected by the industrial action being held by workers in France. Negotiations are underway between managers and employees to resolve the row which is about cost cutting measures after three years of losses at the transport firm.
Load more updates
Back to top