Advertisement
One driver was killed and seven others injured when three cars and a lorry crashed on the M27 this morning.
Read the full story ›
Advertisement
Hampshire Police have confirmed that one person has died as a result of a crash on the M27 eastbound at Whiteley.
They say they were called at 9.15am to reports that several vehicles were involved in a collision on the eastbound carriageway near junction nine.
A lorry collided with a car, resulting in one fatality.
Ambulance crews are currently treating a total of seven casualties at the scene, who will shortly be taken to hospital. None of their injuries are described as life threatening.
At least three cars and a heavy goods vehicle are believed to be involved.
Hundreds of cars are trapped in traffic as the road is closed in both directions. The Highways Agency does not expect the road to reopen for most of the day.
#M27. Our officers have now started turning trapped traffic on the w/bound carriageway. Please be patient as this will take some time.
A collision involving a lorry and three cars on the eastbound carriageway of the M27 at junction 9, Whiteley, has closed the M27 motorway.
The Highways Agency says the road will be closed until at least 4pm.
Eye-witnesses say a fierce fire followed the crash with the emergency services now trying to put the flames out.
Drivers caught in the jams have been posting pictures on social media and they show thick smoke over the carriageway.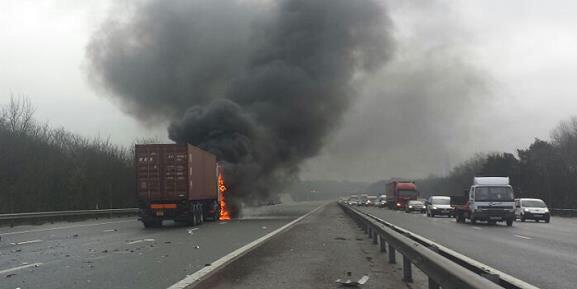 Load more updates