Sussex Police are appealing for further information after a suspected shoplifter pulled out a handgun at a branch of Sainsbury's in Peacehaven and threatened staff with the weapon so he could get away.
The incident at the Sainsbury's supermarket in South Coast Road in Peacehaven happened at around 8.40pm on Sunday 4th December.
The man fled in the direction of Dorothy Avenue. No-one was hurt. It is believed that the man stole some alcohol from the shop.
Officers are trying to trace the man. he's been described as:
A white man, about 6ft tall
Aged about 40 - 50 years old
Of a stocky build with a shaven head, possibly foreign
Police were told the man was carrying a white plastic bag and was wearing:
a white top
a black jacket, black scarf
blue jeans
and green / brown trainers with white soles
Anyone with information is asked not to approach him, but to telephone 999 and ask for the police service.
Police in Sussex are searching for a 26-year-old prisoner who has breached the terms of his licence.
Todd Mackenzie was jailed in April for 15 months for an assault.
Reports suggest he has been living in a camper van in a car park in Littlehampton.
Advertisement
The funeral has taken place of five friends who died after getting caught in a rip-tide at Camber Sands in East Sussex
Read the full story ›
The funeral is taking place today of five friends who died during a day trip to Camber Sands.
Read the full story ›
Sussex Police have confirmed that the search for a swimmer believed to have been missing at Camber Sands in Sussex has been called off.
Officers had received a telephone call from a member of the public at about 9.40am this morning, reporting that they were concerned for a woman who had been seen entering the water at about 8am. It was believed that the swimmer was missing because she had not returned yet to collect a pair of flip-flops left on the beach.
The woman was described as white with dark hair and wearing a black swimming costume. Sussex Police say a woman matching that description called the RNLI at around 11.45 am to identify herself.
Police officers say they helped the Coastguard, the coastguard helicopter crew and the RNLI conduct a thorough search of the coastline nearby during the alert.
Five men died at the Camber Sands beach on Wednesday. They drowned after getting into difficulty in the sea. Lifeguards are on patrol at the beach over the bank holiday weekend.
RNLI lifeguards are on duty for the first time at Camber Sands in East Sussex this weekend following the tragedy that claimed the lives of five young men. They were on a day out from London when it's believed they were caught out by the rapidly rising tide.
ITV News Meridian spoke to lifeguard Will Stephens.
Advertisement
Lifeguards from the RNLI have started beach patrols at Camber Sands after five men died earlier in the week.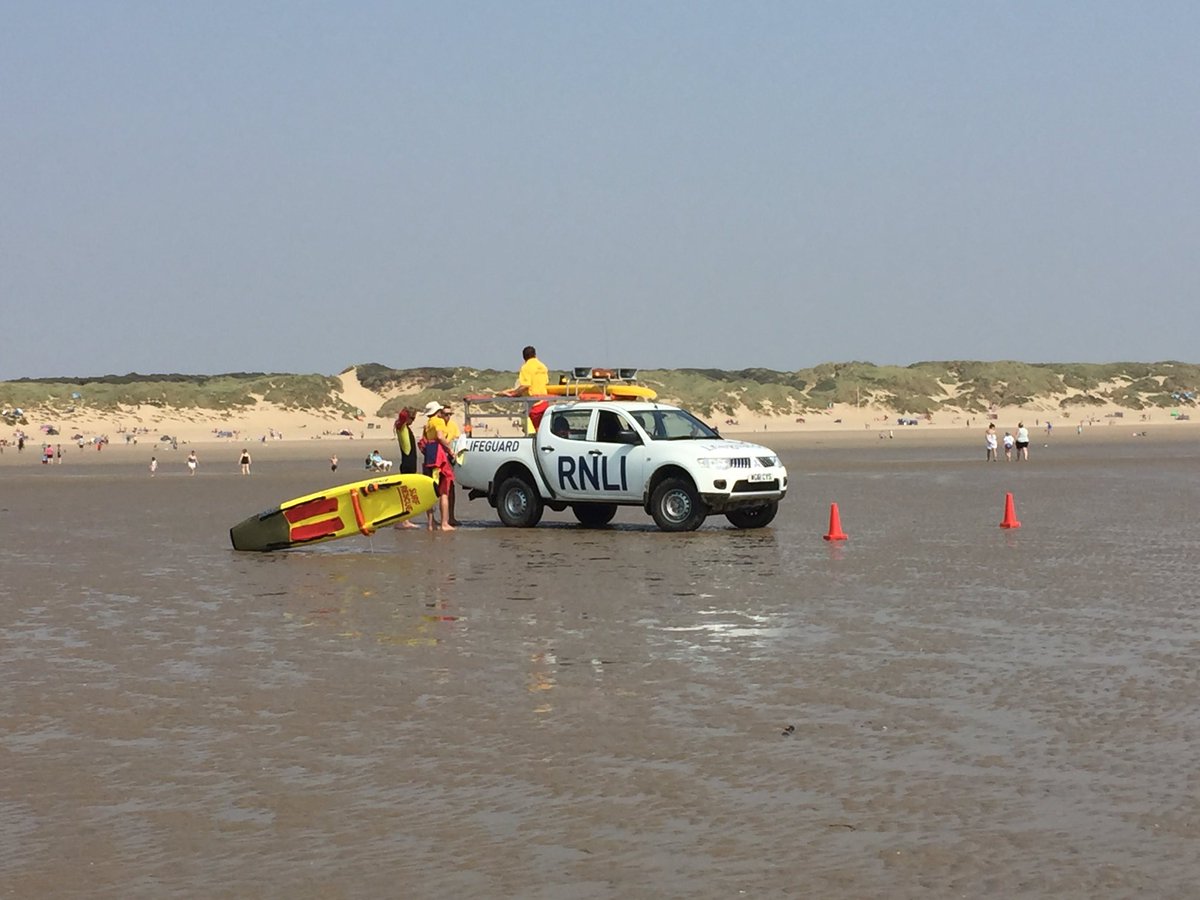 It's taken six deaths in four weeks - but this weekend Camber Sands WILL be patrolled by lifeguards.
The RNLI has announced that up to six people will be on duty - along the seven miles of beach over the next three days. It is, however, only a temporary measure.
The announcement was made as Sussex Police confirmed the identities of five men who died in the sea off Camber on Wednesday - all friends on a day trip to the beach on the hottest day of the summer.
The father of two brothers who were killed said he's convinced they'd still be alive if a lifeguard had been on patrol.
John Ryall reports.
The precise circumstances surrounding the deaths of the five men in Camber are still uncertain. But one thing is for sure - rip currents around our coastal resorts are a serious danger.
They account for 60 per cent of all RNLI incidents - and are a major cause of drowning. So with the hot weather drawing thousands of us to our beaches, how do you stay safe in the water?
We sent Richard Slee to West Wittering in Sussex to see how lifeguards there are keeping swimmers safe.
The five men who died at Camber Sands have now been named.
They were Kenugen Saththiyanathan, 18, and his brother Kobikanthan Saththiyanathan, 22 both of Normandy Way, Erith; and their friends Nitharsan Ravi, 22 of Admaston Road, Plumstead, Inthushan Sriskantharasa, 23 of Chadwell Road, Grays and Gurushanth Srithavarajah, 27 of Elsa Road, Welling.
The men all travelled together to Camber for the day on Wednesday where they sadly died.
Their deaths have now been passed to the corone
Load more updates