A motorcyclist who died after his motorbike collided with a tractor pulling a trailer on the A27 in Sussex has been named.
Rene Weise, 31, was a German man who lived in Alice Street in Hove. He was riding a green Kawasaki ZR800 at Ashcombe near Lewes when it collided with a tractor driven by a 20-year-old man from Plumpton. The motorcyclist died at the scene of the crash.
Following the accident the police closed the eastbound dual carriageway between Falmer and Lewes for several hours. Detectives are appealing for anyone with information to telephone the police on 101 quoting Operation Principal or by sending an email to collision.appeal@sussex.pnn.police.uk .
A police car has been designed for Sussex Police, especially for Brighton Pride, which kicks off tomorrow.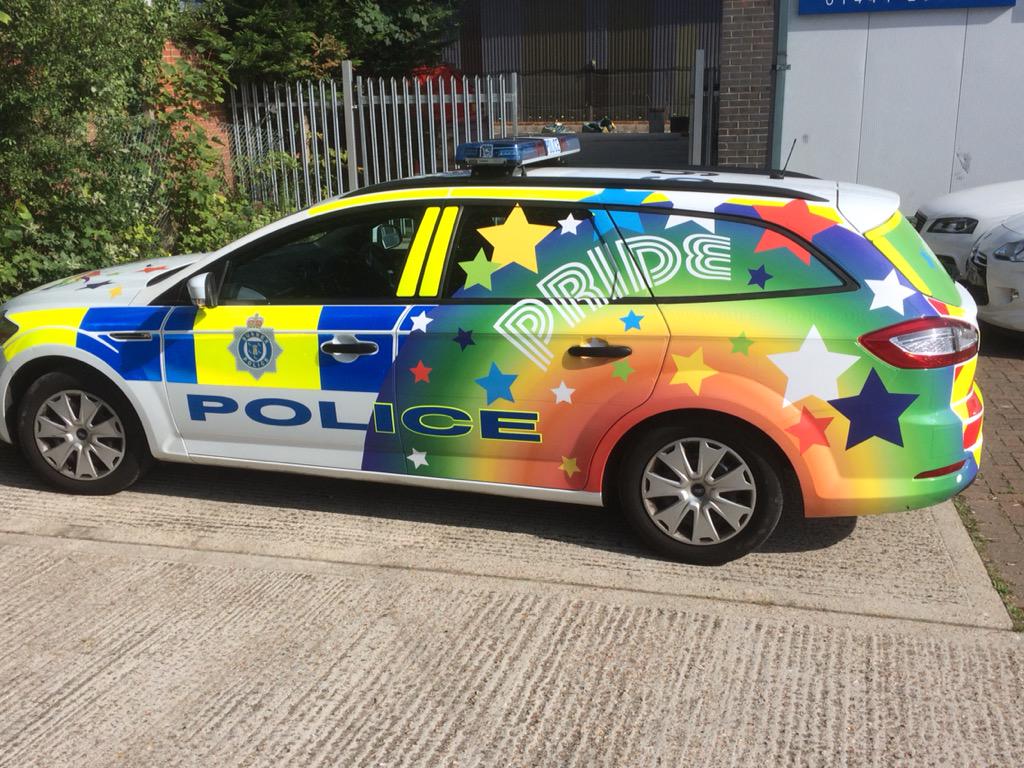 Now in it's 25th year - 160 thousand people are expected to attend. It's the largest event of its kind in the country. This year, an extended parade will start from Hove Lawns at 11am and retraces the steps of the first Pride walks.
Advertisement
There have been reports of police activity near cliffs in Sussex tonight. The area between Ovingdean and Rottingdean has been surrounded by emergency crews this evening. Neither Sussex Police or East Sussex Fire and Rescue Service have yet revealed any further information.
Police are trying to trace a taxi driver who picked up a woman after she was raped in Brighton.
The taxi picked up the 18-year-old from an address in the city and dropped her off at the Revenge nightclub in Old Steine. That was at around 3am on Friday 12th June.
The teenager was very slim and was wearing a light crop top and skinny black jeans.
The victim then raised the alarm that she had been a raped by a man who she had met earlier that night.
She had been on a night out with friends but at about 2.20am she left the nightclub with a white man. He took her to a house and then raped her.
Detective Constable Léonie White said: "The victim is very upset about her ordeal and she is being supported by specialist officers.
"We know that she left Revenge, but do not know whether she walked to the address with the man or whether they went together in a taxi.
"We need to speak to any taxi drivers who were working in Brighton who could have picked up the victim either when she left the club or to take her back there after the attack.
"We would also like to speak to anyone else who may have seen the victim leaving the club with a man at about 2.20am.
"If you know anything at all, please contact us."
Anyone with information should email 101@sussex.pnn.police.uk quoting serial 254 of 12/06, call 101 or contact the independent charity Crimestoppers anonymously on 0800 555111.
A woman charged with drink driving and being drunk while in charge of a child after a car accident in Selsey in Sussex, has been sentenced to 100 hours of community service and a two year driving ban.
The incident happened at 1am on Sunday 23rd May. A Ford Focus saloon car being driven along Nab Tower Lane on the West Sands Caravan Park at Selsey, overturned onto its side.
There were six people from Sutton in Surrey inside the car - two women aged 36 and 35, and four children - including two girls aged three and eight, and two boys aged six and nine.
Kristiane Larsson, 36, a cleaner from Rose Hill in Sutton was sentenced at Worthing Magistrates Court.
Police forces in the South have begun their summer anti-drink drive campaigns. Officers are also carrying out roadside tests on drivers suspected of taking drugs.
Since March, 57 people have been arrested for drug-driving in Sussex and 55 people in Dorset.
Advertisement
Sussex Police are appealing for help to find a 16-year-old boy who has gone missing from Horsham. Celso Dias had been staying in the Sussex town, and was on his way to Brighton when he was last seen on the morning of Thursday 28th May. He was travelling by train and told the person he was with that he was going to use the toilet, but failed to return.
The teenager is originally from London. Police say he may have got off the train at Haywards Heath and travelled to the Capital.
"Celso has connections on the South London area and we believe he might have returned there. He is 16 but acts much younger and we need to check he is safe.

"He was last seen around 9.30am on a train from Three Bridges to Brighton. He is described as black with a shaved head and is 5' 6". He was wearing a black Nike tracksuit and carrying an Adidas bag."
– PC Heather MacKay, Sussex Police
Sussex Police are appealing for anyone who has seen a teenager matching Celso's description or with information about Celso's whereabouts to get on touch. The police can be contacted via email on 101@sussex.pnn.police.uk or telephone by calling 101 quoting serial 369 of 28/5.
They target the most vulnerable and trusting people in our communities, using the goodwill of the elderly to con them out of their hard-earned savings. Tonight the police are warning about the dramatic increase in scams.
There has been almost a thousand cases of so-called 'Courier Fraud' in Sussex alone in the past five months. That's where people are tricked into handing over credit or debit cards, cash and PIN numbers to someone posing as a police officer or bank official.
The police say the sheer variety of these scams are now so elaborate - everyone is a potential victim.
Andy Dickenson reports and we hear from 87-year-old scam victim Dennis, PC Bernadette Lawrie, and fraud victim Helen Brown.
Police in Brighton & Hove are training door staff to help them spot the signs that patrons or passers-by could be at risk of assault.
The move is part of a wider campaign to try to prevent sexual attacks in and around bars and clubs during the evening and early morning.
The initiative highlights ways that people can intervene to help.
Police are concerned for a teenage girl who has gone missing from Sussex.
Gemma Black, 16, has been missing from her home in Portslade since Monday evening. She said she was going to the Co-op near Maplehurst Road but has not been seen since.
She is described as 5' 3" with black shoulder-length hair. She was wearing leggings, a black or green sweatshirt and furry Timberland boots.
'We are concerned for Gemma's welfare due to her age. If anyone has seen her or knows of her whereabouts, please let police know.'
– Vicky Morris, Missing Persons Co-ordinator
Load more updates