An RNLI volunteer from Swanage has been recognised with an MBE on the Queen's 2015 Birthday Honours list.
Captain Neil Hardy, 65, is a volunteer who has dedicated 25 years of his life to the overall running of Swanage Lifeboat Station.
He was a natural candidate to take on the important role of Lifeboat Operations Manager (LOM) a mere three years after joining. Neil took this role when the station was issued with their new Mersey class lifeboat; a particularly busy and demanding time for all concerned.
Neil has responsibility for a volunteer operational crew of over 40, and one of the RNLI's busiest stations.
"I am accepting this award on behalf of everyone at Swanage RNLI and the Swanage community, who have always supported the station and volunteers and who have made the work I do as a volunteer easy. I couldn't have achieved all that I have without their help, and certainly not without the support of my wife Maggie."
– Neil Hardy
"Neil has been described by others as a leading light and his hands-on approach and ability to inspire others have helped the station and volunteer fundraising team achieve their fundraising target towards the new lifeboat station. He is a truly selfless individual, balancing his commitments to the RNLI with a busy family life, who unfortunately at times have had their milestone occasions interrupted by a call from the RNLI. Neil is an individual that never puts himself in the limelight but is fulfilled by the accomplishments of others."
– Paul Boissier, RNLI Chief Executive
A search for a diver who failed to resurface after an expedition off the Dorset coast was suspended overnight.
Lifeboats from Poole and Swanage and two search and rescue helicopters were launched in the rescue mission on Sunday evening. A decision will be made this morning in conjunction with Dorset Police and other organisations on the next steps for today.
Advertisement
Tributes have been paid to a pioneer of the Swanage Railway, who volunteered on the growing steam railway for more than 40 years.
Read the full story ›
There's a myth that cats are supposed to have nine lives - but this puppy in Swanage was certainly looking to challenge that.
Molly the dog escaped unscathed despite falling nearly 100ft over Old Harry Rocks in Dorset.
The Coastguard was called to rescue the Norfolk terrier after her owners reported she had fallen from the cliffs.
On arrival, crews found the owner and about 100 people looking over the cliffs.
Crews say she luckily landed softly from the fall - where Poole RNLI safely recovered the dog to the boat. Last night the owners of Molly wrote to thank everyone involved in Molly's rescue.
They say they are fully aware they should have had Molly on the lead and they have joined a growing number of owners who have forgotten the rule.
A man has escaped injury after he fell from his speedboat which carried on circling around him out of control.
The man - who had been supervising a group people on pedaloes - plunged from the boat while attempting to help a child being blown out to sea on a kayak at Swanage, Dorset today.
Portland Coastguard said several people on other boats went to the aid of the man including one who was able to get control of the boat and help him back on board.
The Coastguard said the incident highlighted the importance of wearing a safety kill cord when piloting a motorboat.
Watch manager Cindy Rodaway said: 'We are very relieved that everyone is safe and well and that there are no injuries resulting from this incident. This incident highlights the importance of wearing a kill cord whilst in charge of a motorboat.'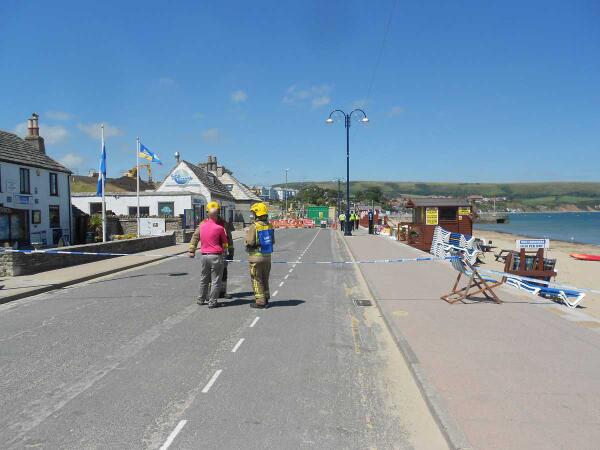 Advertisement
Holidaymakers and locals have been cleared from the main coast road at Swanage in Dorset after Home Guard grenades from World War II were found on the beach front.
Dorset Fire & Rescue are at the scene along with an Explosive Ordnance Disposal team. Dorset Police confirmed that a cordon in place along the beach.
The road affected is the A351 Victoria Avenue and Institute Road and Station Road.
Twelve canoeists have been rescued off the coast of Swanage after getting into difficulty. Two three seater, and one six seater canoes were on the water when the larger canoe capsized.
The canoeists became swamped. A nearby boat saw the rouble and raised the alarm to the coastguard.
Swanage Lifeboat was called out and the group were rescued and taken to safety.
We're told they were suffering from the cold, but are all safe and do not need any medical attention.
Mark Rodaway, Portland Maritime Rescue Coordination Centre Manager gave this statement with regards to the inquest into the death of Charlotte Furness-Smith.
Any death at sea is a tragedy and has a profound impact on the family, friends and all those involved in the search and rescue operation. Our thoughts are with those that have been affected during this difficult time.This was a complex rescue, with winds gusting up to 60mph, horrendous sea conditions combined with high tide and limited access to the cave. This was proven when one of our Coastguard Rescue Officers risked his own life when attempting to abseil down a narrow blow hole.
I am confident the Coastguard helicopter crew, Coastguard Rescue Teams and the RNLI lifeboat crews on scene that day made every effort while there was still a chance of a successful rescue outcome."
– Mark Rodaway, Portland Maritime Rescue Coordination Centre Manager
A coroner has recorded a verdict of misadventure in the case of a woman who died trapped in Dorset sea cave.
Thirty-year-old Charlotte Furness-Smith had gone coasteering with her brother when she was swept into Tilly Whim caves in Swanage last November.
Her body has never been found.
Load more updates