Hampshire Constabulary and Thames Valley Police are marking the ACPO National Motorcycle Week of Action starting today, with the release of an innovative film shot from a police motorcyclist's perspective.
The film shows an advanced police motorcycle trainer from the Joint Operations Unit, which is the collaborated unit between both forces, on a police bike. The rider can be heard talking through what he is observing, considering and doing as part of his journey on the road, with the camera placed in different places around him so that the film comes from his viewpoint.
The idea is that riders can watch the film and get an appreciation of what an advanced ride entails as the police rider encounters potential hazards and dangers while riding, thus providing an insight into advanced riding techniques.
"The main aim of the film is to give riders a flavour of advanced riding techniques through being 'on board' while a police rider talks his way along some of the roads where the motorcycling public have been involved in crashes. Some of the riders may not consider some issues and features to be hazards worthy of caution or action in the same way that a police rider will perceive them. The film which is aimed to be the start of a series of similar features covering various aspects within motorcycling will not turn you into an instant riding expert. Instead we are hoping this and other films will provide a potentially life-saving insight, not just for motorcyclists, but for all motorists."
– Inspector Bob Jarrett
Advertisement
The A329 Oxford Road in Reading remains partially blocked in both directions at Connaught Roa due to an unsafe building.
It is after a car collided with shops at around 05:30am. There are restrictions in place whilst the buildings are made safe.
Vehicle collided w/ shops Oxford Rd, Reading at 5.30. One lane closed as making buildings safe. Avoid congestion Grovelands to Beresford Rds
Three people are in hospital after a car left the road and crashed into shops on Oxford Road in Reading this morning.
Thames Valley Police were called to the scene at 5.30am. A red Peugeot 206 had gone into the Shazz Hair and Beauty salon and the Christian Community Action Shop on Oxford Road. Both shopfronts were damaged.
A car has collided with shops on Oxford Rd, Reading next to Connaught Rd. Expect delays-p3888 http://t.co/xPRXNIp6ik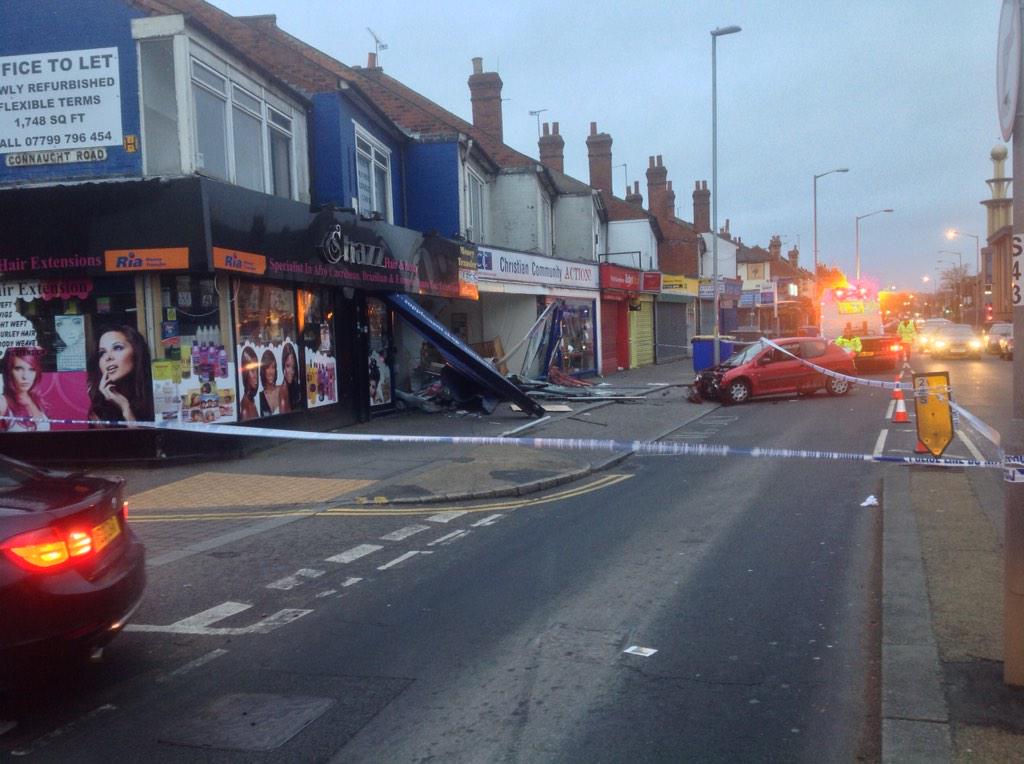 Two of the three people found in the vehicle had minor injuries. All three are at the Royal Berkshire Hospital with police officers. Detectives are investigating what led to the incident. No-one has been arrested.
A police spokesperson said there was a suggestion that someone else was in the car at the time of the accident. Officers are appealing for that person to come forward by either contacting police on 101 or by going to a police station.
Anyone who has information or who witnessed the collision is asked to telephone 101 and quote incident reference number URN 268 28/2.
A car has crashed into shops on Oxford Road in Reading. Police are appealing for witnesses.
Thames Valley Police is appealing for information after a series of robberies in Didcot.
The first offence occurred in Basil Hill Road. A man was walking near the sewage works when he was approached by two men who produced a knife and demanded money.
The second robbery happened outside the shops in Lostock Place. A 44-year-old woman was approached by two men who produced a knife and demanded money.
During the third offence, a 27-year-old woman was approached by a man who produced a knife. The incident happened again outside the shops in Lostock Place in the evening.
During the final incident, a 29-year-old woman was approached by one man who produced a knife in Avon Way at about 11pm.
Money was taken during the first two robberies.
Two men, aged 29 and 30 and both from Didcot have been arrested. Anyone with information should contact the Thames Valley Police Enquiry Centre on 101 or call Crimestoppers anonymously on 0800 555 111 or online at www.crimestoppers-uk.org.
Advertisement
Thames Valley Police are investigating an aggravated burglary on a cash machine in South Oxfordshire in the early hours of this morning.
Officers were called to the Natwest Bank in Peppard Road, Sonning Common shortly after 4.15am. It is believed that three thieves damaged the bank's cash machine - possibly using gas cannisters to do so.
They fled the scene in a dark coloured car, which may have been an Audi. the vehicle was then seen on Sedgewell Road travelling in the direction of Reade's Lane.
Anyone with information is asked to contact Thames Valley Police on 101.
Thames Valley Police are appealing for witnesses after a fifty-year-old man was assaulted in a pub in Didcot, Oxfordshire.
The incident happened in the Wallingford Arms public house in Broadway at around 2.30am on Saturday 14th December.
The victim was on the dance floor when he was assaulted by a stranger. He lost consciousness and was left with cuts to his chin. He was taken to the John Radcliffe Hospital, but has been discharged.
Officers would like to speak to anyone who saw what happened, especially a woman who was wearing a burgundy dress. She is thought to have been in the dance floor at the time of the incident.
Anyone with information can call Thames Valley police via the 24-hour enquiry line 101. Alternately, if you want to remain anonymous, you can contact Crimestoppers on 0800 555 111.
Thames Valley Police is appealing for witnesses after a fatal road traffic collision in Chievely during the early hours.
At 00.45am this morning, officers were called to the A34 exit slip road for Priors Court Road, Chieveley northbound in Berkshire to a collision between a car and a pedestrian.
A blue Renault Clio Estate was travelling up the slip road having just exited the A34 when it was in collision with a pedestrian who was on the slip road.
The pedestrian, a 41-year-old man from Bicester, died at the scene.
The driver and passenger of the vehicle were not injured.
The victim's next of kin have been informed.
Anyone who witnessed the collision or has any information should call the Serious Collision Investigation Unit via the Thames Valley Police enquiry line 101 quoting URN 60 13/12.
Thames Valley Police is appealing for witnesses after a robbery in Reading, carried out by two men claiming to be police officers. An 18 year old man was walking in Falmouth Road in Whitley with his friend when they were stopped by two men. They said they were undercover officers and told the victim to open his bag to be searched as there had been a burglary in the area. The victim was then punched and his iPhone and cigarettes were stolen.
The first offender is white, aged 35-40 years old, stocky, with short dark hair and a dark beard and moustache. The second offender is white, 6ft 1ins, slim. He was wearing a waterproof black coat and a cream-coloured Adidas baseball cap. The offenders were in a silver-coloured Ford Focus with tinted windows before they got out to speak to the victim and his friend.
If you have any information please contact PC John Chen via the Thames Valley Police Enquiry line on 101. Or Crimestoppers anonymously on 0800 555 111
Load more updates