Teenager Matthew Seddon died in a police chase. Today the inquest jury's verdict was 'death by road traffic collision'.
Read the full story ›
Police are currently dealing with an RTC in Henley Road A4155. The road is closed and there are tailbacks. Please avoid the area.
Advertisement
Hundreds of police officers from six forces - including Sussex and Thames Valley - are taking part in a pilot exercise to improve stop-and-search techniques.
It follows the death of 15-year-old Alan Cartwright, who was stabbed to death. His family are calling for more police stop and searches to curb knife crime.
The initiative by the College of Policing involves more than 1,300 officers from the Metropolitan Police Service, Cleveland, Sussex, Thames Valley and Greater Manchester forces, and the British Transport Police.
About 220 officers from each were chosen to take part in the pilot, which was designed with the Equality and Human Rights Commission (ERHRC).
The impact of the training will be analysed by the college and independent researchers to establish if the training changes the way officers approach stop and search.
"We know the public supports the police use of stop and search powers especially where the powers are used to keep people safe. The challenge now is to make stop and searches more effective because high numbers of negative searches can help to create a view that they are unfair and constitute a disproportionate response from police.
"The training will help officers to recognise unconscious bias and monitor how they make decisions about the use of stop and search powers."
– Richard Bennett, College of Policing
Commuters in the Thames Valley have long complained of severe overcrowding on the trains.
But that could be about to change. First Great Western says it has listened - and in a radical move the rail operator is to rip out most of its first class carriages.
That should provide an extra 3,500 seats a week. Our Transport Correspondent Mike Pearse reports.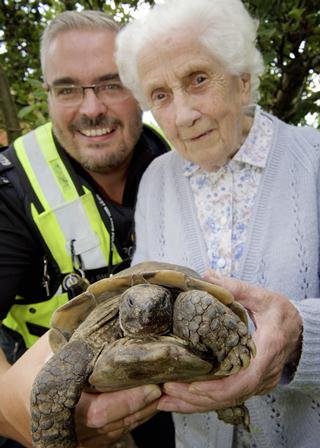 Hundreds of people have attended the annual Thames Valley Police open day in Berkshire.
The event was opened by the Chief Constable and is an opportunity for the public to get to know a bit more about police work.
Richard Slee reports.
Advertisement
Thames Valley Police are preparing their operation for policing Royal Ascot which begins next week Tuesday.
The force says a "significant security operation" will be in place during the five-day event which will be attended by the Queen and other members of the royal family.
"Thames Valley Police has been involved in policing Royal Ascot for many years. Every year is different but the challenge remains the same for us to support those attending as well as those living near to Ascot Racecourse.

"The event attracts a global audience and thousands of prestigious visitors but our planning and approach is no different to any other large scale public operation.

"A great many officers and staff have been working on the plans in partnership with Ascot Racecourse Limited, the Royal Borough of Windsor and Maidenhead and neighbouring police forces. We anticipate the focus remaining firmly on the track but will remain ready to respond if required."
– Supt Jim Weems, Thames Valley Police
A 15-year-old girl has been charged with attempted murder after a boy aged 16 was stabbed in the chest. It happened at around midday on Sunday 7th June on Granville Road in the Southcote area of Reading.
The 15-year-old girl has been remanded in custody and is due to appear before magistrates this morning charged with one count of attempted murder and one count of possession of a knife blade/ sharp pointed article in a public place.
A 16-year-old boy is in a serious condition in hospital after being stabbed in Reading on Sunday. Thames Valley Police were called to Granville Road in the Southcote area of Reading just after midday yesterday.
A 15-year-old girl has been arrested. Our reporter Mel Bloor sent this report from the scene.
"I would like to reassure the local community that we believe this is an isolated incident. We are investigating the circumstances fully. If anyone has information about this I would ask them to contact police by calling 101.

Officers remain on the scene and anyone with concerns can contact the police."
– Det Insp Mark Spencer, Reading CID, Thames Valley Police
A man charged with attempted murder is due before magistrates in Reading today. Quiang Gao, 39, of Acorn Drive in Thatcham was arrested on the evening of Thursday 28th May. It was in connection an incident at a restaurant in the town's High Street earlier that day which left a 40-year-old man with serious head injuries.
Quiang Gao was charged on the evening of Friday 29th May. The victim needed surgery for his head injuries, and remains in hospital in a serious but stable condition.
Load more updates