@thameswater water is off in the Reading Shinfield area again? Is there something going on?
@thameswater How long til East Reading water supply issue fixed today? #rdg
No water again @thameswater ?? I really hope there's some compensation.
26,000 properties in Reading are without water supply this morning due to a pump failure.
Thames Water say they are trying to fix the issue, which they believe is the same problem that happened last week.
Thousands were left without water and Reading University had to shut their campuses due to no water.
In the end, bottled water was handed out to residents.
Advertisement
Some homes in Reading are without water this morning due to a technical problem at Thames Water's booster station.
Their website states:
We're really sorry to customers who may be experiencing problems with their water supply.

This is due to a technical problem at our local booster station. Our technicians are en-route to the site to fix this and we'll restore supplies as quickly as possible.

We're sorry for an inconvenience caused.
– Thames Water website
Thames Water have restored water to areas in Reading who were left without water after a water main burst earlier today.
The water company successfully brought in water from other areas of Berkshire to supply customers in Reading who lost their water after a pump failed in Earley this morning.
Earlier today up to 26,000 properties were suffering from a lack of water or low water pressure, but by 4pm engineers had restored pressures to the pipe network.
We're really sorry to everyone who has been inconvenienced today. Our teams have worked incredibly hard to bring water back to thousands of homes, and we genuinely appreciate the patience of our customers.

"We'd like to thank the University of Reading, ASDA at Lower Earley and the Showcase Cinema at Winnersh who have been extremely helpful in letting us use their carparks as depots and collection points for our bottled water."
– Thames Water senior manager Rob Keen, in charge of the operation to restore water supplies
Thousands of people in Reading have been left without water for much of the day and the town's university had to close one of its campuses due to the supply problems.
Thames Water said a faulty pump was to blame.
It's been distributing thousands of bottles to residents.
Mel Bloor has our report.
Interviewees: Thames Water customers Carol Munt and Lisa Pyner. Deputy Vice Chancellor of Reading University Prof Tony Downes and Mark Handcock from Thames Water.
Advertisement
Thousands of homes are without water in the Reading area.
Thames Water is trying reconnect residents and has started to stockpile bottle water to distribute to those affected.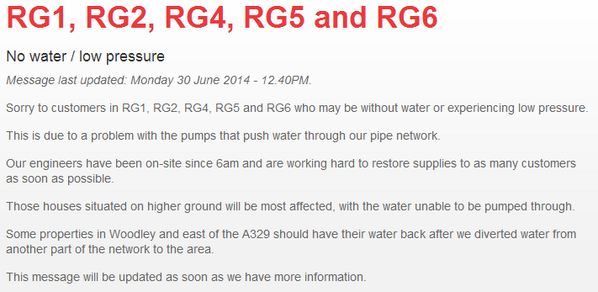 A campus at Reading University has been closed after it was left without water because of a broken pump.
The University has released a statement explaining the university's closure after a fault in the wider network in the Lower Earley area.
The Deputy Vice-Chancellor, Professor Tony Downe, said: "Thames Water says its engineers are working to restore supplies as quickly as possible, but it can currently give no clear estimate as to when it will be fully restored.
"We have considered our options carefully. There are only limited tank supplies in most of the University's buildings. Without water for sanitation or drinking, a decision has been taken to close Whiteknights campus with immediate effect."
Thames Water have confirmed 20,000 homes are without water in Reading this morning.
Load more updates