Say' The Cube' and you might think of the ITV game show presented by Philip Schofield - but it's also the name of a new state of the art device that could save hours of work at traffic accidents.
Trials are underway and if successful 'The Cube' could be used nationwide. Lisa Adlam reports.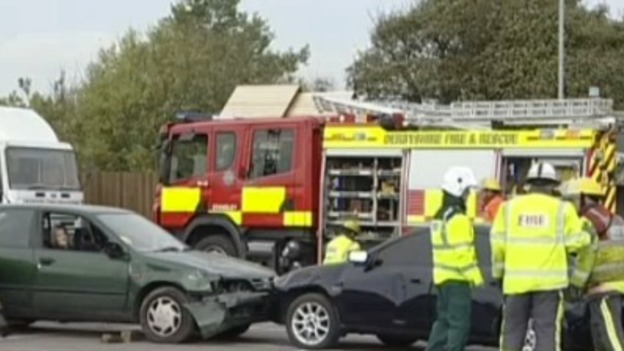 The worst driving distraction has been revealed in a nationwide poll as adult passengers.
In a survey of more than 18,000 people, 38% said their attention was diverted by other people in the car.
The survey asked "Have you been distracted, had a near miss or a crash caused by any of the following whilst driving over the past 12 months?" and found the more traditional distractions still pose the biggest threat...
Adult passengers – 18%
Twiddling with the radio – 16%
Children in the car – 14%
Operating the sat nav – 13%
Mobile phone conversation – 12%
Eating a sandwich – 9%
Drinking a coffee, water, etc – 7%
Texting – 5%
Emailing – 1%
Checking social media – 1%
Smoking – 1%
Overall, of the 6,867 respondents distracted, 548 had a near miss and 106 had a crash.
However, mobile phones, the only technology category in the 'impairment or distraction', showed a higher death rate compared to other in-car distractions.
The 17 deaths, set against a total of 548 casualties attributed to use of mobile phones, gives a fatality rate of 3%.
Advertisement
The average price of petrol now stands at 136.89p a litre following supermarket cuts.
But how much are you paying where you are? According to comments on ITV Meridian's Facebook page, the price varies across the region.
Morrisons, Littlehampton: 132.9p
Tesco, Gillingham: 135.9p
Esso, Maidstone: 131.9p
Sainsburys, Isle of Wight: 132.9p
ASDA, Canford Heath:133.7p
Petrol prices could fall by another 3p over the next two to three weeks, the Basingstoke-based AA said today.
The average price of petrol now stands at 136.89p a litre following supermarket cuts, already 3.02p lower than a month ago.
The AA said average petrol prices could fall to about 134p a litre soon with wholesale fuel prices falling.
Average diesel prices have fallen 4.62p to a current 141.76p a litre, AA president Edmund King said: "The last 12 months have shown pump price volatility is more acute than ever, driven largely by speculation."