A £5 million scheme to manage traffic heading to Dover during peak periods will soon allow drivers to pick up the pace.
A 40mph limit along the A20 between Folkestone and Dover will be lifted this summer when lorries aren't queueing to enter the port - thanks to the introduction of new technology.
Tony Green reports.
Two vehicles have been involved in a collision on the M3 Northbound between J7 A30 (Basingstoke) and J6 A30 / A339 (Basingstoke). There is slow traffic, a speed restriction of 50 mph and one lane (lane three of three) is closed.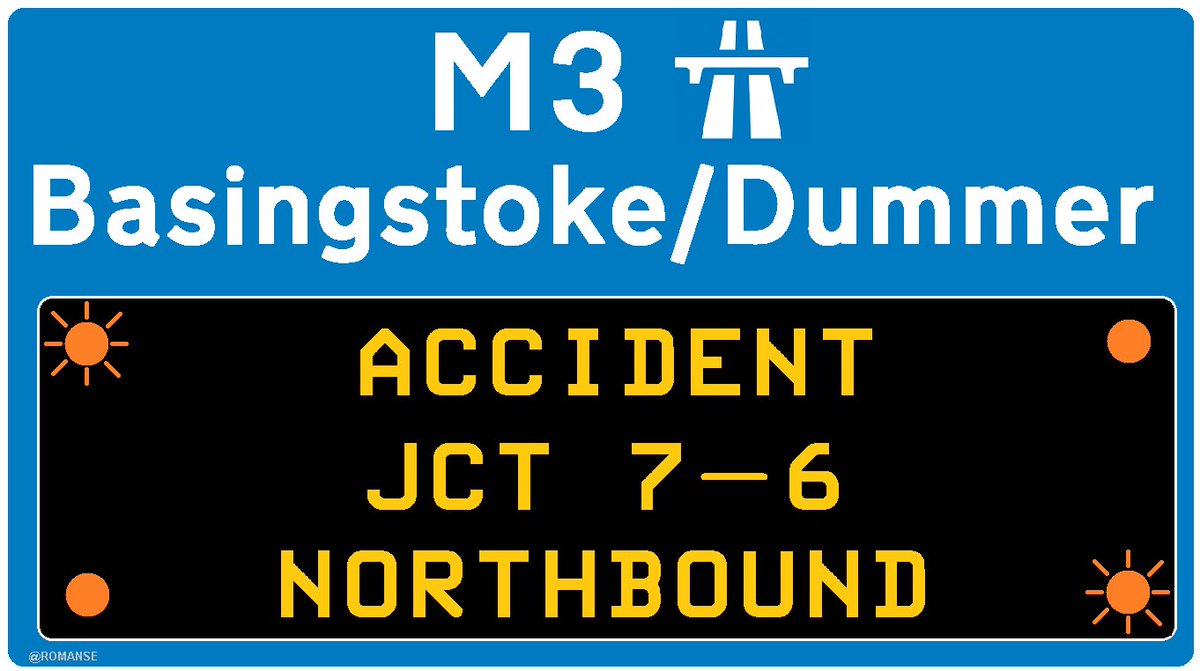 Advertisement
Reports of one lane blocked and stop-start traffic due to accident, three cars involved on M3 Southbound at J13 A335 (Chandlers Ford), congestion to J10 A31 (Winchester).
A car has caught fire on the M3 in Hampshire after overturning.
There is queueing traffic on the M3 northbound at junction 8 for the A30 / A303 at Andover. Congestion on the M3 back to Winchester Services. All lanes have been reopened, but there are still delays. The A303 towards the J8/M3 remains closed.
All lanes have been reopened at Junction 8 southbound, although lane 2 of 2 was closed to assist the emergency services dealing with the vehicle fire on the opposite side.
The A3 Hindhead Tunnel and Milford Bypass Northbound have been re-opened after earlier accident investigation work on the stretch from the A333 Portsmouth Road / Hazel Grove (Hindhead) to the A283 / B3001 Elstead Road (Milford).
The accident happened at about 4am on the Thursley side of the Southern Milford junction. The A3 southbound away from Guildford heading towards Portsmouth remains closed.
There are severe delays of up to 2 hours on the M25 anti-clockwise between junction 9 and junction 5 because of an overturned vehicle and a fire. Lanes 2,3 and 4 (of four) were reopened just before 6pm.
Drivers joining the M25 intending to travel anti-clockwise form the M23 and A23 are also affected. Highways England are advising travellers to consider taking alternatives routes, and to allow extra time for their journeys.
Advertisement
Two lanes closed due to accident, four vehicles involved on M27 Westbound between J12 M275 (Portsmouth) and J11 A27 ( Fareham / Gosport). Just lane one (of three) is open. The Police and Ambulance service are on scene.
Firefighters from Kent Fire & Rescue Service have been called to the scene of a crash involving two cars in Tunbridge Wells.
The accident happened on the A267 Frant Road this afternoon. Two people were in one vehicle, four people were in the other. The ambulance service is also in attendance.
The A267 Frant Road remains blocked in both directions between Forest Road and Bunny Lane.
#A27 eastbound nr #Chichester. 1 Lane closed btwn #A259(E) and #A259(W) due to a collision and barrier damage. Long delays on approach
Two lanes are closed and there's very slow moving traffic after an accident involving a lorry and two cars on the M3 Southbound between J3 A322 (Lightwater / Bagshot) and J4 A331 Blackwater Valley Route (Camberley). Lanes two and three are blocked.
Load more updates