A new winter road safety campaign is warning drivers against using the hard shoulder to undertake gritters.
Read the full story ›
They feared a day of commuter chaos but as work began on Reading Bridge this morning - it seemed drivers had heeded the warnings to leave earlier and find an alternative route. The crossing is closed for a fortnight and as predicted diversions were under pressure. So can the routes and the drivers sustain it for another fortnight? Mel Bloor reports
Advertisement
The AA is issuing advice for drivers planning to travel on Thursday as figures show 15 million motorists are expected on the roads.
Read the full story ›
Roadworks in Brighton are frustrating early morning motorists in Brighton. The roadworks, on the A23, are causing long queues in the city. The main problems are around Edward Street and Grand Parade.
It's the worst traffic bottleneck in the region - but there is an end in sight. Today Parliament heard arguments where exactly the new crossing should be built, across the Thames near Dartford. All being well, the go-ahead will be given later this year. Reports by Derek Johnson and Phil Hornby.
The controversial scheme for so-called 'Smart motorways' has already been in place on the M25 in Surrey for six months. Many motorists were against the idea of removing hard shoulders - saying they are vital for safety. So what effect has scrapping the lane actually had? Malcolm Shaw has been finding out.
Advertisement
The roads have been busy today as families continue their Easter getaway. Congestion on the motorways and traffic delays of more than two hours meant that ferries from Dover were delayed. There's also been disruption at the Channel Tunnel.
Eurostar trains are now returning to normal following a fatality yesterday near Lille, in Northern France.
Edmund King, AA's President, explains that the roads may be busy this weekend as more people are choosing to stay in the UK but travel by road to spend the Easter bank holiday away from home.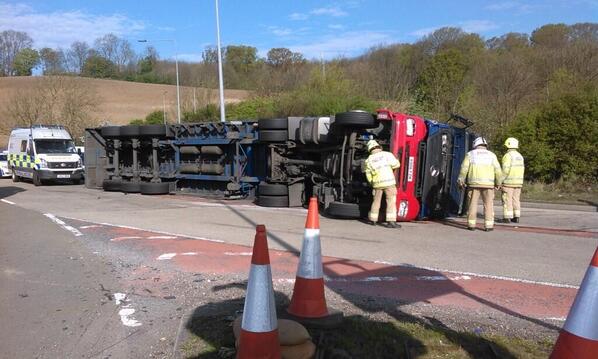 It could be busier on the region's roads this Easter weekend than it was over last year's bank holiday weekend.
That's the prediction from the AA which thinks that 55% of drivers are planning to take to the roads.
Over half a million people are also expected to fly from Gatwick and Heathrow, heading to popular destinations such as Spain and Turkey to catch some Spring sunshine.
We spoke to Edmund King, AA President.
Load more updates