The flooding at Didcot Parkway station in Oxfordshire has left the station inaccessible to customers wanting to travel in the Oxford and Reading/London Paddington direction.
The Didcot Parkway platform towards Swindon, Bristol and South Wales is open. Customer travelling from Didcot towards London are advised to travel to Swindon and then back towards Reading/London Paddington.
Advertisement
There are delays and some cancellations on Great Western Railway services through Didcot Parkway because of heavy flooding on railway lines in the area.
Therefore trains from Swindon heading towards London Paddington can not call at Didcot Parkway train station..
A steam train with thirteen carriages has been derailed at Dymchurch in Kent after a collision with a tractor at a level crossing.
The locomotive at the front and the first carriage overturned in the derailment. Five people including the driver were treated for minor injuries.
Around fifty other passengers on the train's remaining 12 carriages were checked for injuries as a precaution. The Romney, Hythe and Dymchurch line was closed after the incident. Kent Police confirmed they had been called to the scene at 2.35pm. Police officers said that no-one suffered serious injuries.
Another day, another strike by Southern Rail staff.
Today's action is the latest in a series of walkouts since April in an ongoing row over the role of guards on trains.
Only 60 percent of the company's services are running during the two days of industrial action.
Services west of Brighton have been badly affected - other trains are operating on that route but they have been very busy.
The line from Eastbourne has a significantly reduced service. And between Redhill and Tonbridge there are no trains running at all.
The RMT union says the strike is being 'fully supported' and warns the dispute could continue until Christmas. Malcolm Shaw reports.
There is a revised rail service on Southeastern between London Charing Cross and Dartford, between London Charing Cross and Gravesend and between London Charing Cross and Orpington due to flooding. All lines have now reopened following disruption caused by heavy rain and thunderstorms across the Southeastern network.
Services are still subject to revisions, delays and cancellations.
SE UPDATE: Cannon Street & London Bridge stations are now OPEN for Southeastern services but disruption continues
Given the ongoing disruption which will continue for some time, here's some of the things we're doing to help; https://t.co/XyDpAA86Xo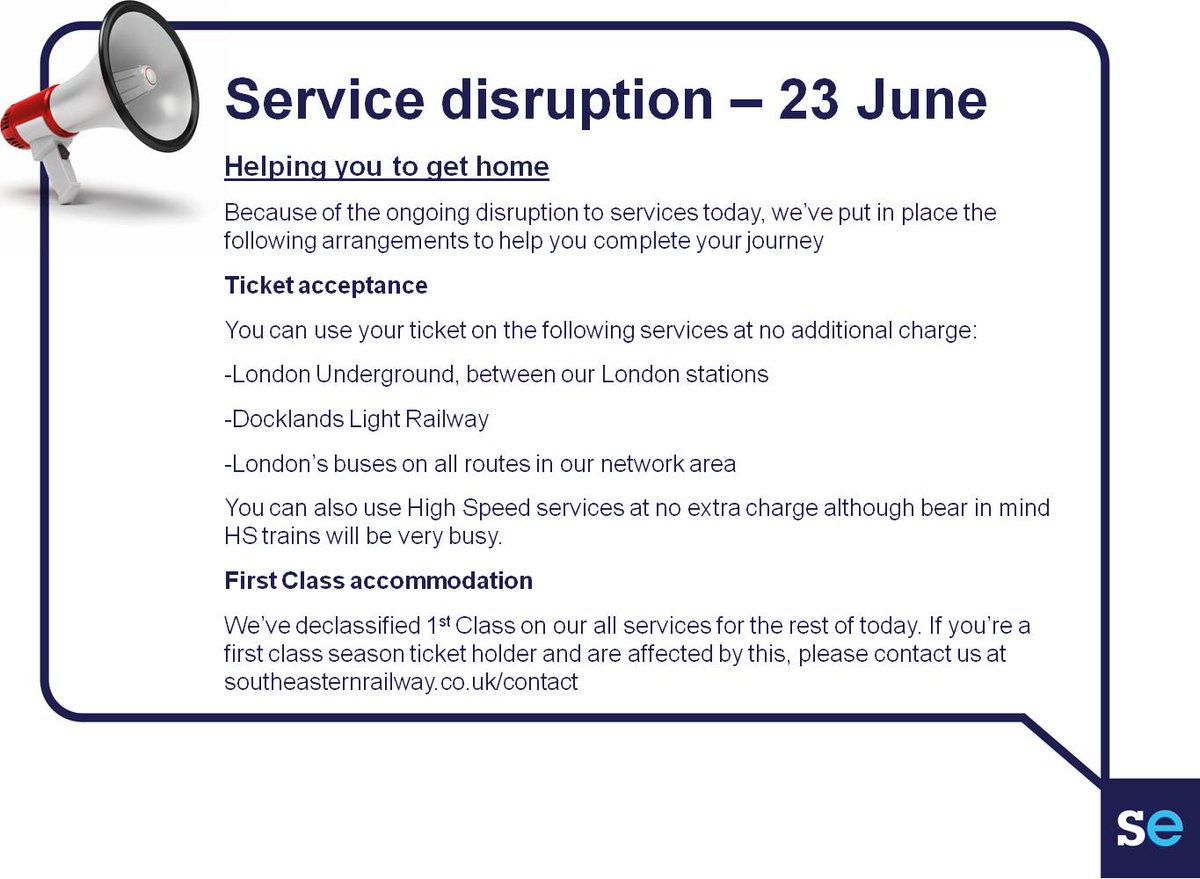 Advertisement
Revised service on South West Trains between London Waterloo and Salisbury due to flooding and signalling problem. London Waterloo to/from Salisbury and Exeter will terminate and start at Basingstoke. Passengers will need to use an alternative train between Basingstoke and London Waterloo.
#DisruptionSWT - @gwrhelp are kindly accepting our tickets on all reasonable routes due to on going disruption.
There is major disruption on the railways for travellers following heavy rain and thunderstorms overnight. More downpours are expected.
Read the full story ›
Train companies could be fined if services are more than a minute late under new Government rules to cut delays.
At the moment commuter services are allowed to be five minutes behind schedule before they are classed as late and companies are penalised. It is ten minutes for long distance services.
The new measure is one of a number aimed at getting more trains on time.
Currently around 90 per cent of services are classed as being on time to within the five or ten minute rule. But the figure is just 65 per cent when measured to within a minute and it that the Government say the new rules will be aimed at addressing.
Thousands of commuters in the South have once again had to bare the brunt of a bitter dispute on the railways, as a fourth 24-hour strike by train conductors cripples services.
Southern Rail runs two thousand 200 trains a day across Sussex, Hampshire and Surrey. Today 900 trains were cancelled because of the strike affecting the journeys of 300,000 passengers.
There are calls for the Government tonight to step-in and take action. Our Transport Correspondent Mike Pearse reports.
The interviewees are: Mick Cash, RMT General Secretary; and Dyan Crowther, GTR Chief Operating Officer.
Load more updates