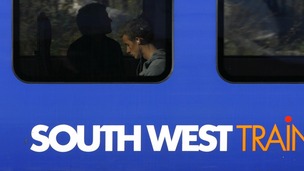 The cold weather meant more misery for rail travellers today with serious disruption on a number of key commuter routes.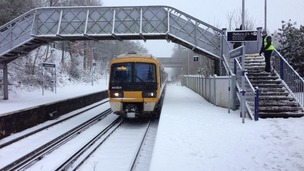 Some motorists trapped overnight were caught in treacherous conditions on the M23 in Sussex and on the A23 in Kent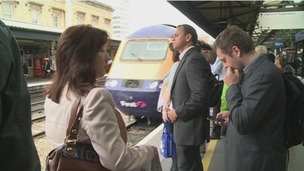 Rail fiasco could cost taxpayers millions and delay improvements
Live updates
New £150m rail line for Oxfordshire approved
by Chris Maughan
Thousands of rail commuters in the Thames Valley will have the choice of how to travel from Oxfordshire to London after plans for a new rail line costing £150 million pounds was approved.
The scheme will double the track between Oxford and Bicester - and build a new link between Bicester and London Marylebone. It will be the first new line linking London and a major city in a century.
And, unlike the controversial High Speed Two Rail link project, this scheme has more local support - but not from everyone, as Chris Maughan reports.
Volcanic ash threat to flights
Icelandic volcano could erupt again - grounding UK flights once more
by Mike Pearse
It is just "a matter of time" before another volcano in Iceland erupts - disrupting flights over here in the UK, and the rest of Europe once again That is the view of experts from the South who are developing a system for aeroplanes that will detect ash in the sky.
Back in 2010, most airline services in the region, and much of the UK were grounded because of a drifting Icelandic ash cloud following a volcanic eruption. Mike Pearse reports.
Advertisement
Rail union leader says "lessons must be learned" after fire alert
The rail signallers' union RMT has responded to the fire evacuation of the Three Bridges railway signalling centre in Sussex this morning. The incident led to the disruption of services in and out of London, through to Gatwick, and to the south coast.
"Firstly, it is a tribute to the staff at Three Bridges, and the fire brigade, that the emergency procedures were put into effect and carried through in an exemplary fashion this morning.

"RMT now awaits an inquiry into the full facts behind the incident and the evacuation and the union expects to play a full role in the investigation and the drawing up of any conclusions and recommendations.
"However, RMT believes that this morning's incident shines the spotlight on plans to centralise signalling operations into 14 regional centres, a move that clearly throws up real risks of putting all the eggs in one basket with the obvious problem of a whole region going down if a centre is taken out of action.
"Add to that the shortage of Mobile Operations Managers (MOM's) to cope in the light of an emergency like the one at Three Bridges, and plans for a massive reduction in signallers' numbers, and we can see the whole system ending up as a high-wire act taking unnecessary risks.

"Lessons must be learnt."
– Bob Crow, RMT General Secretary
Train companies run extra carriages to Thatcher funeral
Train companies in the south say they will run extra carriages to take thousands of extra passengers to the funeral of Baroness Thatcher, it has just been announced.
Southeastern and Southern say where possible extra carriages will be added to services, but that it is not possible to run extra trains because the tracks are already full.
Southeastern say as many extra carriages as possible will be added.
Southern say services with extra capacity will include:
11.30 Bognor to Victoria strengthened from 4 to 8 carriages
10.07 East Grinstead to Victoria strengthened from 4 to 10 carriages
12.37 East Grinstead to Victoria strengthened from 4 to 10 carriages
13.37 East Grinstead to Victoria strengthened from 4 to 8 carriages
12.20 Horsham to Victoria strengthened from 4 to 12 carriages
However a spokesman for Southern said "Unfortunately, we simply don't have rolling stock available to strengthen trains from Brighton into London."
Beeching rail cuts 50 years on
Fifty years to the day since the 'Beeching Cuts'
Today marks fifty years since the Beeching Cuts which led to the closure of hundreds of rural railways lines and stations across the country.
The Government of the day was desperate to reduce heavy losses being made by the railway - as people decided to travel more by road. Dr Richard Beeching, who was from Kent, recommended closing more than 2,000 stations and 6,000 miles of track - around a third of the network.
The impact on jobs was massive - 67,000 lost. While it meant fare rises of ten percent for passengers.
ITV Meridian has been doing a series of reports about the cuts and the dramatic changes they made to our rail network, here in the South and South East. Click here to see our reports.
Easyjet to employ 200 more pilots
Easyjet is to employ an extra 200 pilots, the company has just announced.
They will fly from a number of bases including Gatwick and Southend.
Easyjet is now the biggest airline at Gatwick with 100 routes.
Advertisement
HS2 campaigners appeal for £100,000 to fight scheme
by Mike Pearse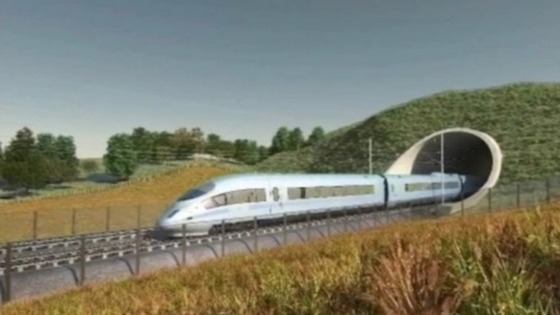 Campaigners fighting the new high speed rail line from London to Birmingham, Leeds and Manchester have launched an emergency plea for £100,000 to pay for a High Court appeal.
They lost all but one Judicial Review cases two weeks ago claiming consultation on the £33bn scheme was not carried out correctly by the Government.
The case they won was in connection with consultation over property consultation which the court rules was "unlawful" and will now be held again.
Campaigners will now challenge eight other rulings they lost but need to raise a substation sum of money to help pay for the appeal.
The line runs through parts of Oxfordshire and Buckinghamshire and campaigners say it has no business case and will ruin the countryside.
HS2 say it will create 100,000 jobs, benefit the economy and they are taking into account the environment.
They say the action will not delay the project.
Beeching rail cuts 50 years on
The Beeching cuts & the traditional dining car
Fifty years ago tonight the infamous Dr Richard Beeching was putting the finishing touches to his report that would see the closure of thousands of stations and rail lines. The twenty-seventh of March 2013 marks five decades since the publication of the report that led to the end of steam.
However steam made a return in the South today, during the morning rush hour. The Cathedrals Express ran from Newbury to Canterbury with passengers at some stations seeing a steam train stop there for the first time since the 'sixties.
The Beeching cuts, and the event of fewer people using trains, meant it was the beginning of the end of traditional dining cars. But, as you can see in our Transport Correspondent Mike Pearse's report, the dining carriages are also now back on track.
The interviewees are: Karen Aylett, a Pullman Host; and Dan Panes from First Great Western.
You can see all of our coverage on the fiftieth anniversary of the Beeching cuts by clicking here.
Eurotunnel's ports takeover bid
Eurotunnel pulls out of French ports takeover
by Derek Johnson
The cross channel operator Eurotunnel has announced it is pulling out of a bid to take over the running of two French ports. The firm had said it was interested in operating Calais and Bolougne after helping to launch a new ferry service.
However the proposal has already been criticised by the Competition Commission for potentially pushing up prices to cross the channel. Derek Johnson explains.
Transport Minister on patrol
Transport Minister visits Southampton
The Transport Minister, Norman Baker MP, is due to visit Southampton to look at how sustainable transport initiatives are changing how people travel around the city. He will also unveil a new information system for bus stops and meet apprentices and jobseekers.
Load more updates
Back to top