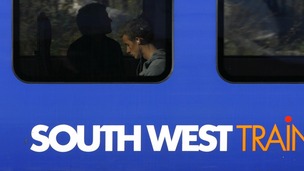 The cold weather meant more misery for rail travellers today with serious disruption on a number of key commuter routes.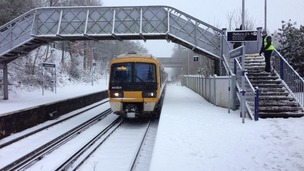 Some motorists trapped overnight were caught in treacherous conditions on the M23 in Sussex and on the A23 in Kent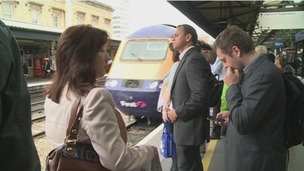 Rail fiasco could cost taxpayers millions and delay improvements
Live updates
75% of rail passengers unaware of refunds for train delays
Millions of pounds in compensation hasn't been paid out - because rail passengers - don't know they can claim it. The money from rail firms is there for passengers facing delays or cancellations but the Government's Rail Regulator, says most people have no idea.
It says that:
Three quarters of people don't even know they're entitled to compensation.
74% say train companies do little or nothing to let them know they can claim.
That means £90 million is left unclaimed every year.
Here's our Transport Correspondent Mike Pearse.
75% of rail passengers unaware of refunds for train delays
Advertisement
Farmers on HS2 route speak out over land loss
The construction of the High Speed 2 rail line will completely destroy the livelihoods of farmers, according to the union that represents them.
The National Farmers' Union says there are 23 farms along the proposed route in Buckinghamshire and Oxfordshire which would be seriously affected.
The government says farmers will be compensated - but landowners say the fields left behind would be un-useable. Our Transport Correspondent Mike Pearse reports.
Free transport scrapped
Free school transport has been scrapped today in Oxfordshire - for up to three thousand children who don't go to the school nearest to their home. Campaigners say it means some young people will have to walk three miles to class.
But the County Council says the decision will save £2m - and forms part of its austerity measures. In all, Oxfordshire Councillors need to find £61m worth of savings. It says today's decision will not affect the poorest of families. Mel Bloor has more.
Repairs to landslide at Ockley get underway
Rail services from Sussex and Surrey to London have been disrupted by a landslide at Ockley for the past three weeks.
Repairing the damage is a mammoth task for Network Rail.
And commuters face many more days of disruption. Charlotte Wilkins has been to have a look.
Plans unveiled for new college to train engineers for HS2 project
Plans for the creation of the High Speed Two (HS2) rail link between London and the north have stepped up a pace with the announcement of a new college to train engineers who will work on the project.
It will be the first new incorporated Further Education College to be created in over 20 years.
The college will deliver specialised training in the areas of rail engineering, environmental skills and construction. The skills learned will then be used in the construction of HS2 and other infrastructure projects across the country.
"HS2 is the biggest infrastructure project that this government is delivering. So it is right that a large scale investment in bricks and mortar should also come with investment in the elite skills which will help build it. That's why this government is launching the first further education college in over 20 years, which will train the next generation of engineers in rail, construction and environmental studies that this country needs to prosper."
– Vince Cable, Secretary of State for Business
Advertisement
New buses for the Isle of Wight
Ten new state-of-the-art buses are to be introduced to the Isle of Wight's fleet on Friday.
The buses have been built in the UK and each cost more than £180,000.
They will be powered by eco-friendly engines and equipped with digital destination displays.
There will also be low floor easy access with space to carry wheelchairs and baby buggies.
The investment is proof of our ongoing commitment to the offer of a reliable, safe and quality bus service for islanders."
– d Wills, Operations Director of the Go Ahead Group's bus and coach operations in south
Reaction to airport expansion report
While many believe another runway is needed in our region, few want it in their back yard. Although the expansion of Heathrow could create thousands more jobs, it would also bring more aircraft noise and pollution. And in some cases whole communities could be wiped out.
Chris Maughan has been finding out what the expansion of Heathrow would mean for those living under the flightpath.
Reaction to airport expansion report
The Travel expert Simon Calder gives his opinion on today's Davies report on airport expansion.
Reaction to airport expansion report
Plans for a Thames Estuary airport were first proposed in the 1970s. But the idea was given new impetus five years ago by the London Mayor, Boris Johnson who proposed an airport off the Isle of Sheppey.
The architect Lord Foster suggested a hub airport on the Isle of Grain and there's even a proposal to build at Goodwin Sands, near Dover.
Our reporter, John Ryall has been in north Kent to find out what people there think.
Load more updates
Back to top