Thousands of rail passengers are facing nine days of disruption from Saturday while an important junction on the South Coast line is renewed.
Industrial action by workers at Southern Rail has brought chaos to the journeys and lives of train passengers who use the company's routes and services over the past few months. Passengers have been forced to find other means of transport.
This report is from our Transport Correspondent Mike Pearse.
Advertisement
The MP for Wantage, Ed Vaizey, has visited Didcot Parkway railway station. The site, which was flooded overnight, is in his constituency.
Advertisement
The flooding at Didcot Parkway station in Oxfordshire has left the station inaccessible to customers wanting to travel in the Oxford and Reading/London Paddington direction.
The Didcot Parkway platform towards Swindon, Bristol and South Wales is open. Customer travelling from Didcot towards London are advised to travel to Swindon and then back towards Reading/London Paddington.
Highways England have reported that a train has broken down in the Channel Tunnel. There are severe delays to travellers, and delays to freight on the M20.
It is being reported that there is a waiting time of up to six hours to the Freight Eurotunnel service at Folkestone due to the incident in the Channel tunnel. Lorry drivers are experiencing a waiting time of up to 90 minutes at Check-In and a further four-and-a-half hours on the Channel Tunnel terminal.
Due to an on-going issue in the tunnel, there are long delays for freight on #M20 coastbound to J11A @leshuttle @truckshuttle
Sandford Lane in Woodley is now closed in both directions due to flooding between Colemans Moor Road (Woodley) and B3030 Davis Street / Dunt Lane (Hurst).
There is a revised rail service on Southeastern between London Charing Cross and Dartford, between London Charing Cross and Gravesend and between London Charing Cross and Orpington due to flooding. All lines have now reopened following disruption caused by heavy rain and thunderstorms across the Southeastern network.
Services are still subject to revisions, delays and cancellations.
SE UPDATE: Cannon Street & London Bridge stations are now OPEN for Southeastern services but disruption continues
Given the ongoing disruption which will continue for some time, here's some of the things we're doing to help; https://t.co/XyDpAA86Xo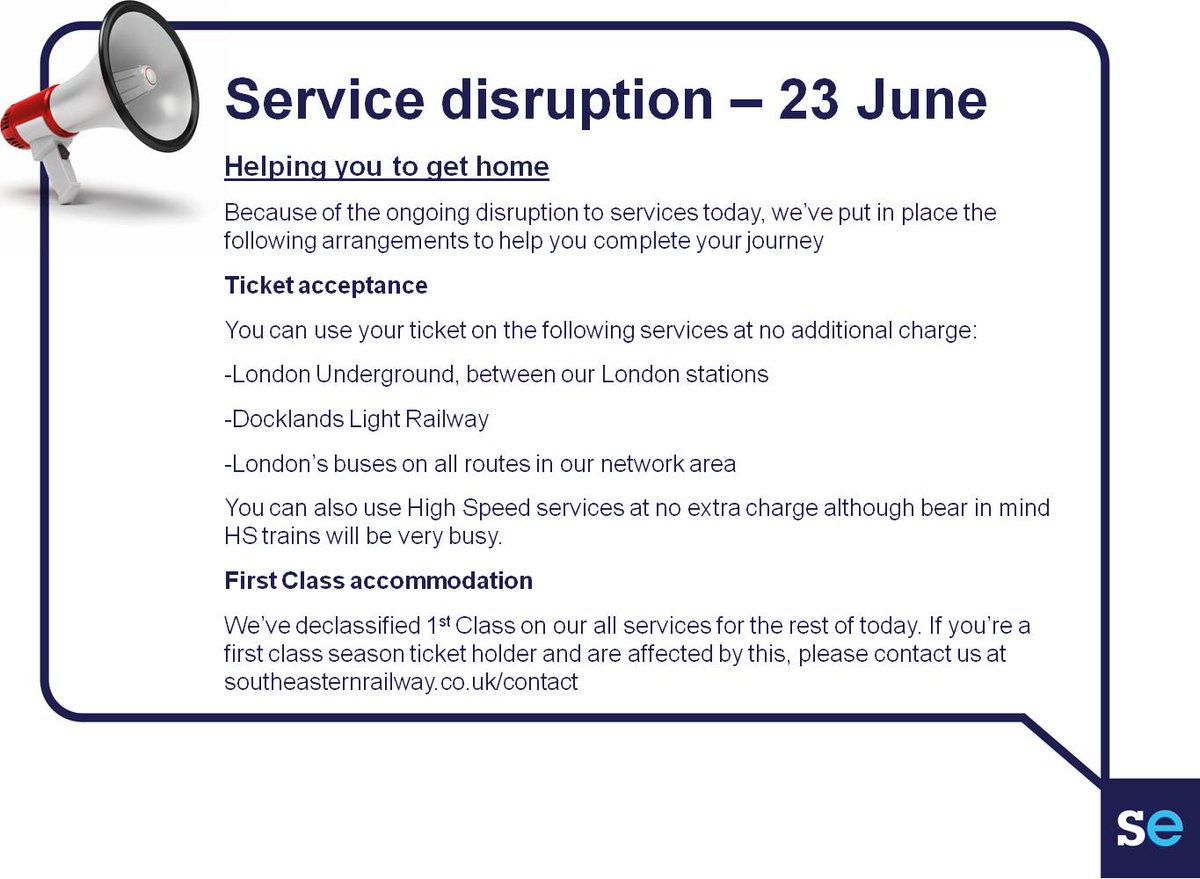 Load more updates