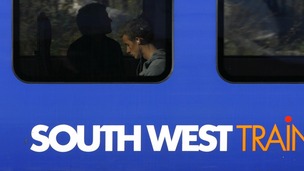 The cold weather meant more misery for rail travellers today with serious disruption on a number of key commuter routes.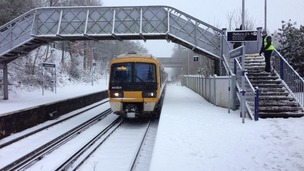 Some motorists trapped overnight were caught in treacherous conditions on the M23 in Sussex and on the A23 in Kent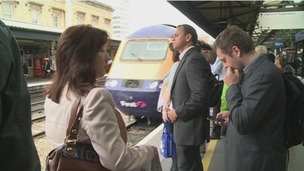 Rail fiasco could cost taxpayers millions and delay improvements
Live updates
Network Rail and South West Trains are promising more trains, improved stations and more seats for rail passengers travelling through Hampshire, Surrey and Berkshire. The alliance between the two firms will invest £1.2 billion in a five-year scheme that starts tomorrow.
The money will be spent on the rail network connecting Waterloo to Surrey, Hampshire, Berkshire and beyond between now and 2019. The investment is part of a wider programme to deliver an extra 115,000 seats a day into the capital by 2019 - an increase in capacity of 20 per cent.
"The growth we are managing now is phenomenal - more than 95m passengers at Waterloo with us every year -there is a clear need to improve the railway in the area.
"Improving Waterloo is a key part of our strategic plan and it will benefit passengers across our network, not just in London. In the next five years we are delivering longer trains between Reading, Ascot and Waterloo, 10-car trains throughout our suburban network.To do this, we need to upgrade the power supply and extend a number of platforms to cope with the extra demand. We also will run additional capacity on some of our main line routes.
"We are also working on plans to improve the resilience of the railway to extreme weather and renewing our focus on safety. While we are the safest railway of our size in Europe, we are not complacent - particularly when it comes to level crossings and the safety of our workforce.

"The next five years will make a huge difference to everyone who travels by train and we are committed to delivering a better, safer, more reliable railway for them."
– Tim Shoveller, Managing director, Network Rail/ South West Trains Alliance,
Meeting held in bid to save Manston Airport from closure
The future of Manston Airport hangs in the balance. That was the message from supporters and workers alike at a meeting in Kent today - the airports owners' said it could close following a consultation. Andy Dickenson reports.
The interviewees are: Laura Sandys MP for South Thanet; and Sir Roger Gale MP for North Thanet.
Advertisement
Meeting held in bid to save Manston Airport from closure
A meeting is underway in East Kent in a bid to keep Manston Airport open. The site's owners announced plans to close the airfield earlier this month.
The shock announcement was made on Thursday 20th March. A process of consultation is underway. The airport employs 150 local people.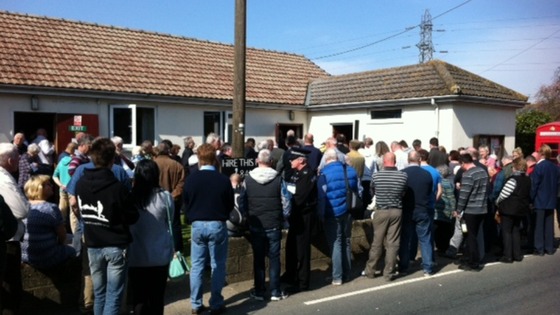 A few days ago the local MP, Roger Gale - who represents Thanet North - said he had been approached by a potential buyer for the site.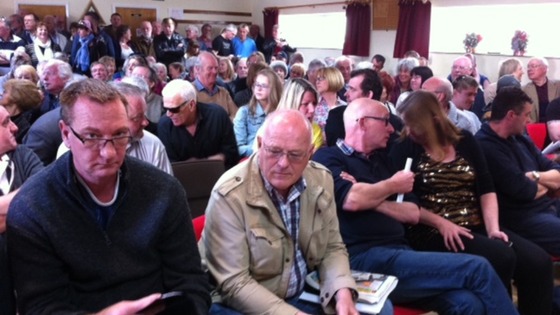 The £16 billion Crossrail project is coming to Reading
What then for towns and villages in Berkshire - and the benefits to the economy - as well as house prices? Well, putting Twyford on the map opens up other places - like Henley, Shiplake and Wargrave - and makes them even more _attractive places to live - when commuting into London.
Penny Silvester has more of today's reaction.
The £16 billion Crossrail project is coming to Reading
It's been a 20 year battle but, today, the Government confirmed that Crossrail will come to Reading. It means passengers can travel into the heart of London - through a tunnel - without having to change trains.
The £15 billion pound project - which began in 2009 - was to start at Maidenhead to keep costs down but will now be extended. It means Crossrail will begin at Reading - with stops at places like Twyford and Maidenhead.
It will go into a tunnel at Paddington - on to Bond Street, Tottenham Court Road, Liverpool Street and the east of London. There'll be four more trains, each hour, and 6,000 extra seats. It will be ready in 2019.
The news will be a huge boost to towns and villages along the route - house prices are expected to rocket. More on that in a moment - and the view from Westminster. Our report is from our Transport Correspondent, Mike Pearse.
The £16 billion Crossrail project is coming to Reading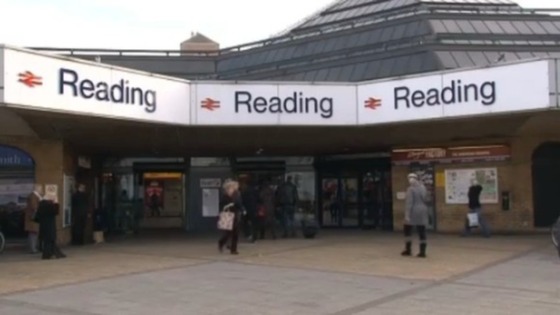 Reading Borough Council has welcomed the news that Crossrail will be extended to the Berkshire town. It follows repeated calls by the Council to make Reading the final calling point of the vital new rail link, rather than Maidenhead.
Councillor Tony Page, the Lead Member for Transport, said: "Commonsense has prevailed, and I welcome the in-principle decision by the Secretary of State.
"Reading Station has been designed to take Crossrail; the land between Maidenhead and Reading has been protected and electrification is underway. At last the dots have been joined up!"
Advertisement
The £16 billion Crossrail project is coming to Reading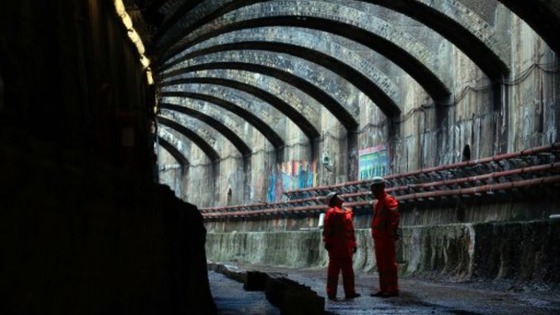 Reading East MP, Rob Wilson has welcomed the Government's expected announcement this morning that Crossrail will extend to Reading, after initial plans for the service to run only as far as Maidenhead.
Crossrail will extend to Reading from 2019. But Mr Wilson says it is only the first of a 2-stage process in delivering the full benefits of Crossrail for Reading.
He said: "This first phase will not reap the full benefits that Crossrail can and should bring to benefit people and businesses in Reading and the wider region. Because there will be so many stops between here and London, journey times to London will be no faster than they are now.
"I am therefore pleased that the rail minister has announced that the infrastructure improvements needed to deliver a more rapid and direct Crossrail service with fewer stops and faster journey times will be fully analysed as part of the next investment review."
It is hoped that Phase 2 of the Crossrail infrastructure improvements would be in place by 2021.
The £16 billion Crossrail project is coming to Reading
The Government is expected to announce tomorrow that the Crossrail project will come to Reading.
The £16 billion scheme would link the town with Central London and the east without the need to change trains at Paddington.
It is by far the biggest rail upgrade scheme ever in the Thames Valley.
A new tunnel is being built between Paddington and Liverpool Street aimed at relieving congestion.
The scheme when announced in the 1990s was meant to come to Reading, but was later cut to only go to Maidenhead to save hundreds of millions of pounds.
The original scheme had the route going to Ebbsfleet in Kent, but it is unclear if that will happen.
MPs and council leaders have long campaigned for the link which will almost certainly lead to a massive jobs and housing boost.
New officers to tackle drunk & rowdy rail passengers
A new squad of specialist officers is cracking down on rowdy and drunk passengers on trains who terrify commuters. The teams say they're having a major impact.
Figures obtained by ITV Meridian show there were more than 14,000 incidents of anti-social behaviour recorded by just one rail company in the last year. The team of 32 officers handed out more than 700 penalty fares of around £20.
They say the move has helped cut public order offences by 22 per cent compared with last year.
Our Transport Correspondent Mike Pearse joined the officers on patrol. Here's his special report.
Manston Airport in Kent could close - consultation underway
The Unite union has responded to an announcement from the managers of Manston Airport in Kent that the site could close. Union officials said they were seeking clarification about the airport's future. A 45-day period of consultation has begun.
"The news has just broken and I am seeking clarification from the management about the airport's future. Until I have had that conversation, it would not be appropriate to comment at length.

"Unite is the major union at the airport and represents employees, such as the fire service and the baggage handlers. Unite will do everything possible to safeguard the interests of our members in the days and weeks ahead.
"Any loss of employment would be a hard blow for the local economy."
– Ian McCoulough, Unite regional officer
Load more updates
Back to top