There will be overnight closures, narrowed lanes and reduced speed limits on the M27 near Southampton until Spring 2015 as part of ongoing road improvements.
The two major improvements will begin next week as part of the government's £317m programme on motorways and trunk roads.
The enhancements will eventually reduce congestion, increase safety and improve journey times.
The work will start on Monday 4th August from Stoneham lane eastbound from the A335 onto the eastbound entry slip road.
Improvements to junction 3 will start at the end of September, after the Southampton Boat Show, and will see the westbound exit slip road and southbound M271 widened to three lanes.
We have planned the work carefully to minimise disruption and will carry out as much of the work as possible overnight, when traffic flows are at their lowest. I advise anyone wishing to use either junction to plan their journeys and to allow extra time."
– Highways Agency Project Sponsor Ed French
INFO: 15:51 London Victoria to Brighton has been cancelled due to poor weather conditions earlier.
Some train services have been delayed because of the heavy rain and storms across the south.
INFO: 16:12 Portsmouth Harbour to Victoria will be started from Portsmouth & Southsea at 16:16 due to poor weather conditions earlier
Advertisement
Passengers should expect short notice cancellations and delays until midnight tonight at Waterloo station following a person being hit by a train this morning between London Waterloo and Wimbledon.
National Rail have said that the delays were caused after a person was hit by a train at Wimbledon this morning.
Although lines have reopened, there are still delays of up to 40 minutes
There are also aterations and cancellations to trains between London Waterloo and Staines as crew are out of place from earlier disruption.
As well as the delays, trains between London Waterloo and Salisbury / Exeter are currently starting from and terminating at Basingstoke.
The first 'West of England' service to run normally from London will be the 17:20 London Waterloo to Exeter St Davids service #Wimbledon
Advertisement
South West Trains have released a statement following the disruption to all South West Train services at London Waterloo this afternoon.
Following a severe incident at Wimbledon this morning, it was necessary to significantly reduce the number of trains through Wimbledon while this incident was ongoing.

Trains and crew that were scheduled to work on trains around our network were not able to get on to these trains due to the disruption. This has had a further impact on our service recovery and spread the problem from our Suburban services to our Windsor services (Waterloo to Staines).

We have reinstated trains on each line of route with the exception of London Waterloo to Salisbury trains which will continue to start from Basingstoke in both directions until 1720.The 1720 London Waterloo - Exeter St Davids departure will be the first service to run its booked route.

Whilst we work to introduce services back into normal operation, customers may see further last minute alterations. Please check before you travel. Disruption to all services on the South West Trains network can be expected until the end of service today.

Alternative travel options:Passengers may use First Capital Connect, First Great Western, Southern, London Buses, London Underground and London Trams services on all reasonable routes.
– South West Trains
Delays continue into rush hour following this morning's rush hour chaos at London Waterloo.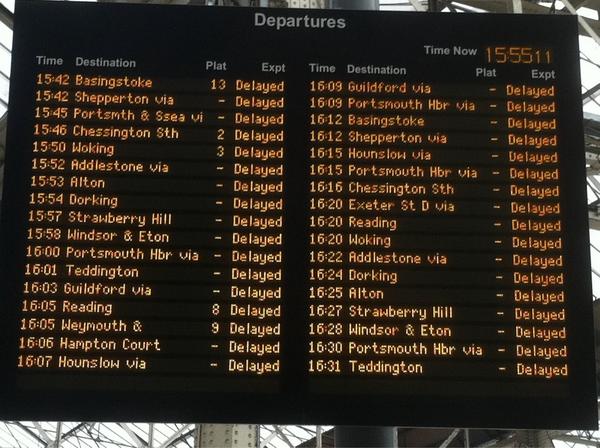 Load more updates