One lane closed due to broken down lorry on M4 Westbound between J14 A338 (Hungerford) and J15 A346 Marlborough Road / A419 Marlborough Road (Swindon East).
There are delays on the M3 southbound between J9, Winnall roundabout, and J10 for the A31. It follows an accident between a car and a lorry.
Advertisement
The M25 in Essex is closed in both directions between J23 (A1) - J27 (M11) clockwise, and J27 (M11) - J25 (Cheshunt) anti clockwise. The carriageway may not fully reopen until 3pm.
A stretch of the M25 motorway is closed after one person died in a crash involving several vehicles.
A number of people were also taken to hospital following the accident, which happened at around 1.50am near Waltham Abbey.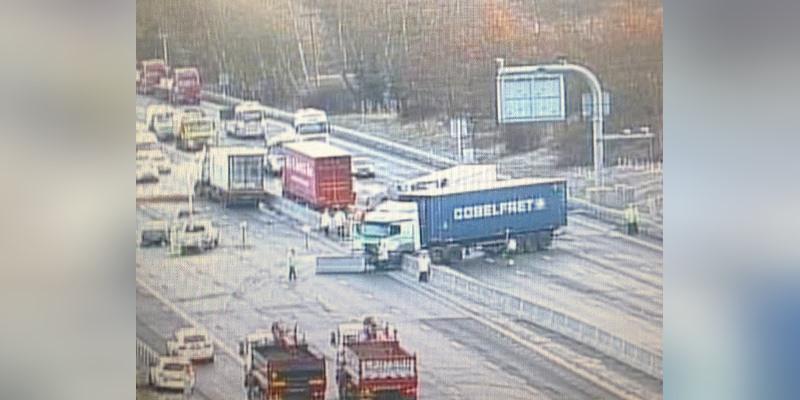 The Highways Agency said the motorway is now closed between junctions 23 and 27 clockwise and anticlockwise between junctions 27 and 25. Some parts are expected to remain shut until 3pm.
It has led to long delays on the M25 and heavy traffic in surrounding areas.
Seventeen firefighters and a rescue support vehicle were called to a road traffic collision on the A34 northbound by Whitchurch this morning.
Despite initial reports, no-one was found to be trapped. Fire crews dealt with two people - providing them with first aid, and cleared up the scene of the collision which involved a taxi.
One lane blocked due to broken down vehicle on M25 clockwise at A282 (QE2 Bridge).
Advertisement
One lane is closed due to broken down vehicle on M20 coastbound between J8 A20 (Leeds Castle / Maidstone Services) and J9 A20 (Ashford / Faversham).
Two lanes have been closed on the M4 London bound carriageway in Berkshire due to an accident between junction 6 A355 (Slough/Windsor) and junction 5 A4 (Langley). There's congestion to junciton 7 A4 (Slough West).
There will be overnight closures, narrowed lanes and reduced speed limits on the M27 near Southampton until Spring 2015 as part of ongoing road improvements.
The two major improvements will begin next week as part of the government's £317m programme on motorways and trunk roads.
The enhancements will eventually reduce congestion, increase safety and improve journey times.
The work will start on Monday 4th August from Stoneham lane eastbound from the A335 onto the eastbound entry slip road.
Improvements to junction 3 will start at the end of September, after the Southampton Boat Show, and will see the westbound exit slip road and southbound M271 widened to three lanes.
We have planned the work carefully to minimise disruption and will carry out as much of the work as possible overnight, when traffic flows are at their lowest. I advise anyone wishing to use either junction to plan their journeys and to allow extra time."
– Highways Agency Project Sponsor Ed French
INFO: 15:51 London Victoria to Brighton has been cancelled due to poor weather conditions earlier.
Some train services have been delayed because of the heavy rain and storms across the south.
INFO: 16:12 Portsmouth Harbour to Victoria will be started from Portsmouth & Southsea at 16:16 due to poor weather conditions earlier
Load more updates