Passengers should expect short notice cancellations and delays until midnight tonight at Waterloo station following a person being hit by a train this morning between London Waterloo and Wimbledon.
Advertisement
National Rail have said that the delays were caused after a person was hit by a train at Wimbledon this morning.
Although lines have reopened, there are still delays of up to 40 minutes
There are also aterations and cancellations to trains between London Waterloo and Staines as crew are out of place from earlier disruption.
As well as the delays, trains between London Waterloo and Salisbury / Exeter are currently starting from and terminating at Basingstoke.
The first 'West of England' service to run normally from London will be the 17:20 London Waterloo to Exeter St Davids service #Wimbledon
South West Trains have released a statement following the disruption to all South West Train services at London Waterloo this afternoon.
Following a severe incident at Wimbledon this morning, it was necessary to significantly reduce the number of trains through Wimbledon while this incident was ongoing.

Trains and crew that were scheduled to work on trains around our network were not able to get on to these trains due to the disruption. This has had a further impact on our service recovery and spread the problem from our Suburban services to our Windsor services (Waterloo to Staines).

We have reinstated trains on each line of route with the exception of London Waterloo to Salisbury trains which will continue to start from Basingstoke in both directions until 1720.The 1720 London Waterloo - Exeter St Davids departure will be the first service to run its booked route.

Whilst we work to introduce services back into normal operation, customers may see further last minute alterations. Please check before you travel. Disruption to all services on the South West Trains network can be expected until the end of service today.

Alternative travel options:Passengers may use First Capital Connect, First Great Western, Southern, London Buses, London Underground and London Trams services on all reasonable routes.
– South West Trains
Advertisement
Delays continue into rush hour following this morning's rush hour chaos at London Waterloo.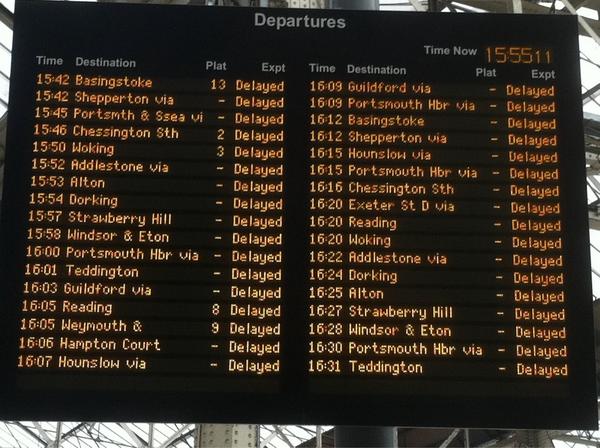 There is disruption on South West Trains between London Waterloo and Surbition, between London Waterloo and Guildford and between London Waterloo and Woking after a person was hit by a train at Wimbledon.
Tickets are being accepted on TFL, First Great Western and Southern services.
All lines through Wimbledon station are currently blocked, and South West Trains do not yet have an estimate for when the line may reopen.
There are train delays for people travelling through London Waterloo after a person was hit by a train in the Wimbledon area.
Trains are piled up coming into the station and commuters are stuck trying to travel out of the station.
Load more updates